Thin deep-fried dough slathered in fiery garlic oil, velvety sour cream and savoury cheese… does this not sound like comfort food to the max?! This insanely mouth-watering food is that of lángos, one of the most popular Hungarian street foods. With so many places to choose from, you'll be wondering, "Where can I eat the best lángos in Budapest?"
In Budapest there are loads of places that do a mean lángos (pronounced lan-go-sh). We're here to tell you the best place for lángos in the city is at Krumplis Lángos. This hole-in-the-wall shop is a local favourite, meaning great taste and quality ingredients made with love.
What is lángos?
Lángos is quite possibly the most popular Hungarian street food. If there's one Hungarian food you need to eat when you visit Budapest, it's lángos.
Lángos is best described as deep-fried dough, similar to a Canadian beaver tail, except savoury. Proofed balls of dough are stretched into discs and fried in oil until golden brown. Crispy on both sides and soft and light on the inside, lángos is the ultimate Hungarian comfort food!
The dough itself is very simple, made of milk, flour, yeast, salt and sugar. Some places even add potato to their dough for a different texture, and Krumplis Lángos is one of them. The Hungarian word for 'potato' is krumplis, leading to their name!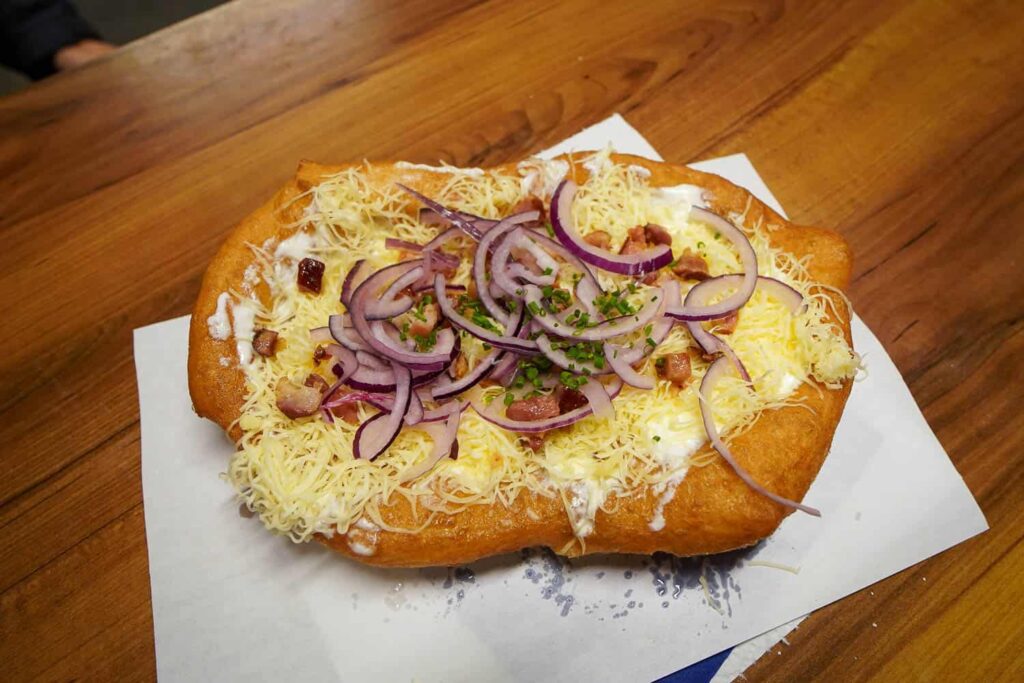 You've gotta have toppings!
Lángos is served with a variety of different toppings, with the most traditional and popular being sajtos-tejfölös (garlic sauce, sour cream and grated cheese). This is the preferred choice with Hungarians. It sounds a bit strange at first, especially since the cheese is cold and not melted, but trust us, it's the perfect flavour combo.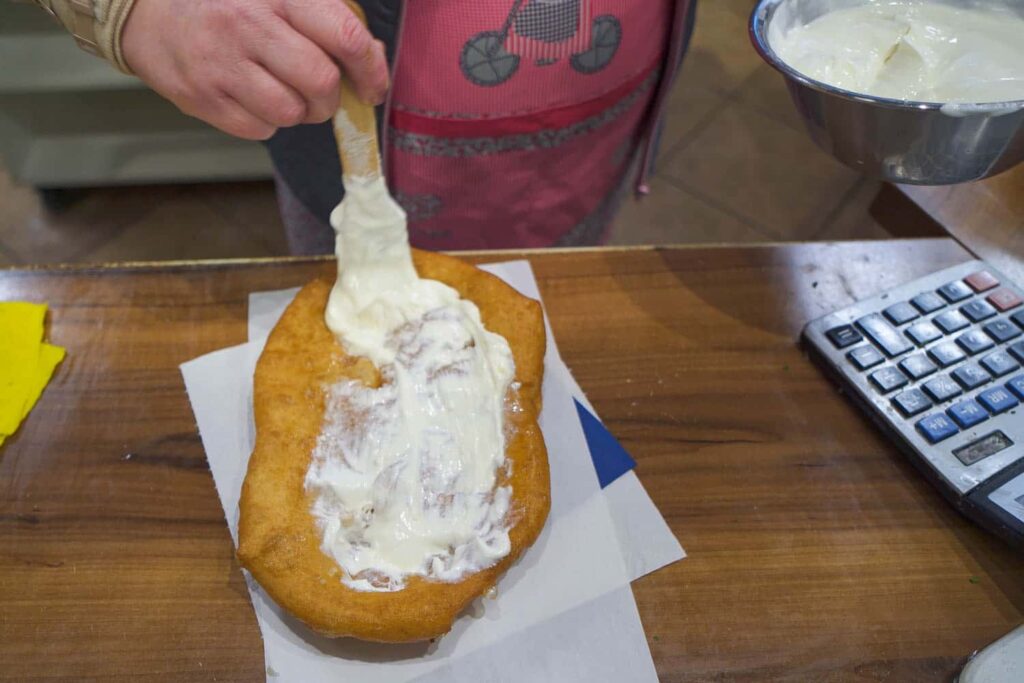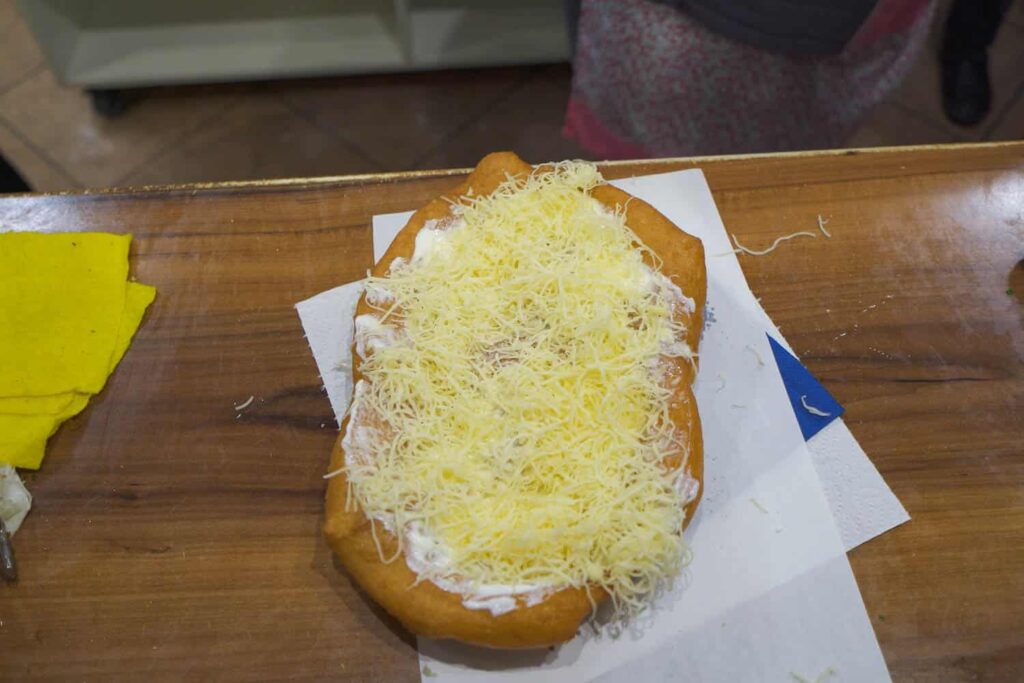 It's important to note that they're traditionally brushed with a slathering of strong, fiery garlic (fokhagyma) mixed with oil, so you'll need to specify whether you want it with or without this, depending on your tastes. You definitely want it though!
Served to you straight out of the bubbling oil, they're best eaten hot when they're at their freshest.
The best lángos means exceptional quality with affordable prices
The price of lángos within the main city centre of Budapest is expensive. Within this area you'll be paying anywhere from 1500-2500Ft ($4.30-$7.20USD) for the most popular lángos, sajtos-tejfölös. This is pricey considering lángos is traditionally known for being an affordably priced quick snack.
The prices at Krumplis Lángos represent more of a local price, not one that's been inflated by the high prices of the touristy areas.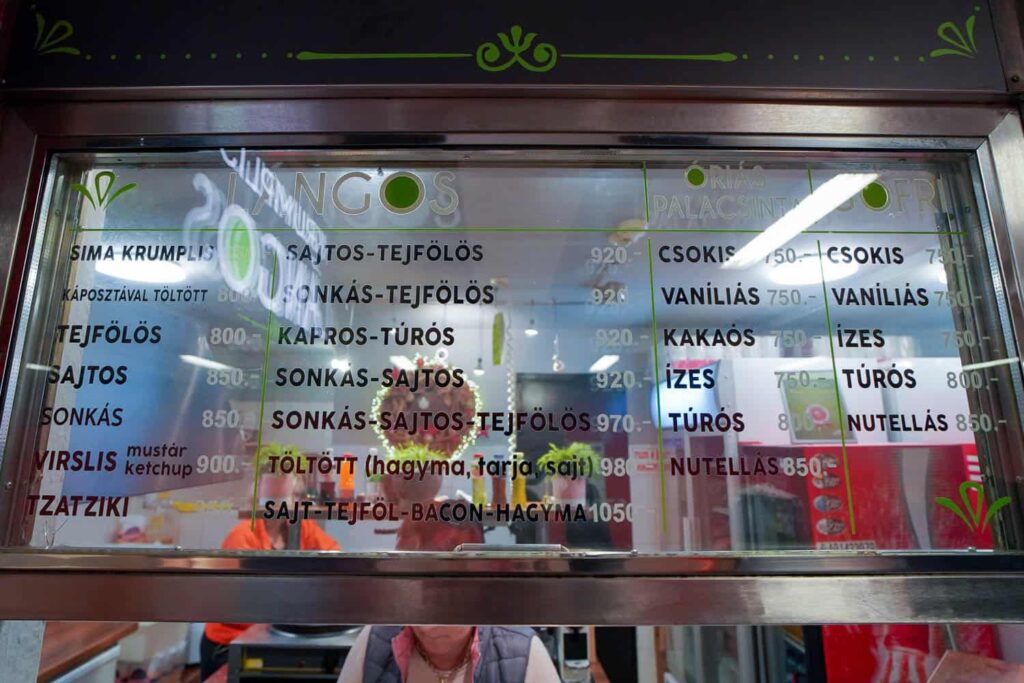 Lángos here range in price from 650-1050Ft ($1.80-$3.00USD), with many options to choose from. The cheapest option is your plain sima lángos, with or without garlic, coming in at 650Ft. The most popular sajtos-tejfölös (cheese and sour cream) for 920Ft, and the most expensive sajt-tejföl-bacon-hagyma (sour cream, cheese, bacon and onion) for 1050Ft. The latter is absolutely covered with ingredients and cheaper than the sajtos-tejfölös served at most other shops in the city centre.
Not only is the price definitely right, but the quality that you get for what you pay is beyond anything you'll find in the city. This is truly where to eat the best lángos in Budapest. The size of them alone is one of the biggest, and the friendly ladies who run the shop are extremely generous with the toppings.
How many different lángos are there to choose from?
Okay, so we've covered cost and quality. Now it's time to talk about variety and all the delicious tastes and flavours of this popular Hungarian food.
There's more variety here than you'll see at many other places throughout the city. With 14 different kinds of lángos to choose from, you'll be spoilt for choice! Another reason why this is where you can eat the best lángos in Budapest.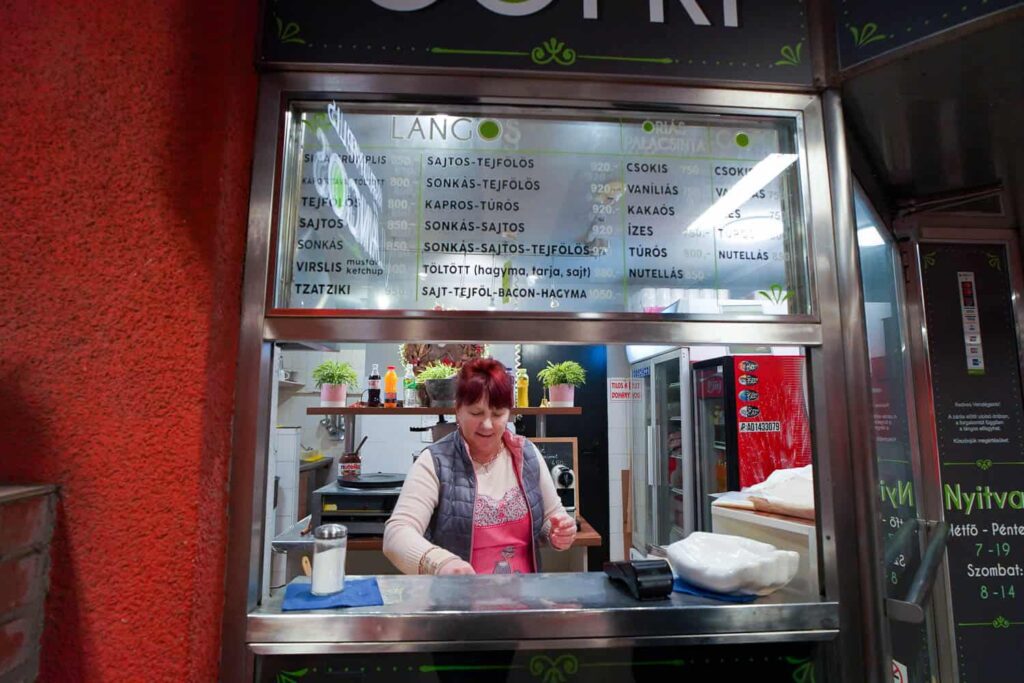 As we mentioned above, they start out with your plain jane sima lángos and work their way up, adding toppings as you go down the left side of the menu. The mid-range lángos are your one topping options of just tejfölös (sour cream), sajtos (cheese), or sonkás (ham).
The second half of the menu is where things really pick up!
You've got your most popular lángos, which is the sajtos-tejfölös (garlic, cheese and sour cream). There's every combination you can make out of ham, cheese, and sour cream, all the way down to the most covered in toppings… The pièce de resistance, the sajt-tejföl-bacon-hagyma aka garlic, cheese, sour cream, bacon and red onion.
Which ones we tried
We tried two different lángos off the menu on our multiple trips to Krumplis Lángos, and we highly recommend them both.
The classic sajtos-tejfölös is deliciously flavourful and an absolute must. Creamy, cheesy and garlicky all on top of the crispy fried bread, stomach officially grumbling.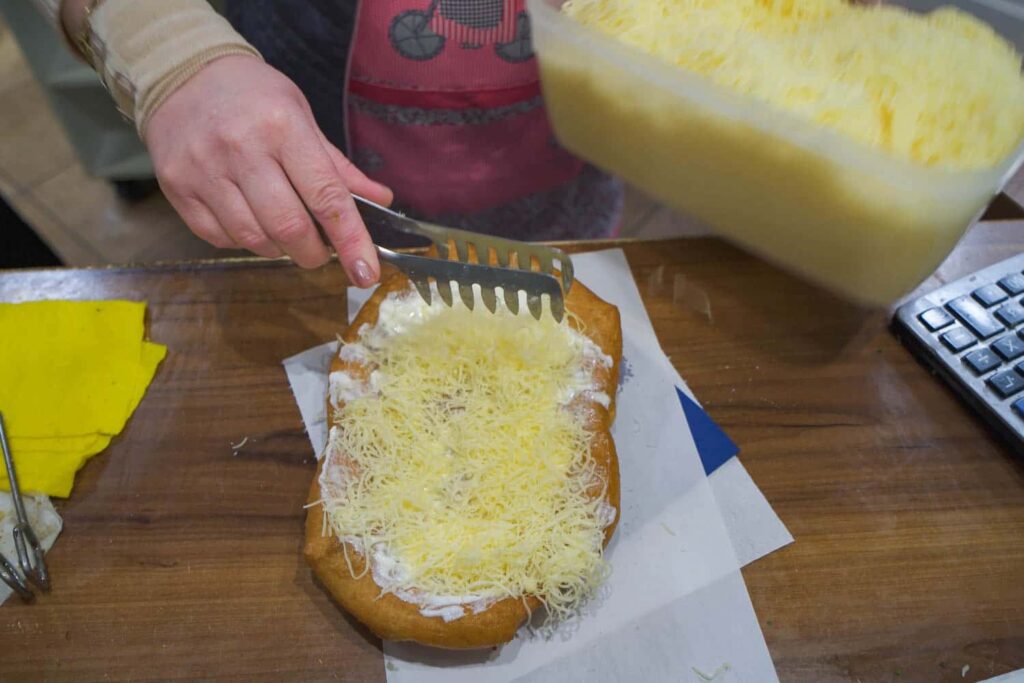 Our number one go to, however, became the fully loaded sajt-tejföl-bacon-hagyma. Now this one, this one was truly special and will leave you with the best breath you've ever had!
There's something about the crispy soft bread, spicy garlic, velvety sour cream, salty bacon, savoury cheese and crunchy raw red onion that just completely works as a fusion of texture and flavour. Okay, now we're drooling!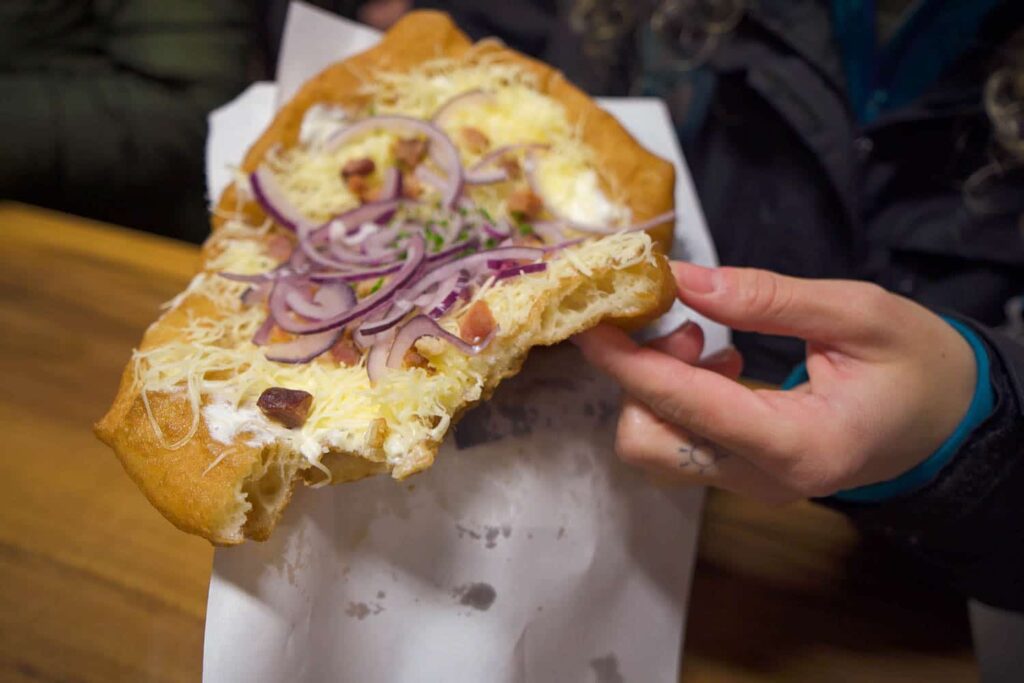 The vibe
It's a quick grab and go affair here. There's no tables and chairs to sit and eat, but a bar where you can stand and devour your lángos. To be honest, when indulging in something like this, sometimes it feels better to stand and eat. They're so good it won't last long anyways!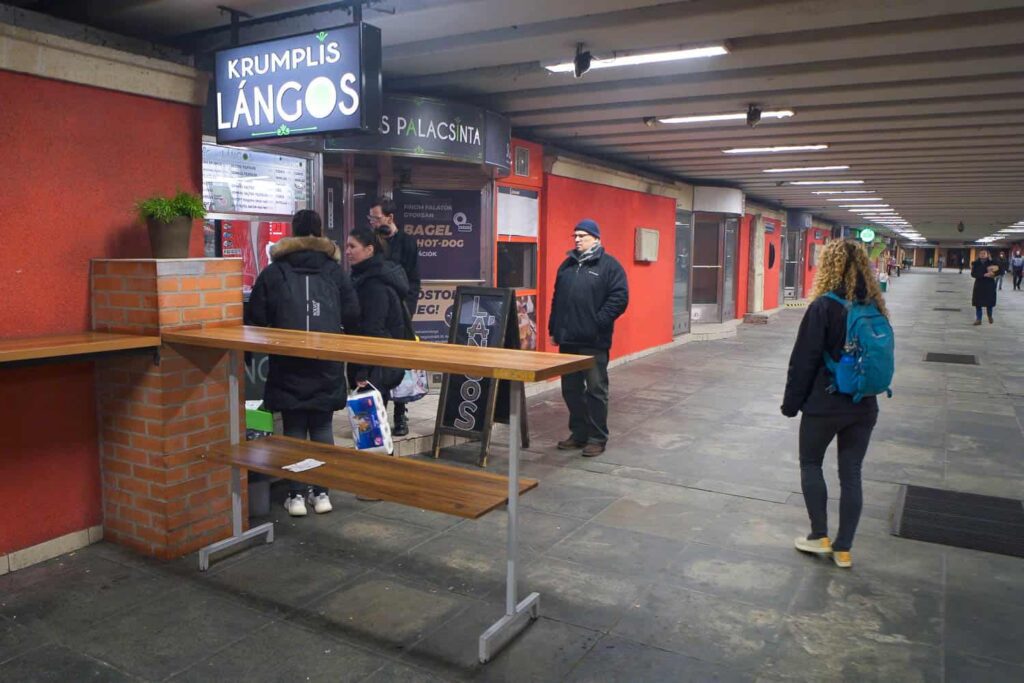 If you do want to sit down and enjoy your lángos, however, the park just outside of the underpass has some seating.
Location of this must visit spot
Krumplis Lángos is located in one of the most unassuming and unsuspecting places. Found almost underground in an underpass, it's not quite where you'd imagine to eat the best lángos in Budapest. Mind you, it's in these off the beaten path places like underpasses and down small alleys where you find the best lángos. Either way, this is exactly where you want to be.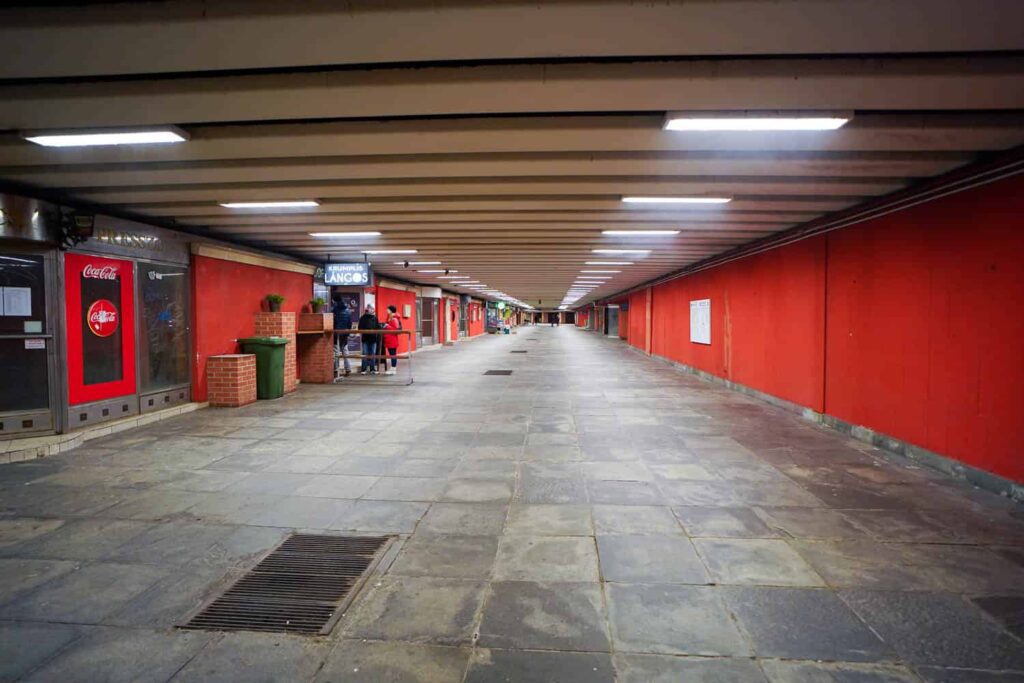 The location itself is a little far from the centre of downtown Budapest, but extremely easy to get to. Public transport is so prolific in the city, and Krumplis Lángos itself is along multiple train, tram and bus lines. So, wherever you're coming from in the city, you'll have no trouble getting here.
How to get to Krumplis Lángos
Budapest is divided into districts, and you'll find Krumplis Lángos in District III, also known as Óbuda.
From Pest side
From the centre of downtown Budapest at Deák Ferenc tér, the best way to get to Krumplis Lángos is to take the M3 (blue) subway towards Újpest-Központ.
Hop on at Deák Ferenc tér station and head to Göncz Árpád városközpont. Disembark here and make your way above ground to the eastern side of the intersection. Take the 1/1A Tram from Göncz Árpád városközpont M towards Bécsi út/Vörösvári út, disembarking at Flórián tér.
Since almost all the Metro (subway) lines cross the 1/1A tram line, you can easily get to Krumplis Lángos from all areas of the city, no matter where you start out from.
When you come from Flórián tér, it's a bit more of a direct, less scenic route than from the Buda side.
You'll get off at the Flórián tér tram station, and on the north side of the street you'll see a large mall called 'Flórián'. Cross the road in the direction of the mall, past some interesting Roman ruins. Then, head down below the street into the underpass on your right, you'll see the sign for Flórián tér. As you enter the underpass, you'll see Krumplis Lángos directly to your right, about fifty metres or so down.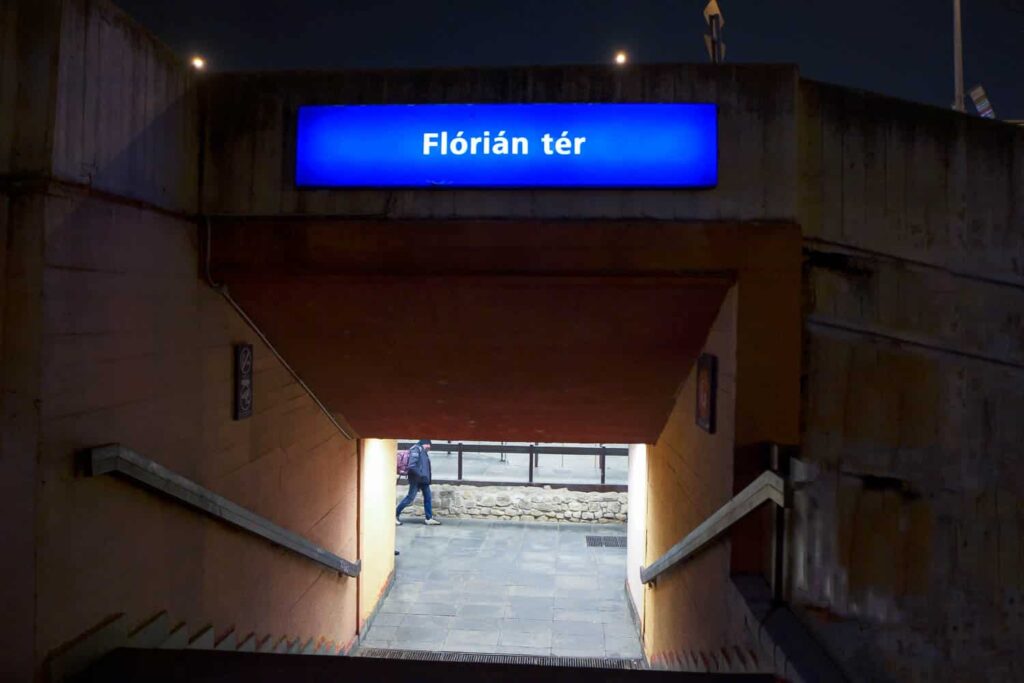 From Buda side
If coming from the Buda side after exploring the castle, take the H5 from Batthyány tér towards Békásmegyer/Szentendre (it's the first stop on the H5 line so it can only go in one direction). Be aware that Batthyány tér station is underground and the H5 is a proper train, so don't be alarmed that it's not a metro car. Disembark when you reach Szentlélek tér.
Once you arrive at Szentlélek tér, you'll disembark and head northwest past Vasarely Museum and through Fő tér. The quaint square of Fő tér is surrounded by beautiful old buildings and is a sight in itself. You'll probably want to take a moment to snap a few pics. As you exit the square from the northwest corner, you'll continue along Kórház Street, past local apartments, until you stumble upon a large road overpass.
As you see the overpass come into sight, the only way to cross it is underground. You'll take the stairs that lead down below the road and turn left. The underpass is quite long, so continue until about half way down and boom, you'll come upon Krumplis Lángos on your left.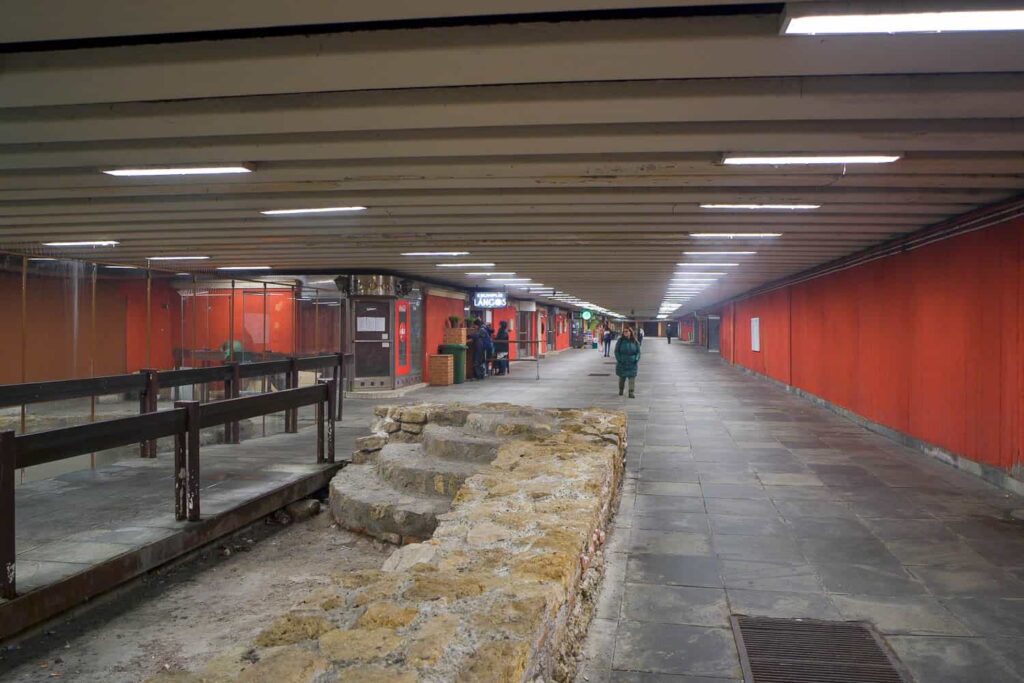 Luckily, it's not hard to miss when coming from either direction. There'll most likely be a queue of people looking for their fill of steamy hot lángos, just like you.
Getting around while in Budapest
Public transport in Budapest is extremely convenient and affordable. Depending on how long you'll stay and how you plan to spend your days, the Monthly Budapest-pass is the way to go. It works on every form of transport in the city; bus, tram, trolley, train and metro.
We found it super convenient because you can take any form of transit without having to worry about tickets, fumbling with money, or how often you want to use transit throughout the day.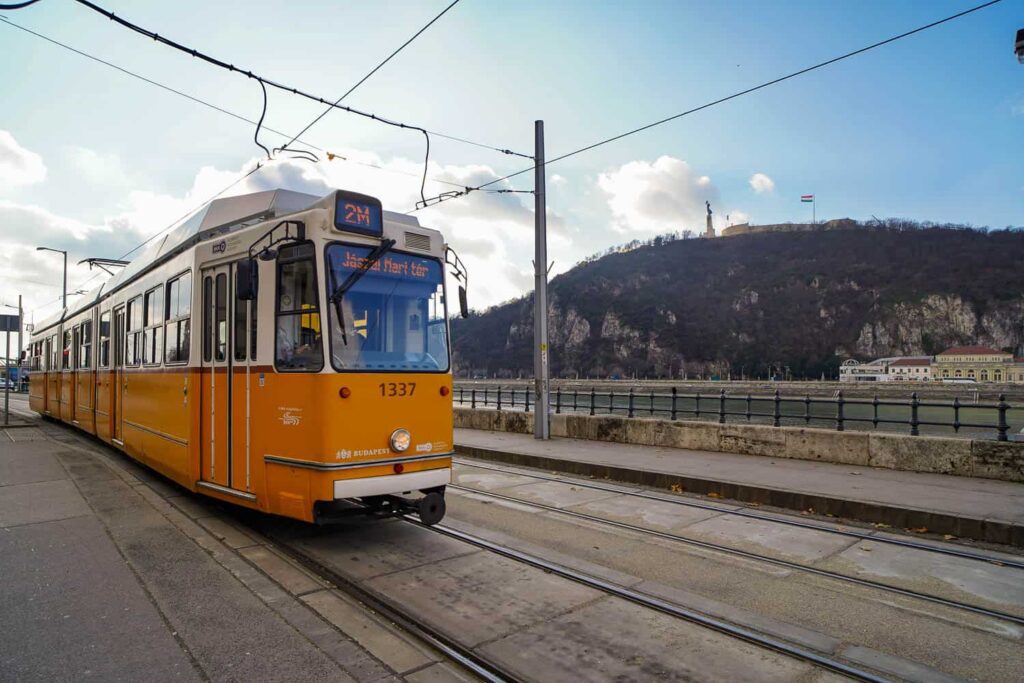 Budapest itself is extremely easy to get around because there's transit pretty much everywhere you could possibly want to go. It's one of the most accessible cities we've ever been to in terms of all the different modes of transit and how far they reach.
Below is a list of transit prices so that you can make the most informed decision based on the length of your trip and needs while in Budapest:
• Single ticket (valid for one ride) 350 HUF
• 24-hour Budapest-travelcard 2 500 HUF
• 72-hour Budapest-travelcard 5 500 HUF
• 15-day Budapest-pass 6 300 HUF
• Monthly Budapest-pass 9 500 HUF
Check out the official 'BKK' Budapest transit website for more info.
The best lángos in Budapest is at Krumplis Lángos
Recommended by locals, the mouth-watering lángos at Krumplis Lángos is one of the top places to get lángos in Budapest. Nothing beats the taste of their freshly made lángos, covered in spicy garlic, smooth sour cream and salty cheese. Yum!
So, if you're looking for an affordable, local, delicious lángos made with quality ingredients, you're gonna want to head to Krumplis Lángos. This is the place to eat the best lángos in Budapest by a long shot, the most popular Hungarian street food.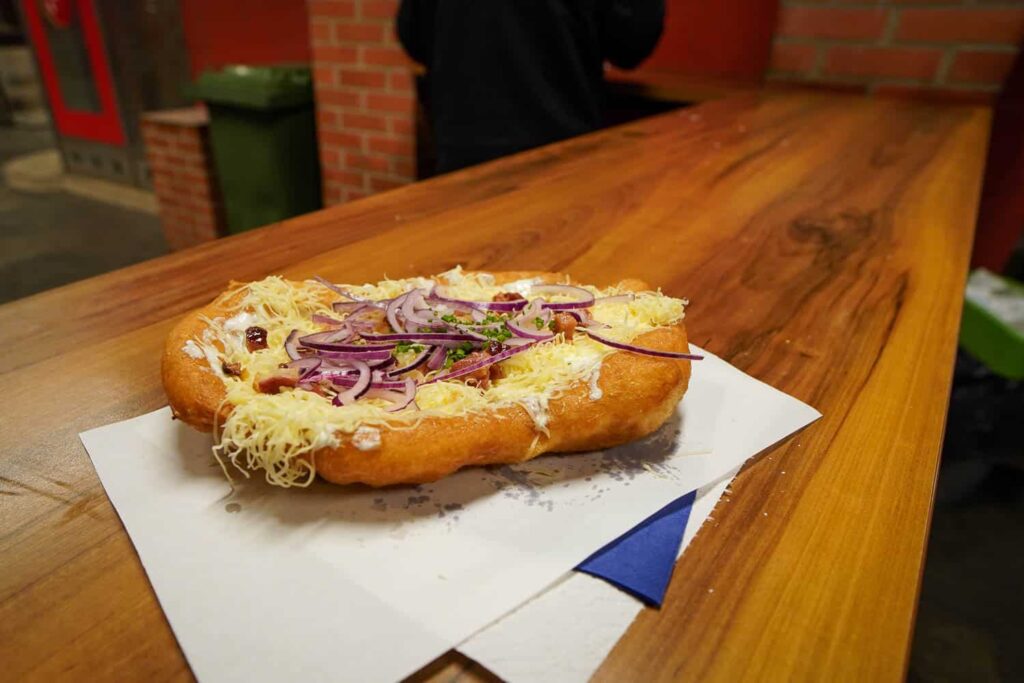 Name: Krumplis Lángos (LÁNGOSOS – Flórián tér aluljáró)
Address: Budapest Aluljáró szint, Flórián tér 1, 1033, Hungary
what3words: ///backward.runner.bunks
Price: 650-1050Ft
---
---