If you're looking to try some of the best street foods to eat in Manila, then Binondo Chinatown is where you want to be. Founded in 1594 (yes you read that right), Binondo is the oldest Chinatown in the world! This list of the top 6 street foods to eat in Binondo Chinatown will get you well on your way to planning your very own food tour.
This lively and historic district was set up across the river from Intramuros district back in the 16th century, where all the wealthy colonial Spaniards resided at the time. This permanent settlement for the Chinese immigrants flourished, causing it to become the centre of commerce and trade in Manila by the 20th century.
Chinatowns are known for being a hot spot of culture, commerce, and most especially food! Many things have changed over the years in here in Binondo. One thing that's remained is that the locals know how to do street food right.
Enough chit chat! Ready to plan your own historic street food adventure through the oldest Chinatown in the world? Here's your top 6 street foods to eat in Binondo Chinatown, Manila.
Fried Siopao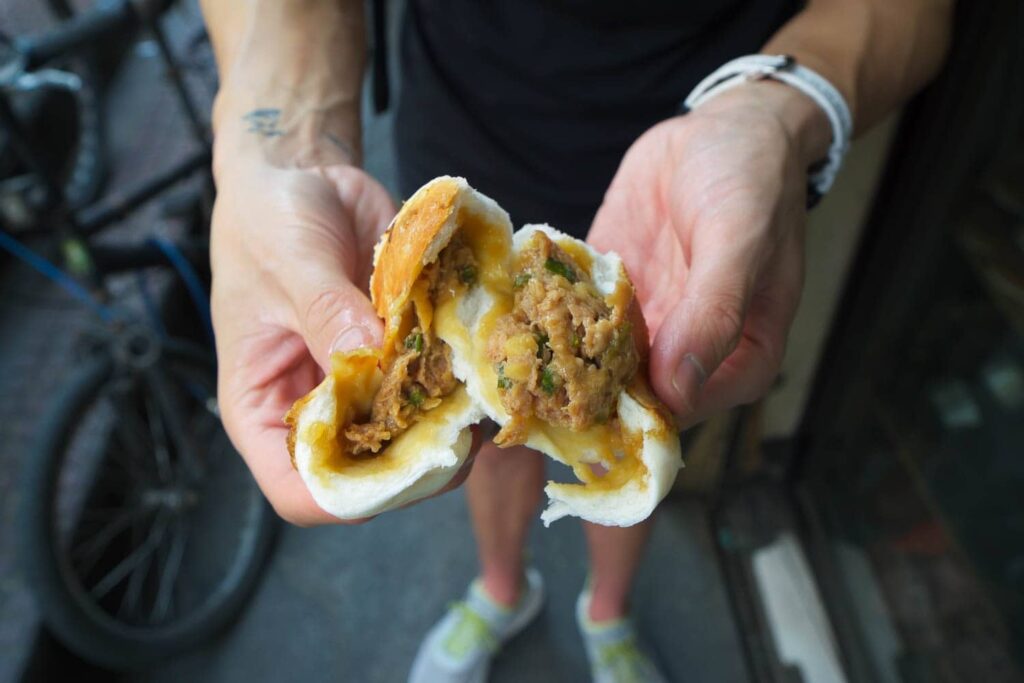 Siopao are a popular Chinese-influenced Filipino steamed bun, and the ones at Shanghai Fried Siopao in Binondo are worth the trip alone. The slightly sweet, fluffy buns are packed to the brim, full of tender ground pork, onion and chives. Once steamed, the cooked meat and veggies create an incredibly juicy bao.
What makes the ones here at Shanghai Fried Siopao extra tasty and unique is that they're steamed in oil. They end up coming out slightly fried and crispy on the bottom, while still pillowy, soft and extremely juicy throughout.
Quite different from your typical steamed bun, we had to try two just to be sure of how good they were.
Made and cooked in their small shop right along the busy Ongpin Street, these fried siopao have been a staple of Chinatown for many years. The siopao are bought up as soon as they come out of the steamer, satisfying the line-up of hungry customers. So, whenever you stop by, you're guaranteed to get one that's piping hot and fresh.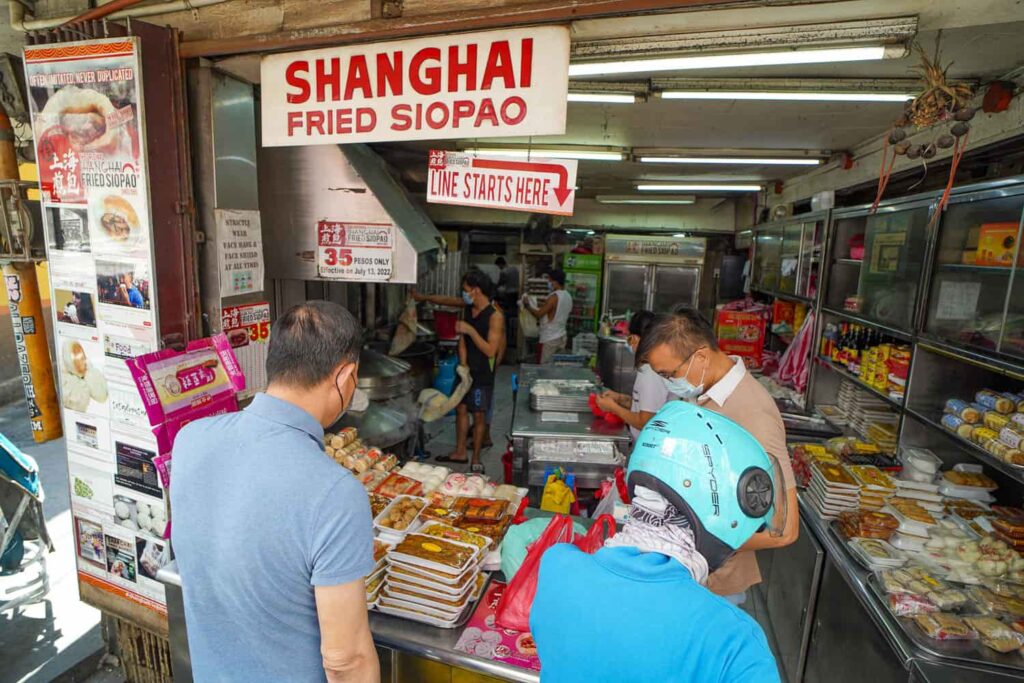 Name: Shanghai Fried Siopao
Address: 828 Ongpin St, Santa Cruz, Manila, Metro Manila, Philippines
what3words: ///sour.lost.trucked
Price: ₱35
Kuchay Ah Pie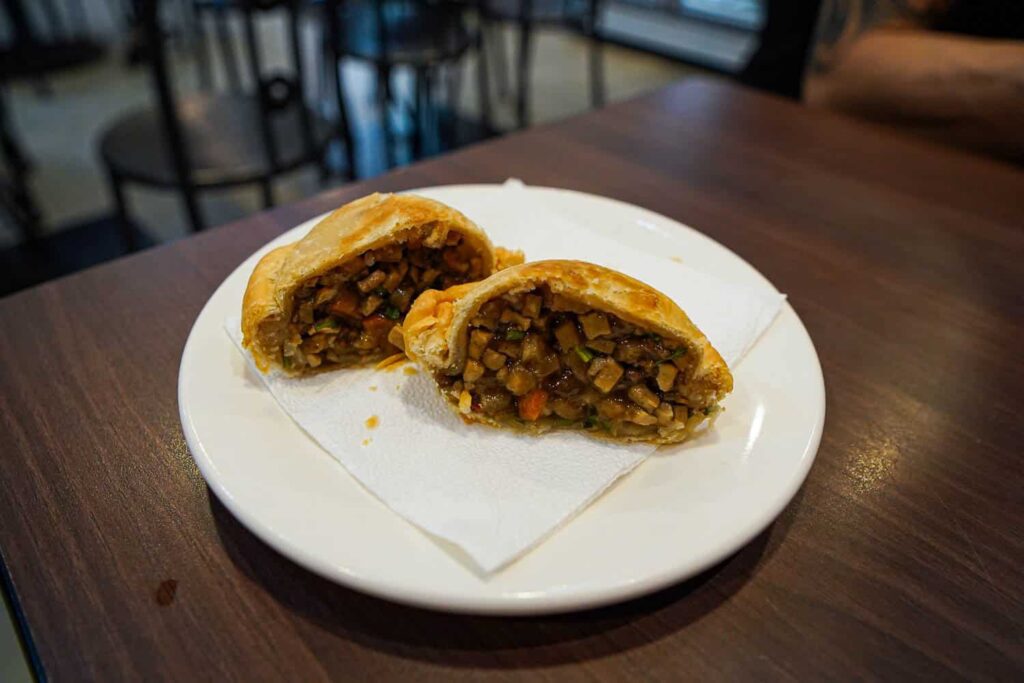 Next up on the list is kuchay ah pie, a fried pastry that looks similar to an empanada. They get their name from the prominent flavour of chives, which is kuchay in Filipino.
These little meat pies are made of a flaky pastry that's so rich it's almost buttery, and because they're fried and not baked, they're extra crispy. The pie is stuffed full of pork, tofu, chives, turnips and carrots, married in a savoury yet slightly sweet gravy.
We couldn't believe how heavy and packed full they were. So much so they resembled more of a ball than a pie!
The best place to try these is at Quik Snack. They do a number of different Chinese-Filipino dishes here, but they're especially known for their pies, with the kuchay ah being their number one.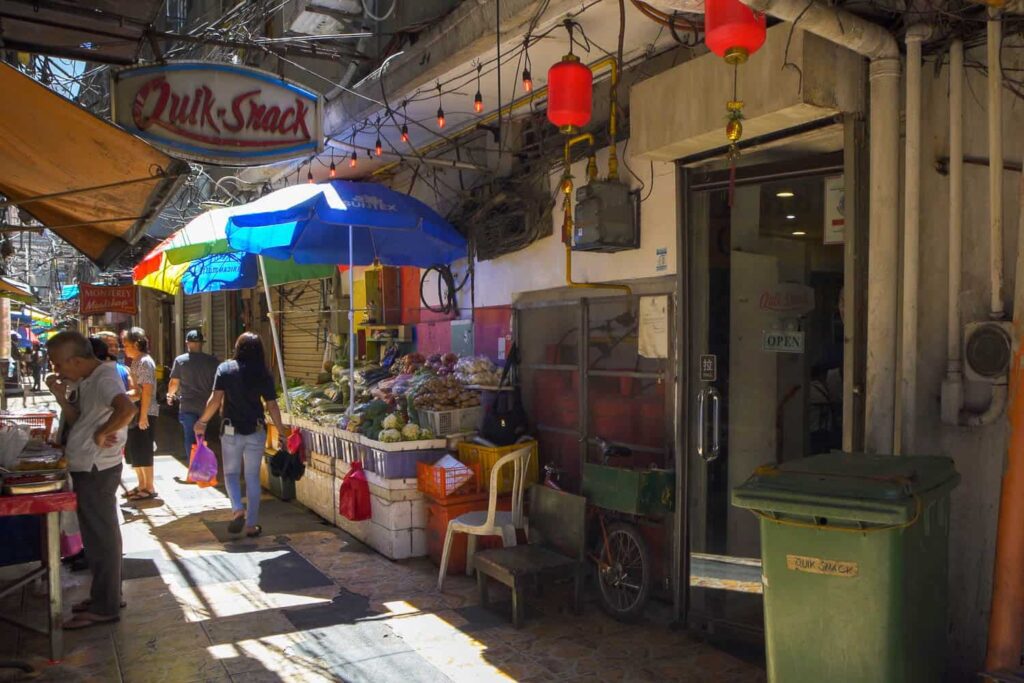 Name: Quik Snack
Address: HXXG+R5X, Carvajal St, Binondo, Manila, Metro Manila, Philippines
what3words: ///shut.pretty.infuses
Price: ₱65
Pork and Chive Dumplings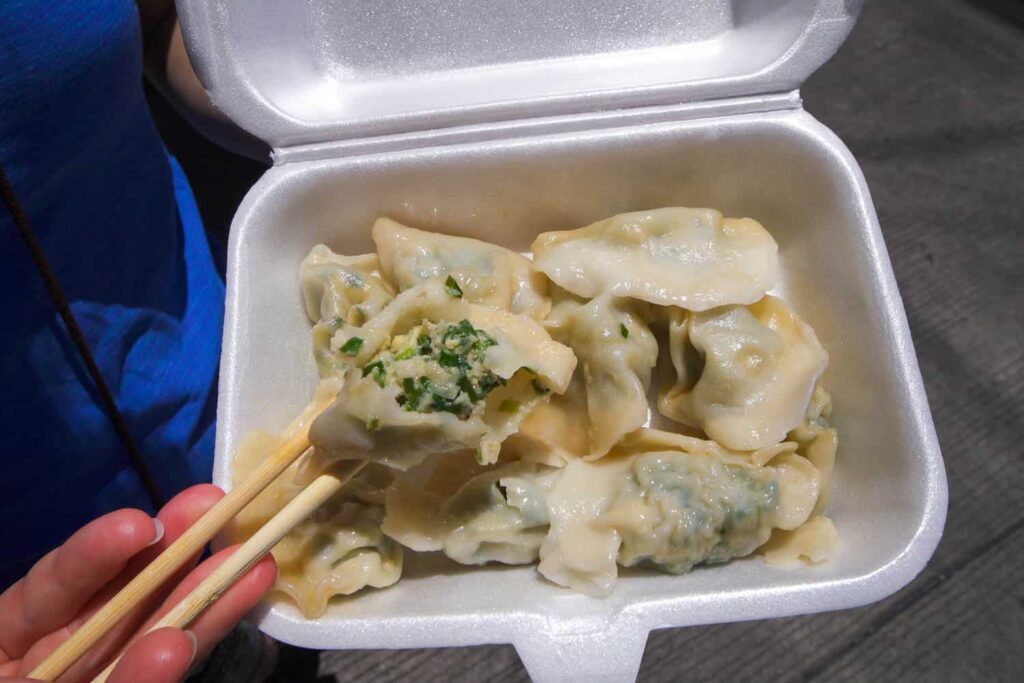 An absolute must eat street food in Binondo Chinatown is the pork and chive dumplings at Dong Bei Dumpling.
Thin dumpling skin is loaded with a mixture of pork, onions and plenty of chives. Immediately after being made by hand, they're boiled until they float. The dumplings come out so full of flavour and juicy, they literally melt in your mouth. So much so they boarder on soup dumplings!
They're served with a special homemade garlic-vinegar-soy sauce mixture, with a spicy chilli sauce on the side for an added kick. This is some spicy sauce, so if you like your tongue on fire, we highly recommend it.
What sets Dong Bei apart is that the dumplings here are made fresh to order with quality ingredients. You won't find anything frozen around here, and as far as we're concerned, it really doesn't get any better than that.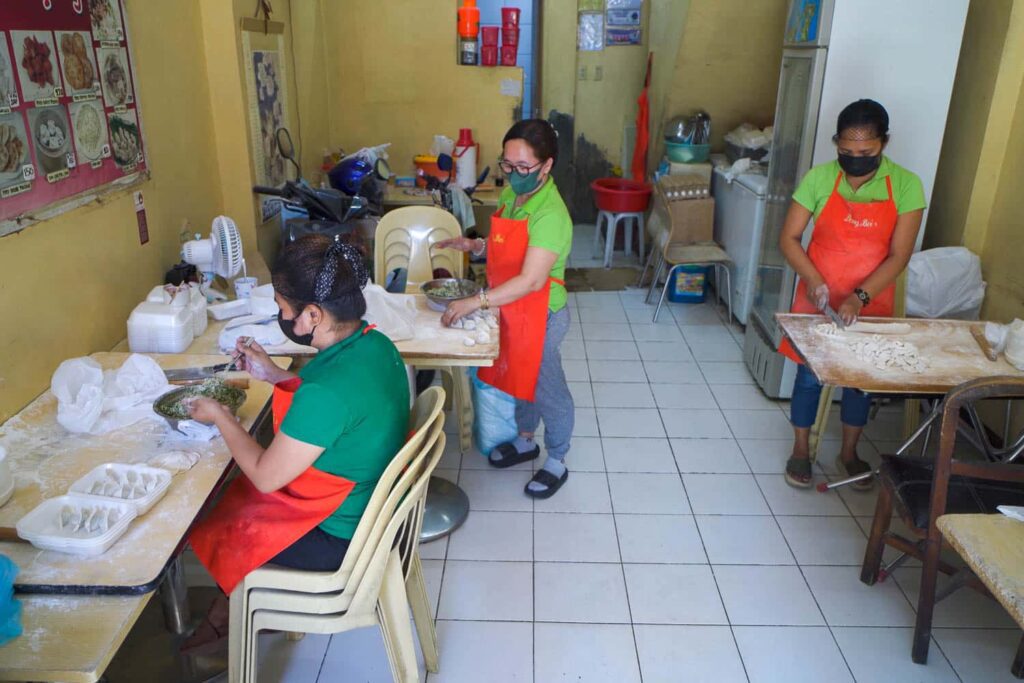 Name: Dong Bei Dumpling
Address: 642 Yuchengco St, Binondo, Manila, Metro Manila, Philippines
what3words: ///gossip.sugars.outdoor
Price: ₱200/order (14 dumplings)
Hand Pulled Noodles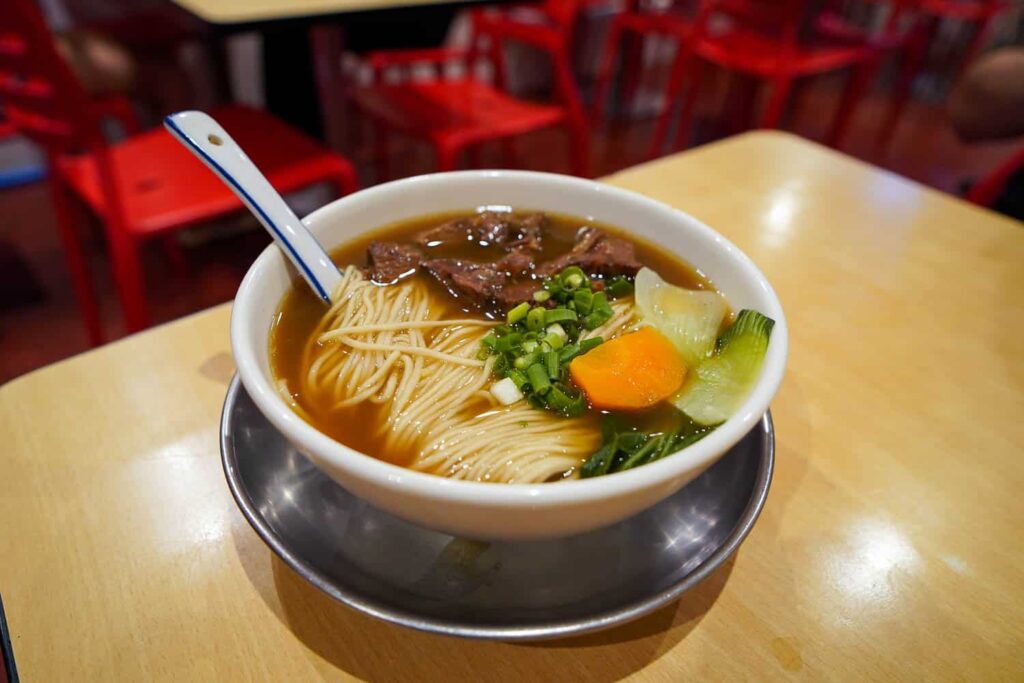 This delicious looking bowl of fresh hand pulled noodles can be found at a fantastic place just on the outskirts of Binondo. At Lan Zhou La Mian, they pull their noodles fresh to order, right at the front of the shop so you can see the chefs in action as they prepare your meal.
We don't know about you, but hand pulled noodles always hit that little bit different for us. Dunked in boiling hot water, they only take 15 seconds to cook. The freshness can be tasted in the texture of the noodles, which are just that bit firmer and chewier than others.
There's a number of different noodle soups to choose from, but we recommend the beef lamien. Full of tender beef, bok choy, scallions and carrots in a hearty, beefy broth, you won't believe how generous they are with the noodles!
Each table is ready to go with a massive bowl of scallions and sauces for you to add, dependant on your tastes.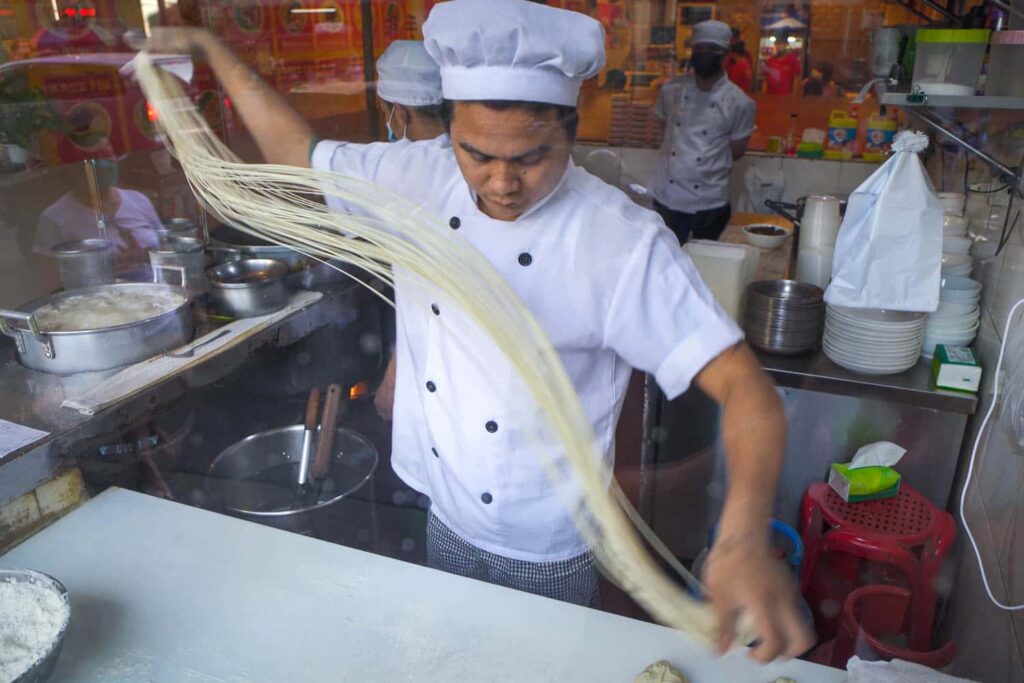 Name: 兰州拉面 Lan Zhou La Mian
Address: 1356 Masangkay St, 262 Zone 24 Tondo, Manila, Philippines
what3words: ///memory.shams.penny
Price: ₱280
Hopia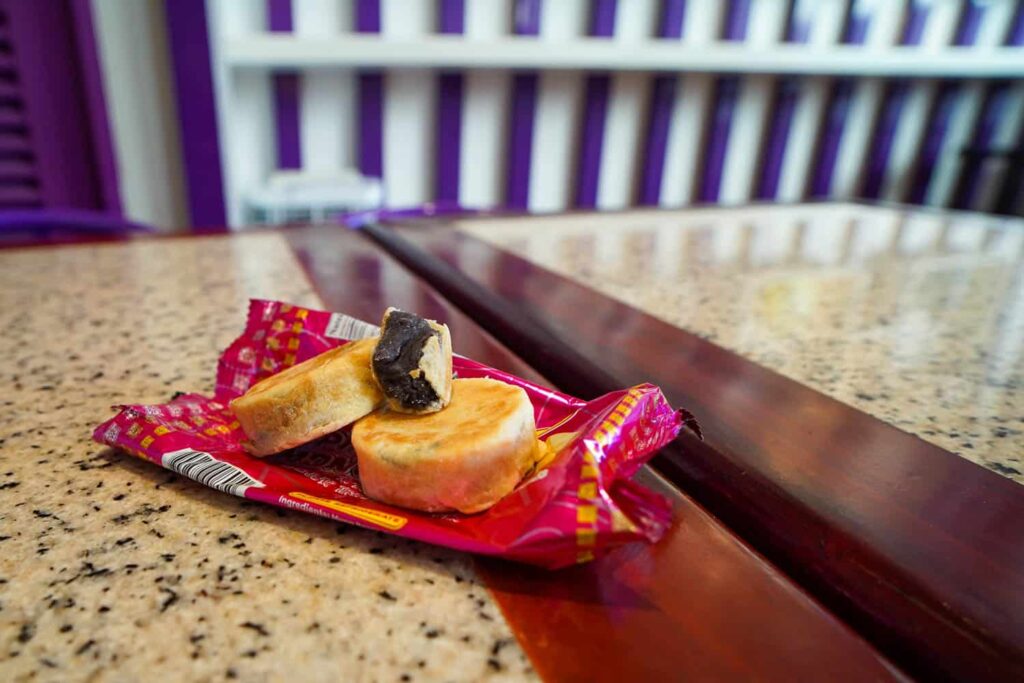 These little pucks are hopia, one of the most popular pastries found throughout Binondo.
This traditional pastry is full of thick mung bean paste inside a thin pastry shell. The soft textured pastry can be flavoured with a number of different tastes, but the local favourite is ube, purple yam.
Eng Bee Tin opened up in 1912 and were the first to introduce ube jam into the traditional hopia in the 1980's, as a way to revitalise a once dying business. The vibrant purple colour stood out amongst all the others, bringing them to fame in no time. Now with multiple stores throughout Binondo, tasting their hopia and Chinese-Filipino pastries is a must.
We decided to the best way to taste hopia was to go for both the original and ube.
The ube has a distinct sweet jam taste to it that's perfect if you have a sweet tooth. If you're not a massive sweet fan, then go for the original. Nice and pasty, these taste more like a sweet white bean than anything else. The hopia come in packs of four, which is a pretty good deal for what you pay for.
Many shops around Binondo sell hopia, so have a wander around if you want to taste the different ones of this historic Chinatown.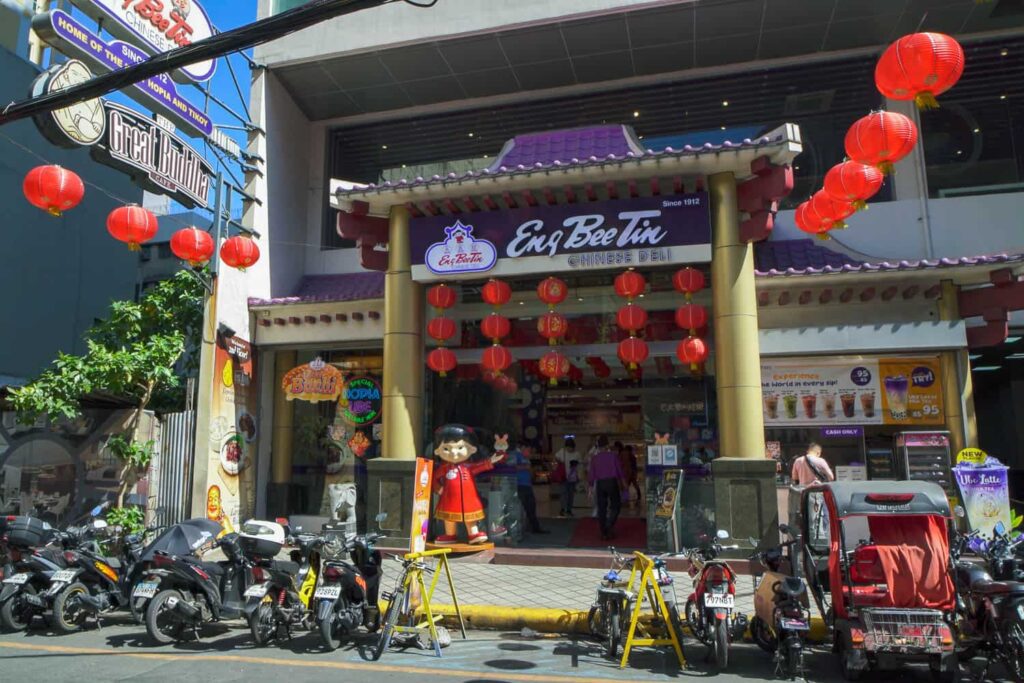 Name: Eng Bee Tin
Address: 628 Ongpin St, Binondo, Manila, Metro Manila, Philippines
what3words: ///senses.minder.solder
Price: ₱50-56
Ube Bubble Milk Tea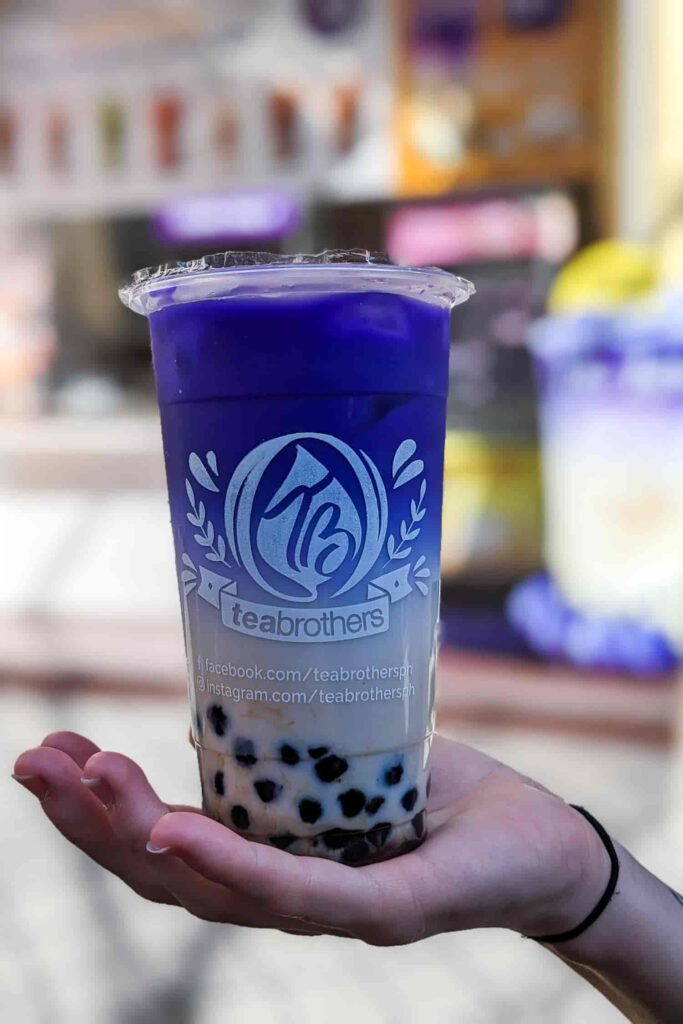 When exploring Binondo in Manila, you'll definitely need to cool down at some point, trust us!
We love a good bubble tea, and luckily right next door to Eng Bee Tin (the flagship location) is where you can find the best ube bubble milk tea.
With a taste similar to taro, their ube milk tea is creamy, cold and mildly sweet with a strong ube flavour that's oh so refreshing. Not to mention the tapioca pearls are fresh, chewy and delicious. You're gonna find it hard to resist anything ube flavoured from now on! It's definitely become our new go-to favourite.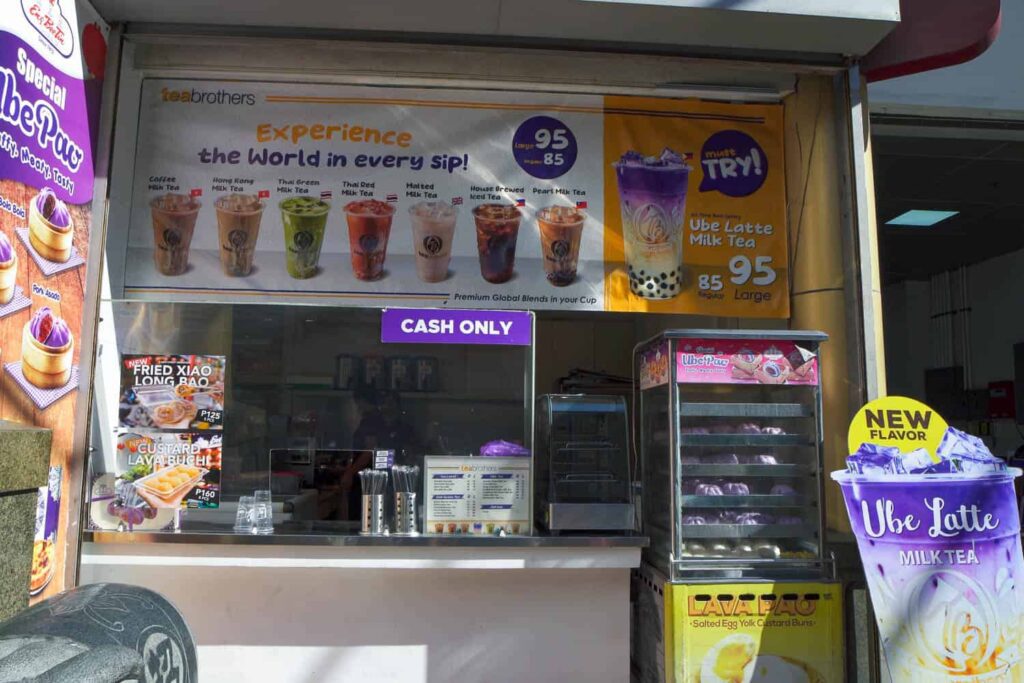 Name: Tea Brothers
Address: 628 Ongpin St, Binondo, Manila, Metro Manila, Philippines
what3words: ///they.evolving.chambers
Price: ₱95
Some of the best street food to eat in Manila can be found in Binondo Chinatown. As the oldest Chinatown in the world, you'll find loads of popular Chinese-Filipino foods as you wander the streets of Ongpin and the Binondo neighbourhood.
We hope this list of the top 6 street foods to eat in Binondo Chinatown, Manila will get you well on your way to trying some of the best Filipino food in Manila.
Check out our video below trying the top 6 street foods to eat in Binondo Chinatown, Manila.
---
---