Ever had your meal set aflame right in front of you and been asked play with fire? That's what's in store when you go to the best restaurant for authentic testi kebab in Istanbul.
The flaming testi kebab is a Turkish pottery kebab that originates from the Anatolia region of Turkey. It's a very unique and special way of cooking kebab in a clay pot, that's similar to a pressure-cooked stew. If you find yourself in Turkey, but aren't able to make it into this central region of the country, there are a number of different restaurants in Istanbul that serve up this special dish just as good as the original.
Where to go for authentic testi kebab in Istanbul
Of all the restaurants that serve testi kebab in Istanbul, the best one is at the İstanbul Kebab Cafe & Restaurant in the old Sultanahmet district of Istanbul. Here, it's served up with an amazing show and wonderful hospitality that's incomparable.
The most unique part of this dish is the flaming testi kebab fire show that you get with your meal. As far as fire shows with the Turkish pottery kebab go, one of the best in the city is here at the İstanbul Kebab Cafe & Restaurant.
What to order
There's one option on the menu for testi kebab, 'individual' sized pots that are portioned for two people. They're the perfect amount to share and be pleasantly stuffed. So, make sure you bring an eating buddy with you, or you're extra hungry!
The pottery kebab is full of lovely fresh ingredients like beef, chicken, or both, with onions, tomatoes, mushrooms, garlic, and green pepper, with lots of tasty herbs and spices. It's made by putting all the ingredients together into a small clay pot and then sealing off the head with aluminum.
The pot, full of all this deliciousness, is placed into a tandoor oven to cook. This special cooking style creates a pressure cooker atmosphere inside the clay pot, which is the secret behind the taste and flavour of this unique kebab.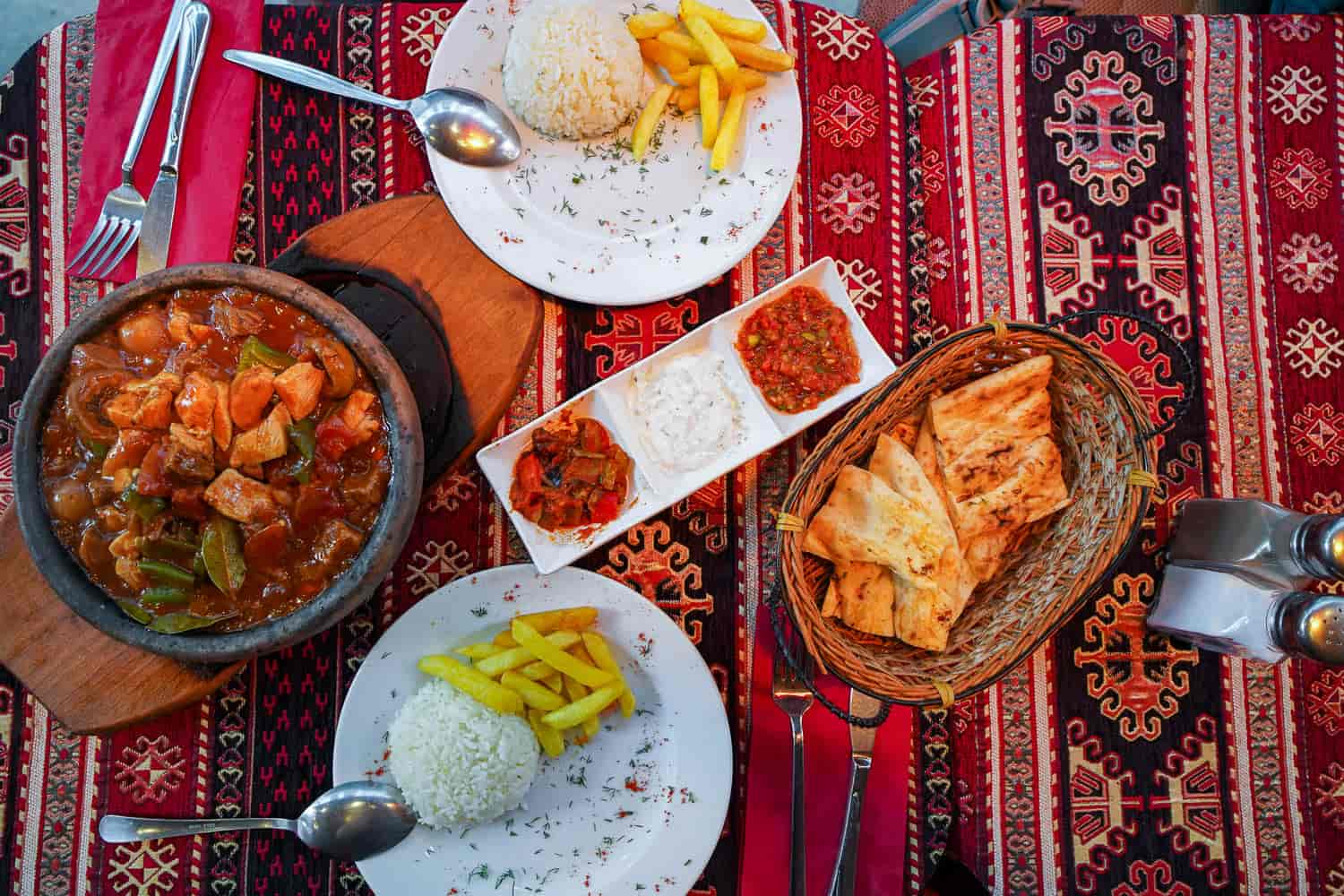 What to expect
The best part of this dish, minus how delicious it is of course, is the fire show that comes with it! There's a reason they call it 'flaming,' and the fire show here is unparalleled. After the kebab has been cooked and stewed in its own juices, they set the pot aflame and serve it up, piping hot, ready to burn your mouth. So, beware of those first bites!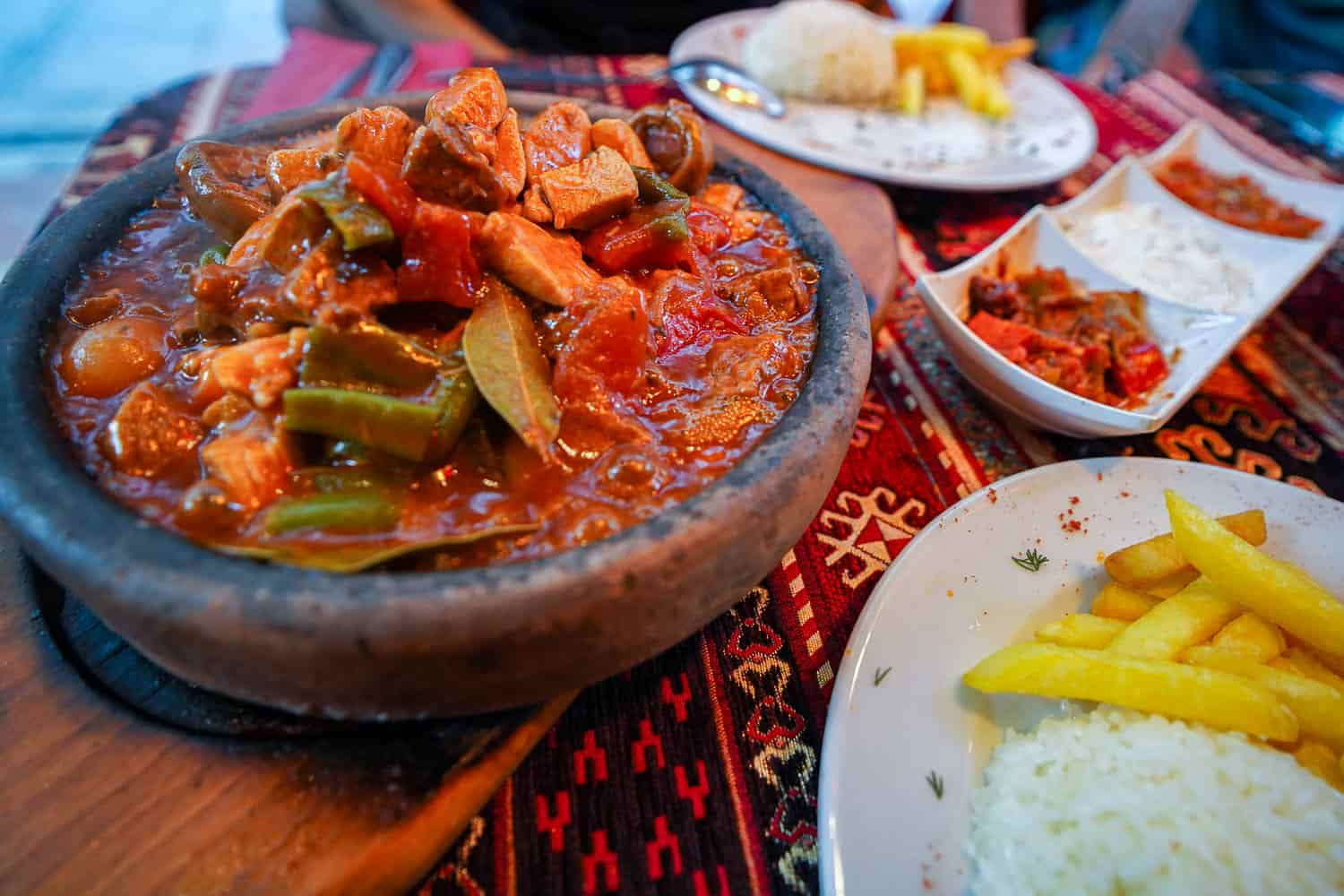 Dessert, anyone?
Honorable mention is the delicious, fresh baklava and apple tea that's served to each customer for dessert. Nothing sits quite right at the end of a Turkish meal than a fresh, crispy, sweet piece of baklava to wash it all down.
Name: İstanbul Kebab Cafe & Restaurant
Address: Alemdar, Biçki Yurdu Sk. No 5, 34122 Fatih/İstanbul
what3words: ///teaches.audio.securing
Price: 230TL
Are you interested in seeing what this amazing fire show is all about? Then click below to see the best restaurant for authentic testi kebab in Istanbul.
---
---