Our first experience of kahvalti ended three hours after it began, rolling ourselves out of the restaurant, plump and happy. That's the thing about a true traditional Turkish breakfast. You know going into it that you're in for a meal chock full of incredible food, strong tea, and the best company.
The most important meal of the day is not taken lightly in Turkey
Kahvalti is a traditional Turkish breakfast consisting of an unbelievable spread of small plates of food. All of this is meant to be shared with friends and family. Starting with fresh salty white cheeses, olives and eggs. Leading into sweet clotted cream, honey, preserves, spreads, and fresh bread. It's a gathering full of so many delicious dishes that you'll be looking forward to it the night before. No matter how modest the table, you can be sure to find it full of all the kahvalti staples.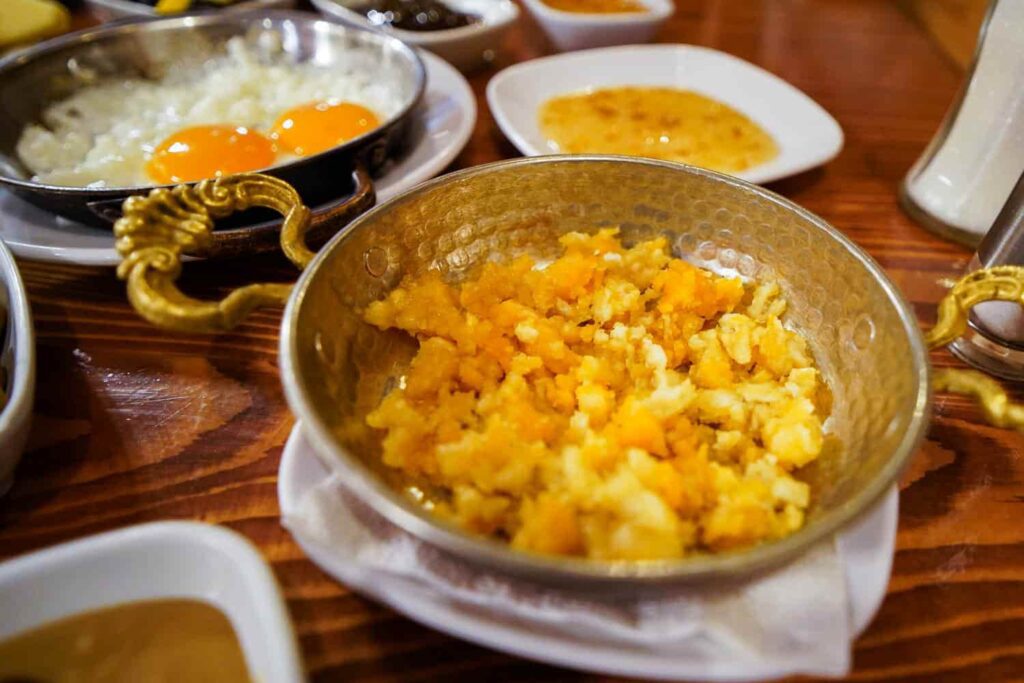 Where to go for the best breakfast in Istanbul
With our new found knowledge, we set out to try the best traditional Turkish breakfast we could find. One of the more well-known places to visit is Van Kahvalti Evi. We wanted to try it out to see if it lived up to its reputation… and did it ever! If you find yourself in Istanbul looking for an authentic Turkish breakfast, then this restaurant has to make it onto your 'must try' list. It's definitely the best place in Istanbul to try kahvalti, and we'll show you why.
When to go to beat the crowds
With Van Kahvalti Evi being such a popular spot, it can get crazy busy on weekends. The busiest is mid-day, when a queue of hungry Istanbulites and tourists can be found lining the street. If you don't feel like lining up with the rest of the city, then we highly recommend visiting during the week. We visited on a weekday about 1:00pm and had no issue finding a table.
What to order to get the full experience
The full kahvalti breakfast has two set menu options. Either of them must be ordered for at least two people, so make sure to bring your best eating buddy with you.
Of the two options, the more expensive "Serpme Van Kahvalti" was our go to choice. This option has the most variety of dishes to get the full experience. Not to mention the unlimited tea (more on that later), we figured you gotta go big or go home.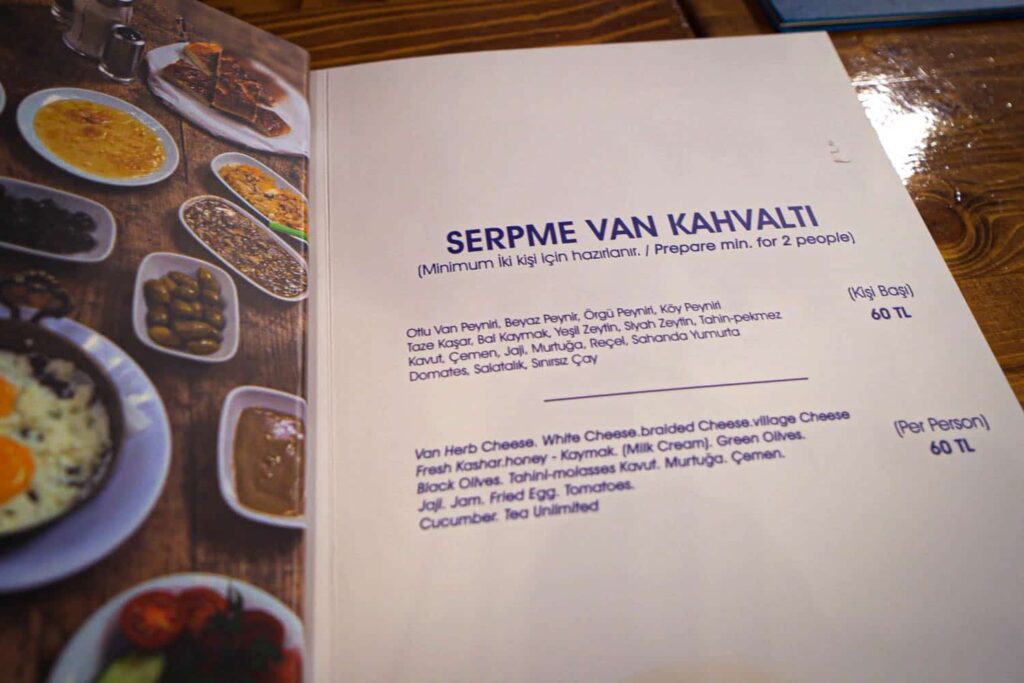 The freshest food, made in-house that morning
What makes Van Kahvalti Evi so special is that all of the food is made in-house, some of it even that morning. The Serpme Van Kahvalti comes complete with a plate full of fresh cheese, olives both green and black, eggs two different ways, fresh vegetables, honey and cream. With spreads, preserves, dips and jams, all ready to be eaten with your basket of freshly baked bread. This is the ultimate traditional Turkish breakfast.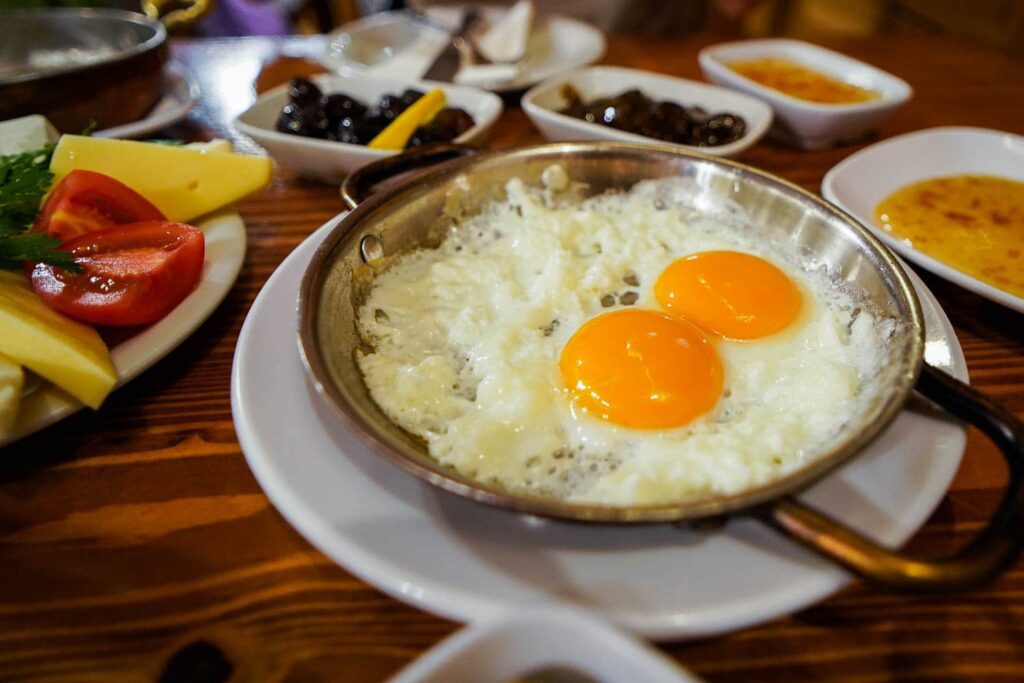 The variety of fresh white Turkish cheeses are something to write home about. Consisting of a white brine cheese, braided cheese, string cheese, and an extra special sheep's cheese that the restaurant calls Ottu Van Peyniri.
Made in-house, Ottu Van Peyniri is a herbed sheep cheese. It's super sharp and full of flavour from the wild herbs that are used to make it. In English, it can be referred to as Van cheese. This name refers to both the region of eastern Turkey that this type of cheese originates, and the restaurant itself.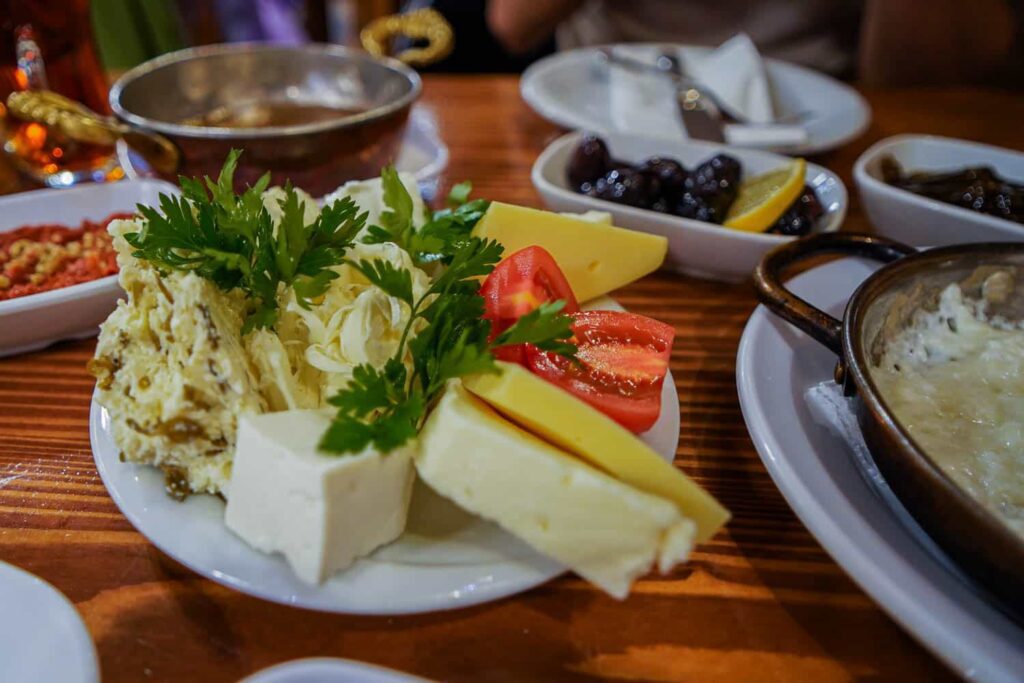 The ultimate treasure here, however, has got to be the kaymak. If you haven't tried kaymak before, you must! It's somewhat akin to clotted cream, except it's made from buffalo milk and is a sure-fire way to put a smile on your face.
Here, it's made fresh every morning and is served as a slice because it's so thick. Take some on your fork or with piece of bread baked in-house, with a decent helping of fresh thick honey, and you'll be beaming from ear to ear.
Did someone say, unlimited tea?!
What sets the "Serpme Van Kahvalti" apart, including the extra menu items, is the unlimited tea. Any meal in Turkey is not complete without a hot glass of tea, or çay, and breakfast is most certainly no exception. Breakfast must be served with plenty of freshly brewed black tea. Here, you can be sure to have a new glass brought to you as soon as your last has been downed.
Amazing hospitality and a friendly experience
From the moment you arrive till you walk out the door, the hospitality at Van Kahvalti Evi is incomparable. The amazing people working here are full of information about all the different dishes. They're extremely attentive if you needed anything, especially a fresh glass of çay! In fact, we wouldn't suggest this as the best breakfast in Istanbul for any less.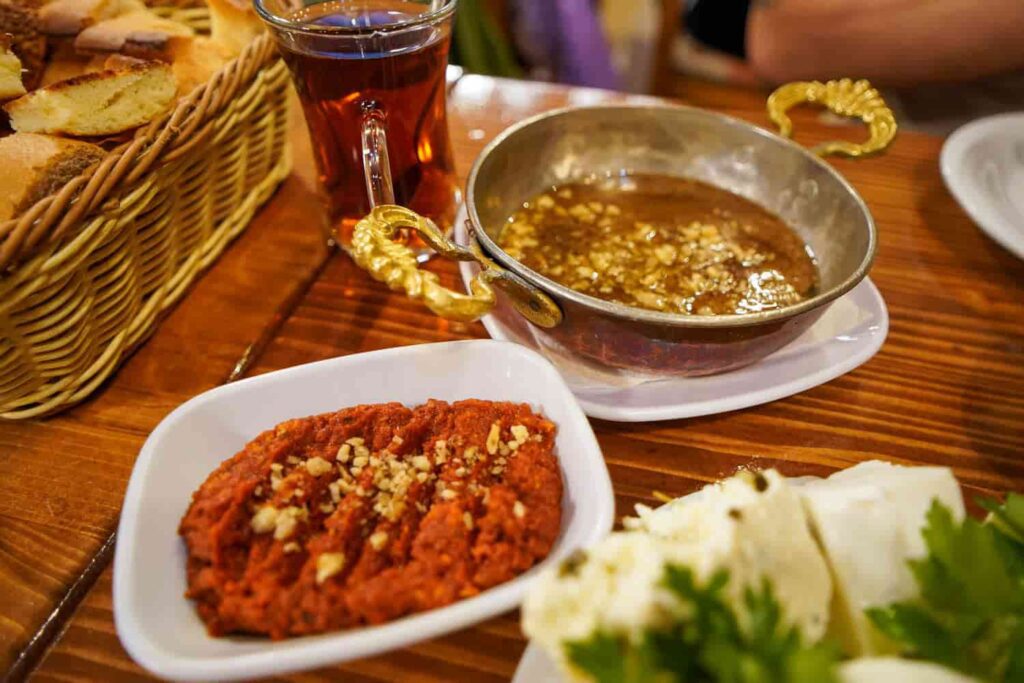 Kahvalti is not just a meal, but a whole experience
A traditional Turkish kahvalti is not just a meal, but a whole experience unto itself. Something that must be shared over great company and conversation.
At Van Kahvalti Evi, the combination of amazing food made fresh in-house, with wonderful service and hospitality, make their traditional kahvalti an unforgettable experience. If you're looking for a true traditional Turkish breakfast, that goes beyond just the food, then Van Kahvalti Evi is the place for you.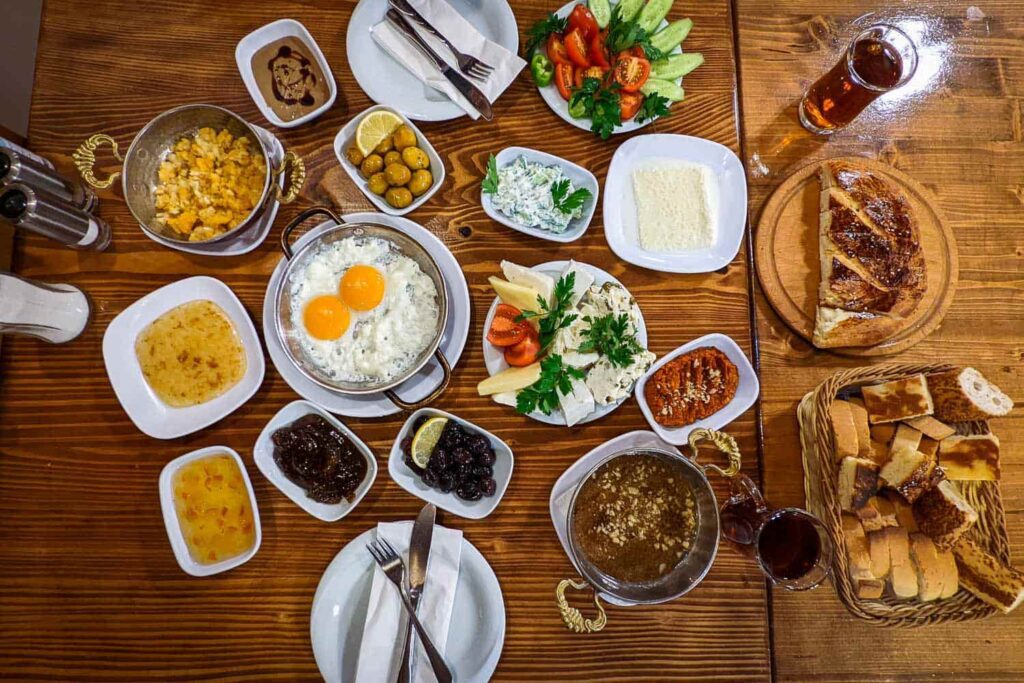 Name: Van Kahvaltı Evi
Address: Kılıçali Paşa, Defterdar Ykş. 52/A, 34425 Beyoğlu/İstanbul, Turkey
what3words: ///circular.longer.finger
Price: 100TL/person
---
---