Ah rice pudding, the forgotten dessert. Found all over the world in so many different cultures, it's often replaced by more popular sweet treats, but should never be underestimated. Something so cross-cultural needs its time in the spotlight. Trabzon Turkish rice pudding, known locally Hamsiköy sütlaç, deserves to be centre stage.
Rice pudding in Turkey, sütlaç
Turkish rice pudding, or sütlaç, can be found all over the country. It's a very common Turkish dessert on many restaurants' menus. So much so, that sometimes it's the only dessert on there! One kind of sütlaç that is the rarest and most decadent of them all is Hamsiköy sütlacı, found only in the Black Sea Region of Trabzon. In fact, this sütlaç is revered as the best in the country, and it all has to do with the cows.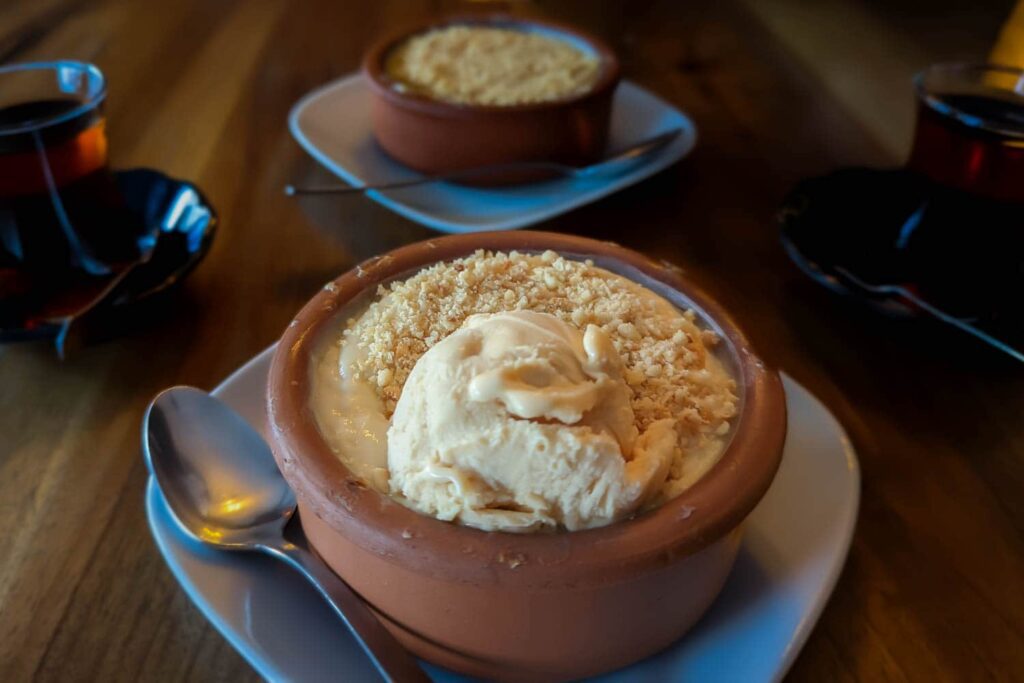 The famous cows that make Hamsiköy sütlacı so special
In the Black Sea Region of Trabzon, sütlaç is made with a rare and special milk known as Hamsiköy milk. The Hamsiköy cows which produce the milk have a unique habitat on top of the mountains of the Trabzon region. Wild flowers grow here in the mountain meadows and are eaten by the cows in their pastures. The addition of these wild flowers into the cows' diets imparts an extremely unique flavour on the milk they produce.
This diet is so unique that there are no other cows which produce this special milk. Thus making Hamsiköy milk very regional in nature. Since this milk cannot be produced anywhere else, neither can the sütlaç, making Hamsiköy sütlacı a true regional specialty.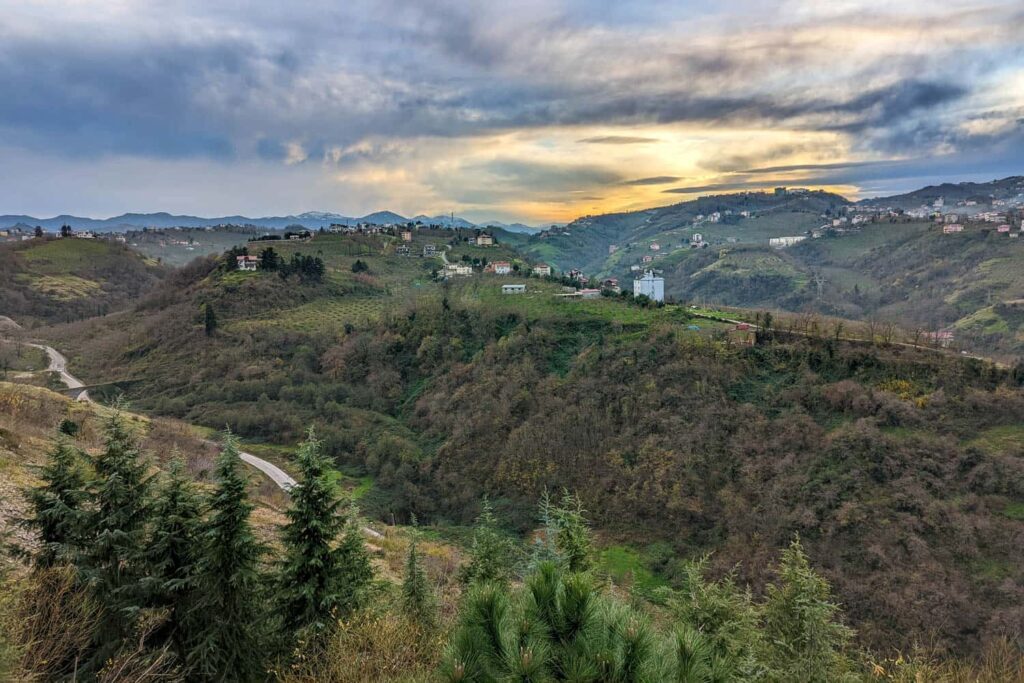 Worth travelling to the Black Sea Region just to try their sütlaç? We say yes!
This special Turkish rice pudding is made with the simplest ingredients. Only pure Hamsiköy milk, rice, sugar, and a pinch of salt is used. Everything is put into a clay bowl where it's baked in the oven until slightly caramelized on top. This creates an extremely thick and velvety dessert like no other.
Just when you think it can't get any better, this decadent Turkish dessert is abundantly topped with ground hazelnuts grown locally in the Black Sea region. If you're feeling extra sweet, you can get a scoop of fresh Hamsiköy ice cream to finish it all off.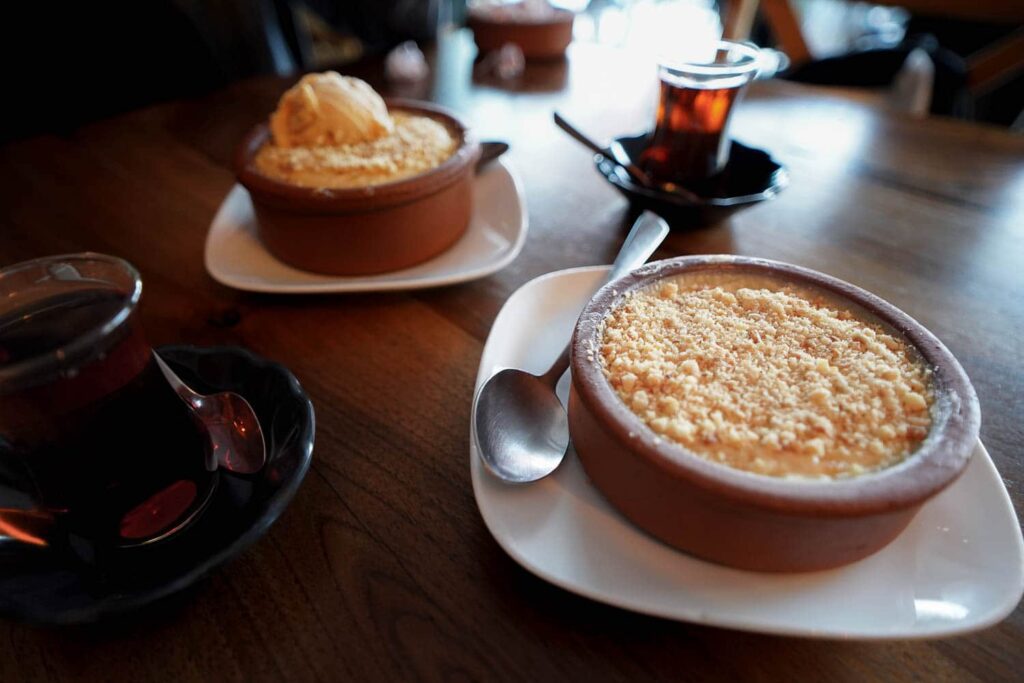 Sütlaç is so rare it's been given a Geographical Indication
Hamsiköy sütlacı is so unique to the region, that it's been registered by the Turkish Patent and Trademark Office. Then, in 2017, it was given a geographical indication certificate. If that isn't enough, the town of Hamsiköy also holds a "Hamsiköy Sütlaç Festival" annually since 2006 to promote the dessert in Turkey, as well as abroad. It's clear to see that this Turkish rice pudding is no joke!
Where to go for the best Hamsiköy sütlacı in Trabzon
The best place to try out this extremely tasty Turkish dessert is at Uğur Usta Hamsiköy Sütlacı Ayasofya. Located near the Trabzon Hagia Sophia Mosque, it's the perfect place to stop for a sweet bite. You can even do a little sightseeing afterwards or walk along the Black Sea.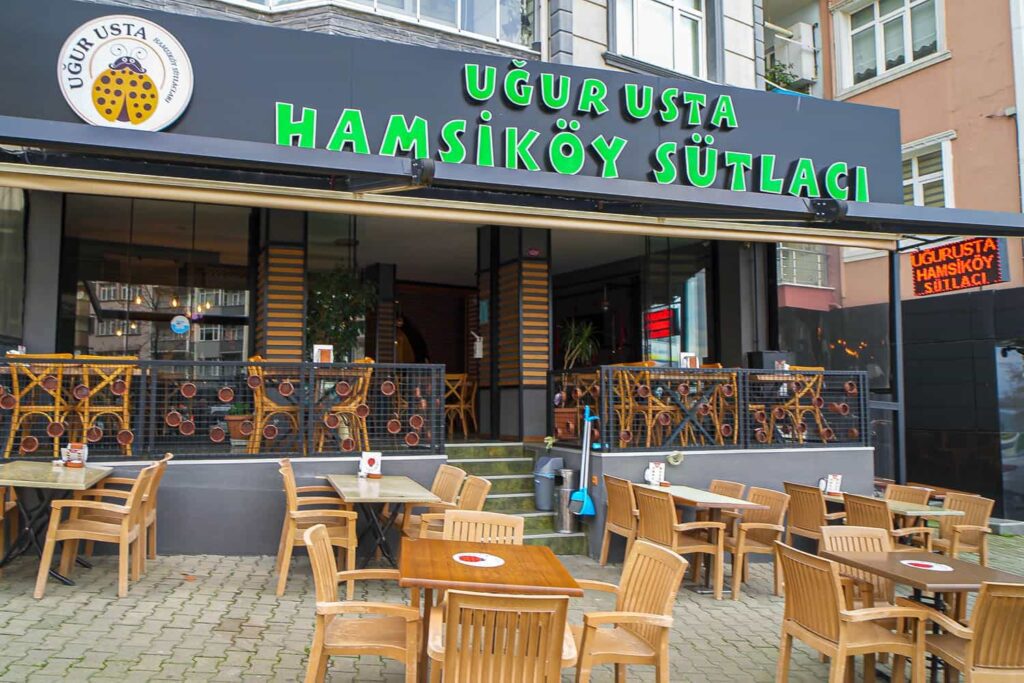 What to order at Uğur Usta Hamsiköy Sütlacı
They have a few different variations of Hamsiköy sütlacı to choose from, such as plain, with honey, kadayif, locally grown hazelnuts, or Hamsiköy ice cream. You really can't go wrong with whatever you choose. Our recommendation? Both the hazelnuts and ice cream, decadence to the max!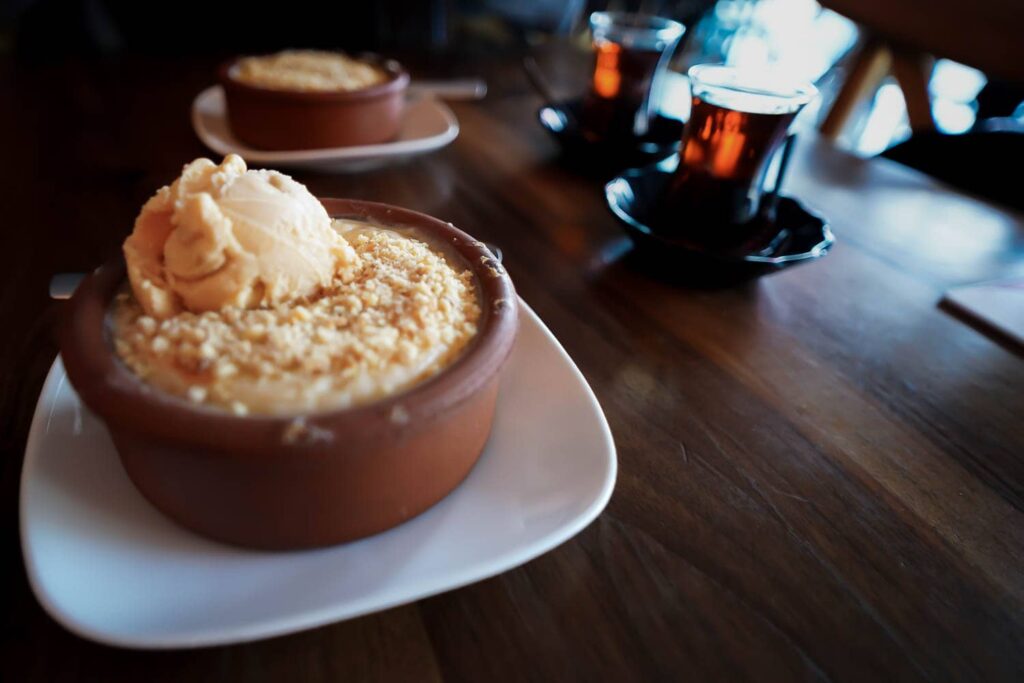 Name: Uğur Usta Hamsiköy Sütlacı Ayasofya
Address: Fatih, Hacı Ziya Habiboğlu Caddesi no 37, 61100 Ortahisar/Trabzon, Turkey
what3words: ///fallen.declining.ranked
Price: 25TL
Watch our video below to check out this unique local specialty at the best place in Trabzon.
---
---