Petaling Street Chinatown in Kuala Lumpur is one of the city's most historic districts. As is with most Chinatowns throughout the world, it's home to some of the best street food in the city. Below is a list of the top 11 street foods to eat on Petaling Street. With so many amazing options to choose from, you're going to need a plan going in!
The Chinatown in Kuala Lumpur began development in 1870 and Petaling Street itself was one of the earliest roads to be built. The area was mostly Cantonese and Hakka who came to the city for the tin trade. With their skills, they brought their incredibly diverse cooking styles and unique flavours.
Petaling Street is now home to temples, shopping, and hawker stalls serving up the top street foods in Kuala Lumpur. A number of these street food stalls have been around for over 50 years and are onto not the first or second, but third generation of family looking after the business. The quality of ingredients and history that goes into these dishes is incredible.
So, let's get to it! Below is a list of the top 11 street foods to eat on your next visit to Petaling Street Chinatown in Kuala Lumpur.
Roast Duck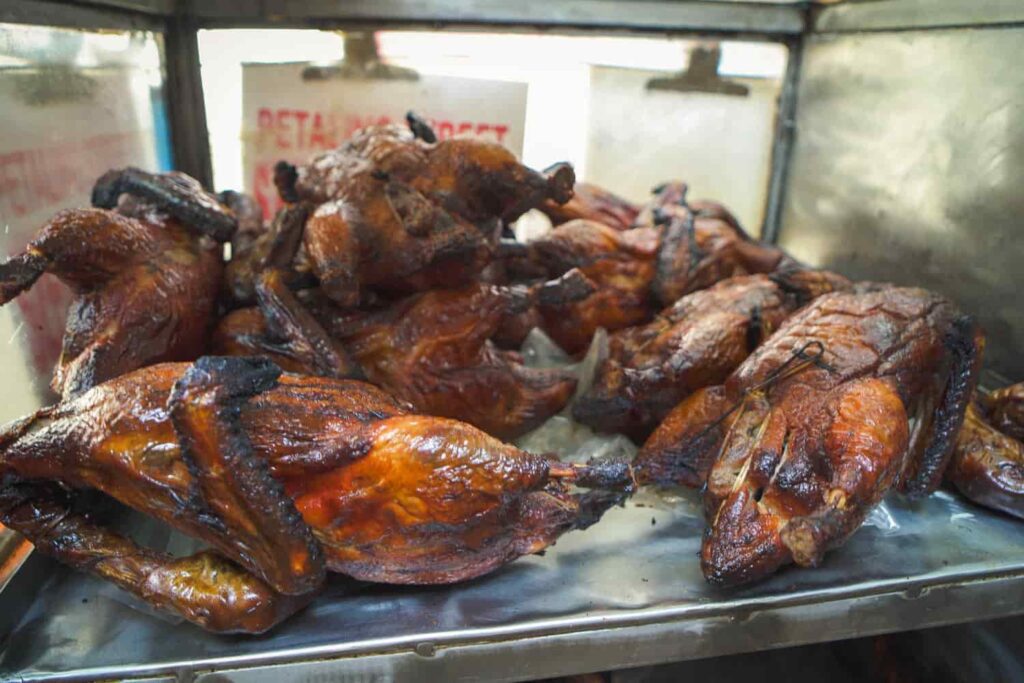 The crispiest, juiciest, most tender roast duck in Chinatown is at Sze Ngan Chye. This famous street food cart is run by two sisters that took over from their father, who started the business over 70 years ago. After all this time they still provide the same great taste and quality that he always did.
Sze Ngan Chye means the man who wears spectacles. It got its name from their father who would sell his duck on Petaling Street wearing his unmistakable glasses. With no name for his cart, the nickname just stuck!
We've gotta say, they sure know how to roast a duck. Perfectly cooked, juicy and tender with just the right amount of salt… we almost wished we had gotten a full duck and not the half!! Depending on your hunger you've got choice, RM34 for half a duck, or RM68 for the whole one. Don't worry, we won't judge.
The two sisters start selling their fresh roast duck at 6:00am, and because of their popularity can sell out by noon. So, make sure you head to their stall first, nice and early, to make sure you get some tasty duck.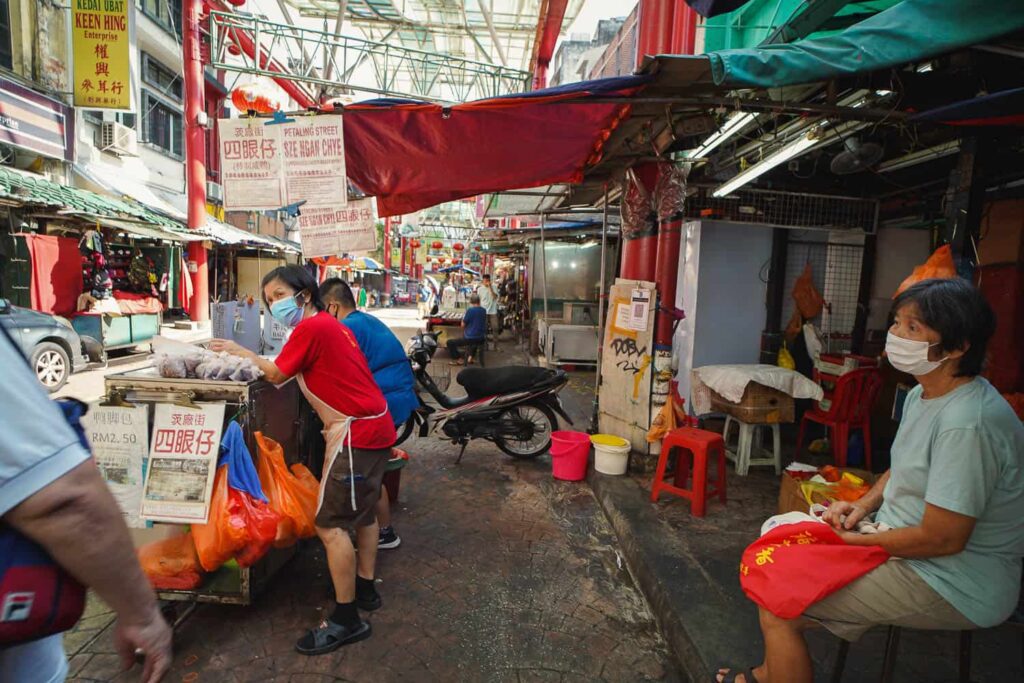 Name: Sze Ngan Chye
Address: 46, Jalan Petaling, City Centre, 50000 Kuala Lumpur, Malaysia
what3words: ///usual.singles.gave
Price: RM34 half duck, RM68 whole duck
Muah Chee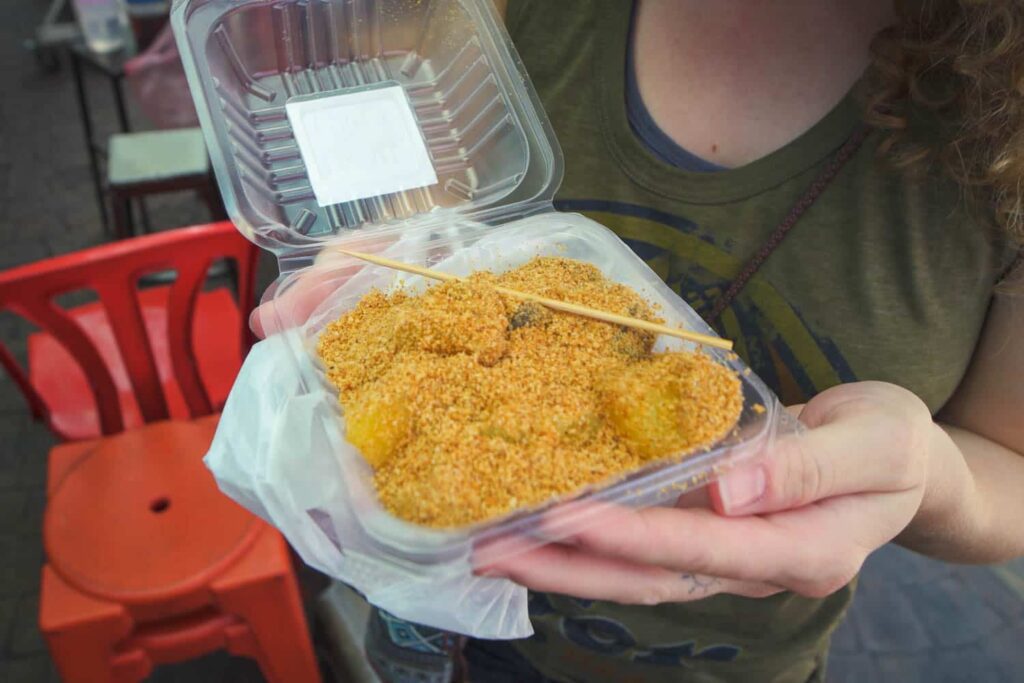 Madam Tang Muah Chee Queen (as she is called), has been selling muah chee from her cart on Petaling Street for over 50 years. She's become a permanent fixture along the busy street, making her stall a must try when in Chinatown Kuala Lumpur.
Soft, chewy and bursting with flavour, these little muah chee pack a punch! Coming in six different flavours, we couldn't resist the black sesame and mango. Both were delicious and with a surprisingly intense, strong flavour that you can pick out at first bite.
If those flavours aren't your thing, don't worry, there's also lychee, ribena, pandan and original to choose from. Each piece is bathed in crushed peanuts, adding the perfect crunchy texture to the soft and chewy muah chee.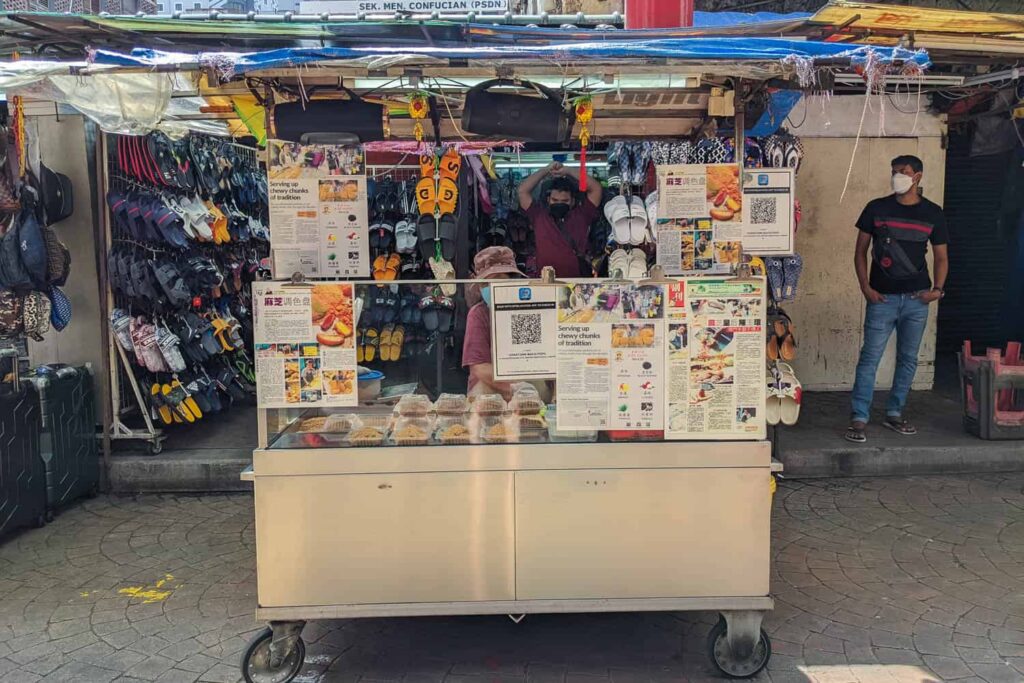 Name: Madam Tang Muah Chee Queen
Address: 42, Jalan Hang Lekir, City Centre, 50000 Kuala Lumpur, Malaysia
what3words: ///abacus.slimy.poker
Price: RM6/box
Congee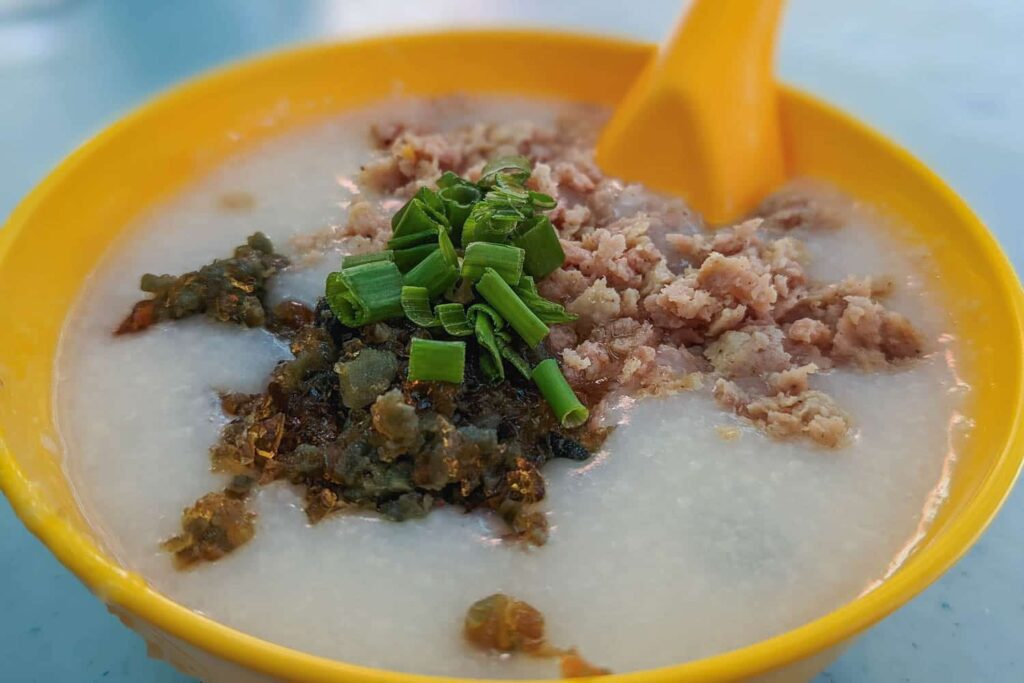 This salty bowl of porridge goodness is congee, a popular Chinese street food of savoury rice porridge with delicious pork, century egg, and green onions. At Hon Kee Petaling Street you have a few different congee options to choose from, including salted egg and pork, crispy innards, pork ball, and raw fish.
Served piping hot, you mustn't forget the white pepper. It adds the perfect seasoning to the dish to make it mouth-wateringly good.
As with so many of the delicious food choices along Petaling Street, this humble stall began business in 1949 and is still going strong. Spanning three generations and counting, this is one of the top street foods to eat in Kuala Lumpur's Chinatown.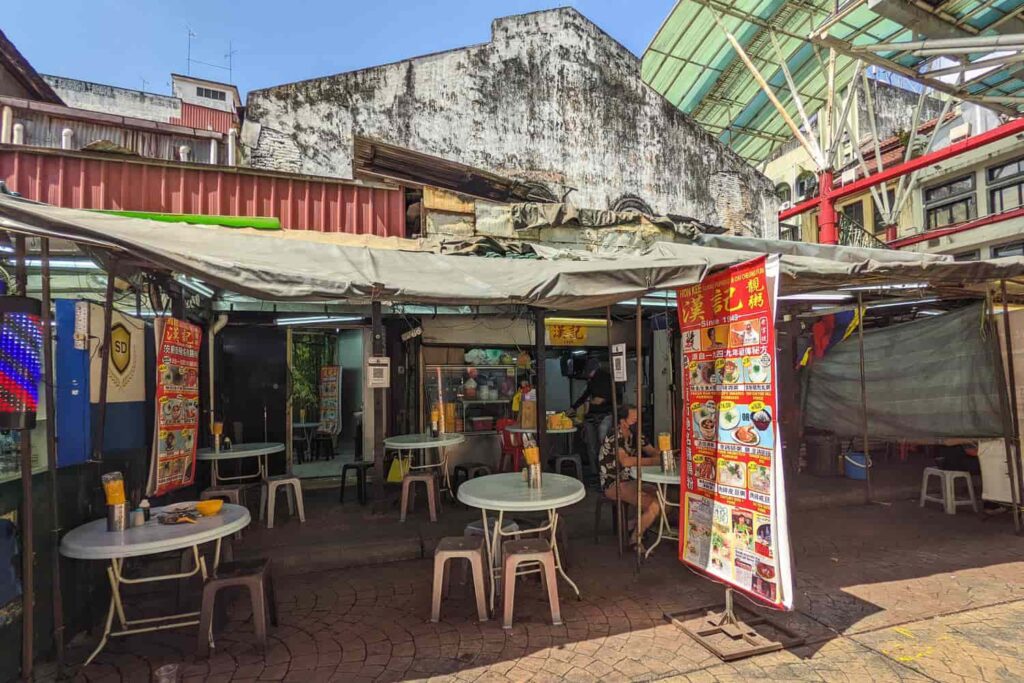 Name: Hon Kee Petaling Street
Address: 93, Jalan Hang Lekir, City Centre, 50000 Kuala Lumpur, Malaysia
what3words: ///cautious.cared.sporting
Price: RM7
Chee Cheong Fun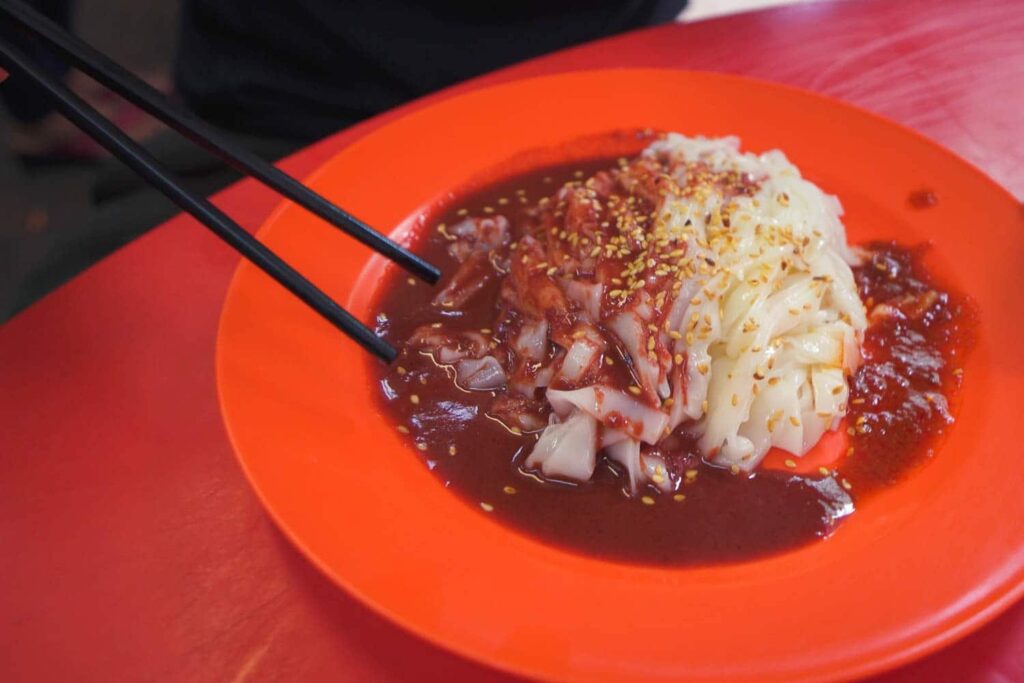 This bright red, saucy dish is chee cheong fun. A popular street food of fresh chewy rice noodles with the most amazing, slightly sweet, red peanut sauce poured over top.
As with many Chinese-Malaysian dishes, there's a decent helping of spicy chilli sambal on the side to mix in as much or as little as you want. The result? Fresh, peanuty, spicy rice noodles that feel like the perfect comfort meal.
What sets chee cheong fun apart from other rice noodles is that they're freshly chopped to order. At Yooi Kee Chee Cheong Fun, their plates of noodles come in three different sizes based on your hunger. We got the small, which was a decent helping for the both of us, especially if you want to make sure you save some room for the amount of street food you'll be eating on Petaling Street.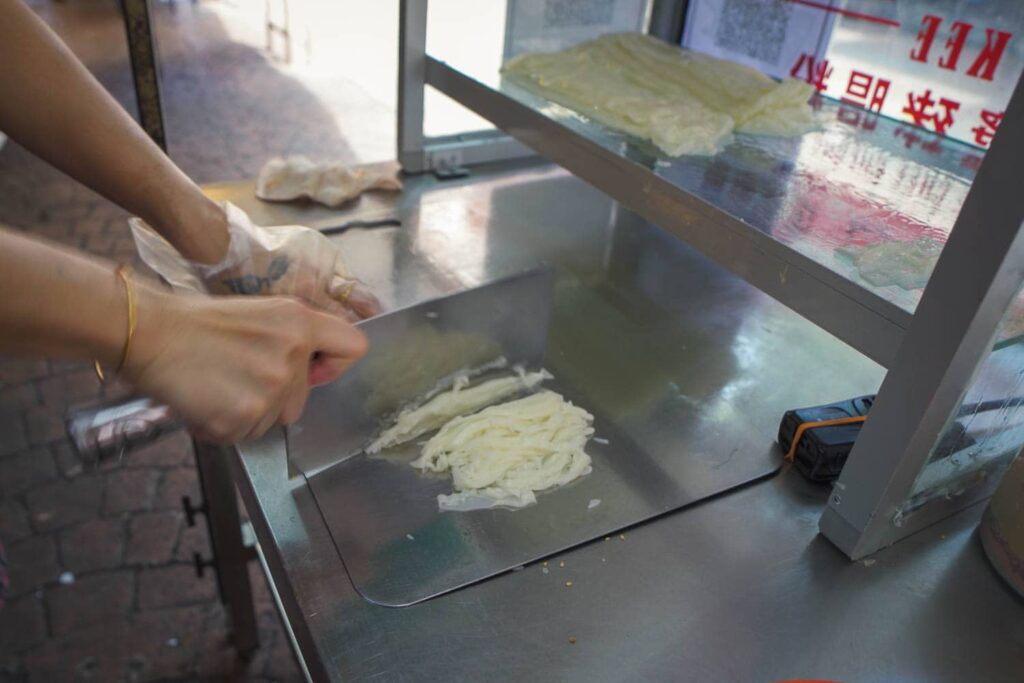 Name: Yooi Kee Chee Cheong Fun
Address: 51, 49, Jalan Petaling, City Centre, 50000 Kuala Lumpur, Malaysia
what3words: ///sting.trumpet.vitals
Price: RM4 for small
Tau Foo Fah and Dau Jiang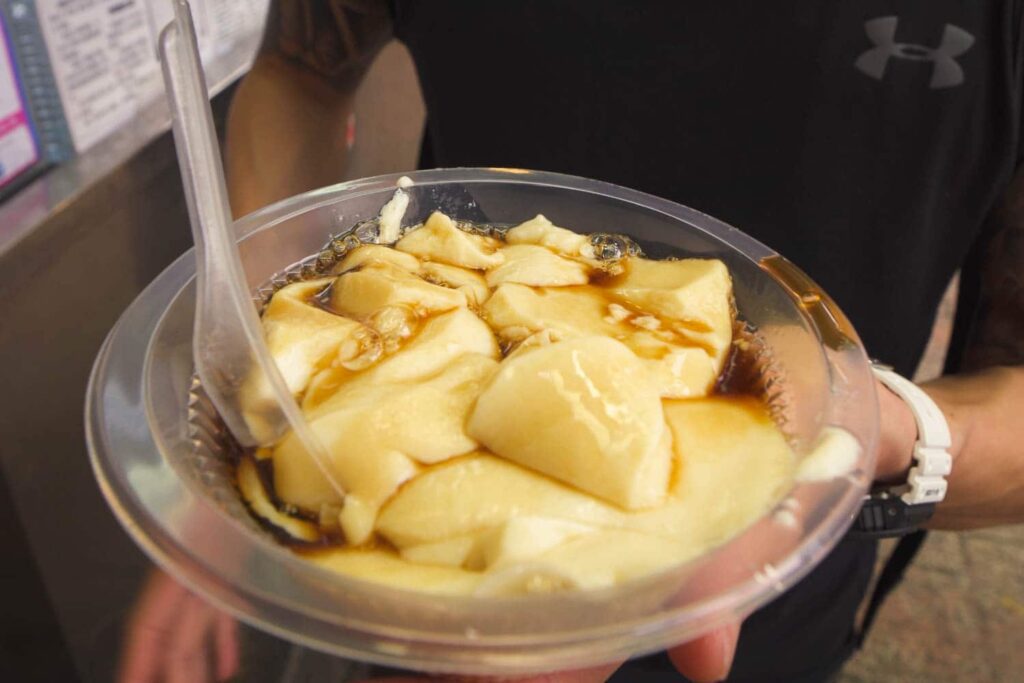 Another stall that is an absolute institution here on Petaling Street is Kim Soya Bean, one of the most popular Chinese street food stalls here in Chinatown. If you merely mention to anyone in Kuala Lumpur that you'll be in Chinatown, they'll make sure you make a stop at Kim Soya Bean for their famous tau foo fah and dau jiang.
Tau foo fah is a soft tofu that's served hot and with your choice of white or brown sugar syrup on top. Its velvety smooth texture, mild flavour and sweetness from the brown sugar (our go to), really make this treat something special, even on a hot day!
If you're looking for a cool off, however, make sure to pair your tau foo fah with a creamy cup of dau jiang soy milk. Scooped out from the massive container front and centre on the cart, it's served cold, with or without sugar, sweet and soft on the tongue.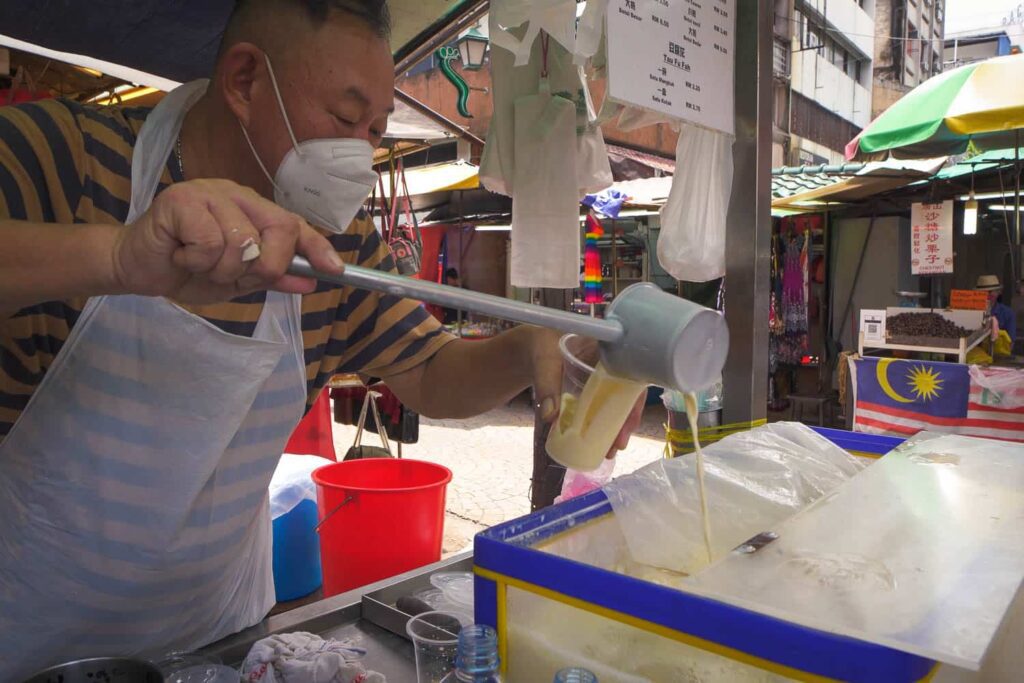 Running now for over 90 years and by the third generation, the current owner is an extremely friendly man who's been manning the shop for the last 40 years. Things have surely changed on Petaling Street in those years, but the quality and taste of their soy bean treats sure hasn't, so we're told by the regulars!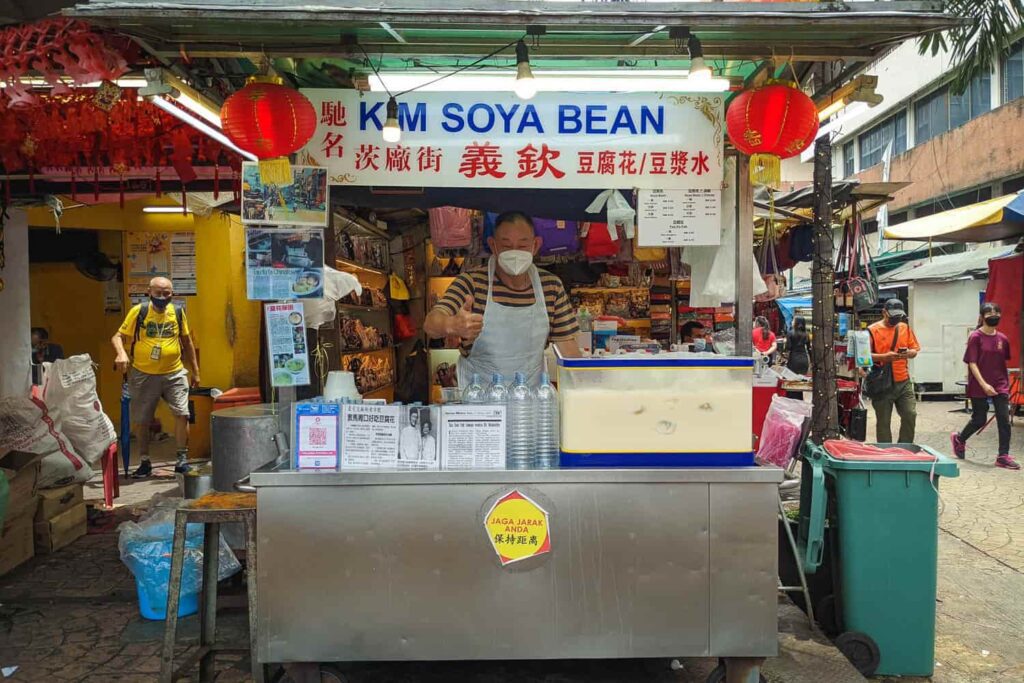 Name: Kim Soya Bean
Address: 49, Jalan Petaling, City Centre, 50000 Kuala Lumpur, Malaysia
what3words: ///similar.hosts.keyboard
Price: RM2.20/each
Joong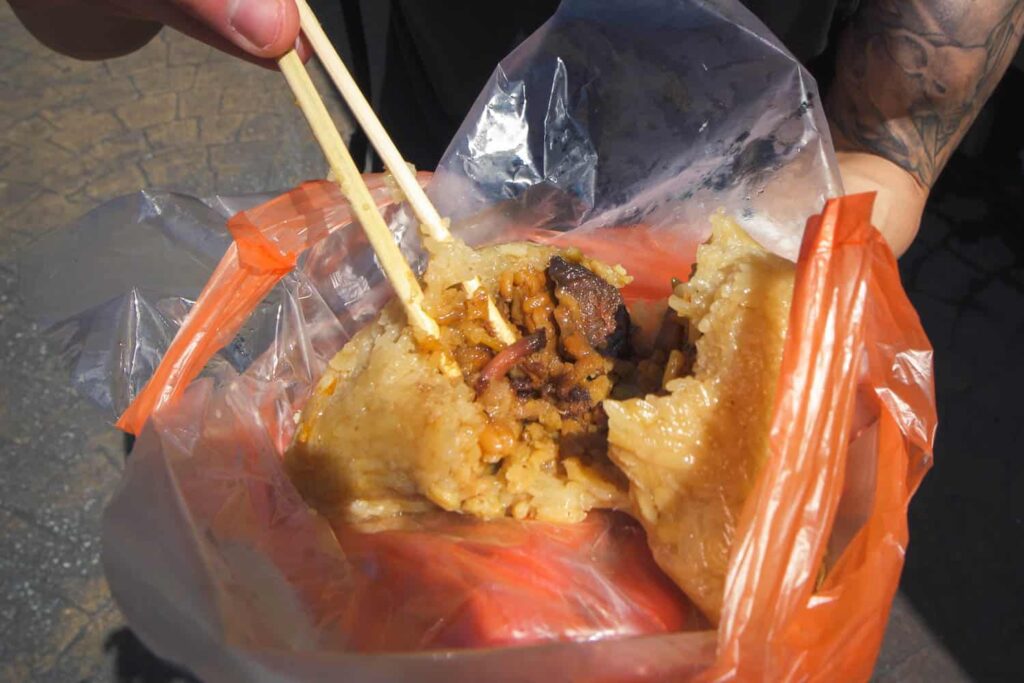 Savoury or sweet, what's your poison?? We can't help but always choose savoury, how can you resist salty goodness?!
Whichever way you swing, you've got choice when it comes to joong, a popular Chinese street food. This tasty glutinous rice dumpling is filled with either sweet dates, red bean and other sugary deliciousness, or savoury pork with salted egg, mushrooms and chestnuts.
The steaming process makes the rice lovely and chewy, with a soft texture. Everything all wrapped up in a bamboo leaf like a little present, these dense dumplings are jam packed with ingredients, full of flavour, and the perfect snack on the go.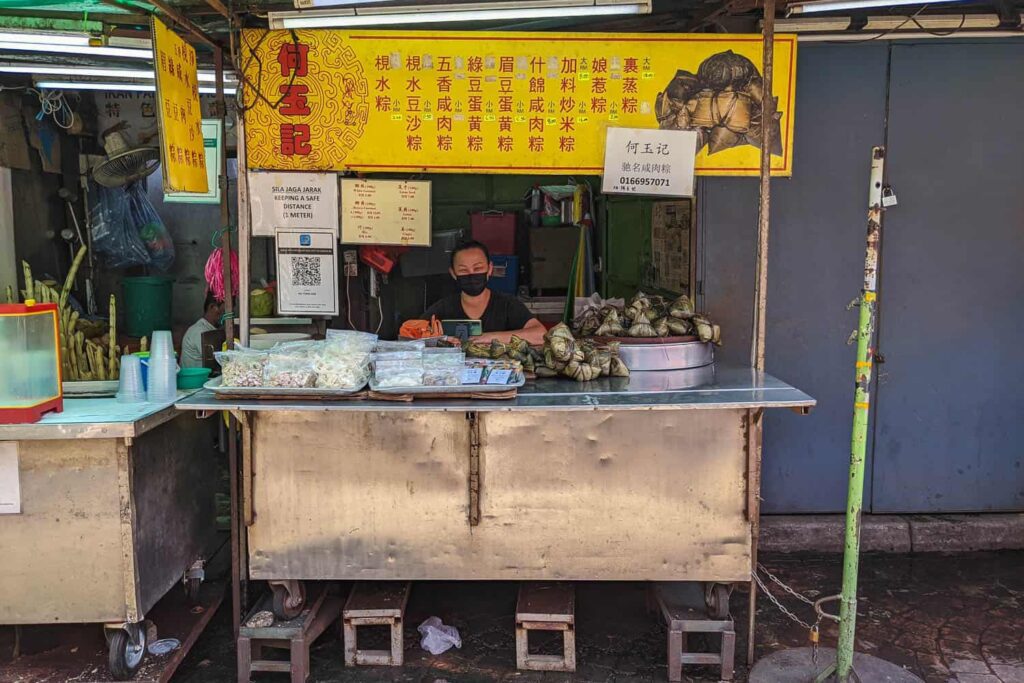 Name: Ho Yoke Kee
Address: 19, 15, Jalan Hang Lekir, City Centre, 50000 Kuala Lumpur, Malaysia
what3words: ///scar.deep.required
Price: RM8
Fresh Beef Noodles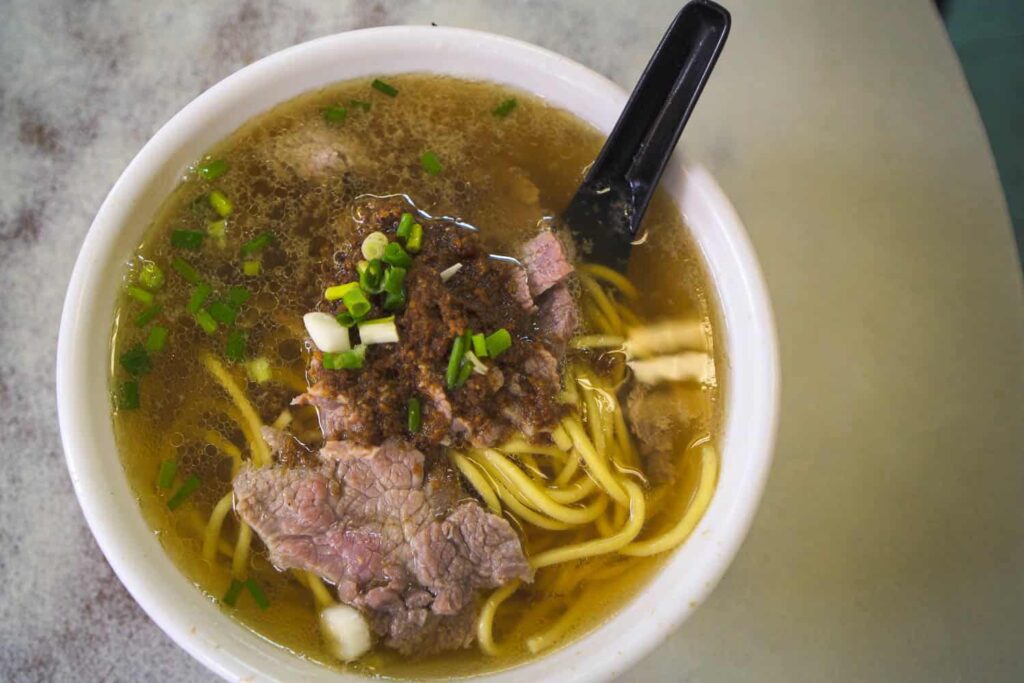 Just around the corner from the main road of Petaling Street is a noteworthy place that has the best fresh beef noodle soup. Sin Kiew Yee Shin Kee Beef Noodles is a small shop that gets busy during any hour of the day, so be prepared to queue for a table. Luckily the line goes quick so you won't have to wait for long.
Their beef noodle soup is full of raw beef, perfectly chewy egg noodles, green onion and beef floss, to give you a hearty bowl full of deliciousness.
The beef is added in raw to get the most tender meat possible, being cooked only briefly when it's dunked into the main broth like a hot pot before being added to your dish. This rich and meaty broth, enriched with all the juices and oils from the beef, is further used as a bath for the egg noodles to cook, and finally being used for the broth itself.
Just a short walk from Petaling Street, we feel like this is worth the extra distance. I mean, with all the food you'll be eating, you're gonna need the walk.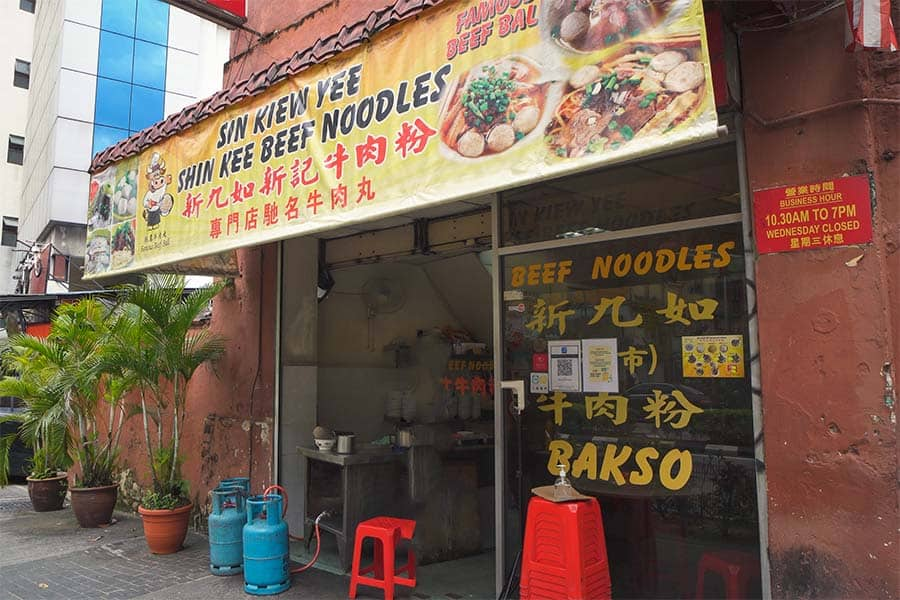 Name: Sin Kiew Yee Shin Kee Beef Noodles
Address: 7a, Jalan Tun Tan Cheng Lock, City Centre, 50000 Kuala Lumpur, Malaysia
what3words: ///boggles.pinches.situated
Price: RM10
Apam Balik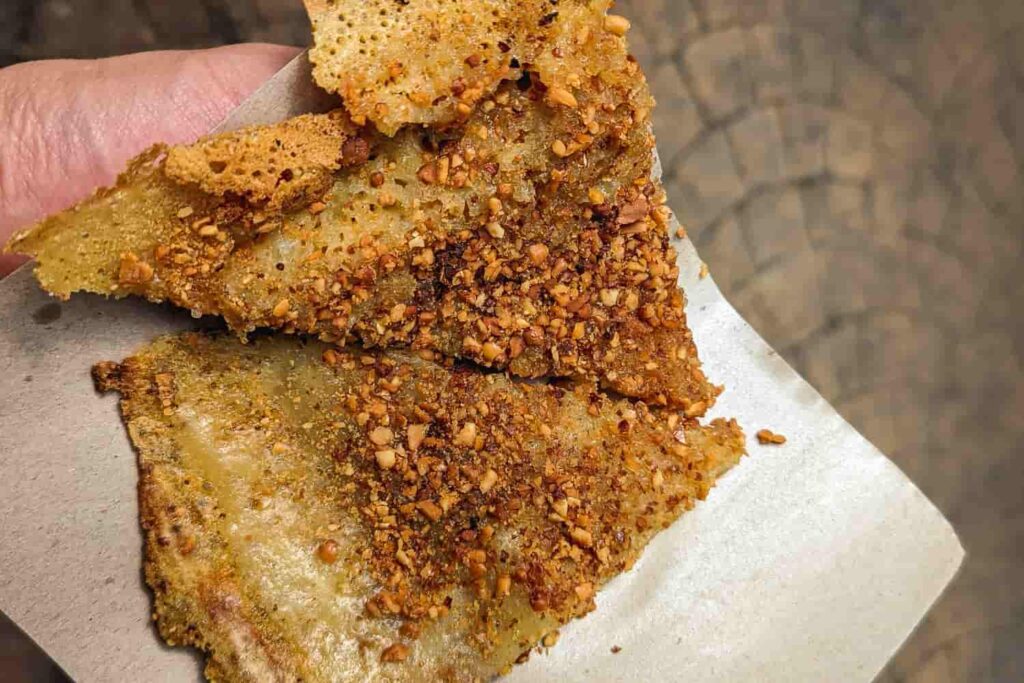 Apam balik is best described as a peanut pancake. The batter is cooked in a huge pan and covered in sugar and crushed peanuts, then folded in half to keep all the goodness inside. This pancake is massive, mind you, so ordering one portion will get you a decent sized slice. The combination of crunchy peanuts, with the soft and springy interior is something that we very much enjoyed.
While you're there, don't forget to pick up one of the smaller coconut pancakes. These guys were the real hit for us, with a super strong smell and flavour of coconut, they were a lovely little snack on the go. If you love coconut and peanut as much as we do, you'll love these apams.
We unfortunately didn't catch the name of the gentleman who owns this hawker cart, but we did have a nice chat with him. We learned that he's been selling apam balik from the same location on Petaling Street for 40 years, "from a young man to an old man," in his words. With a sense of humour and knowing what his customers want, it's no wonder he's been in business all these years selling the top street food pancakes in Chinatown.
Did we mention that his cart is attached to the side of a motorbike like a side car? It doesn't get much more street food than that!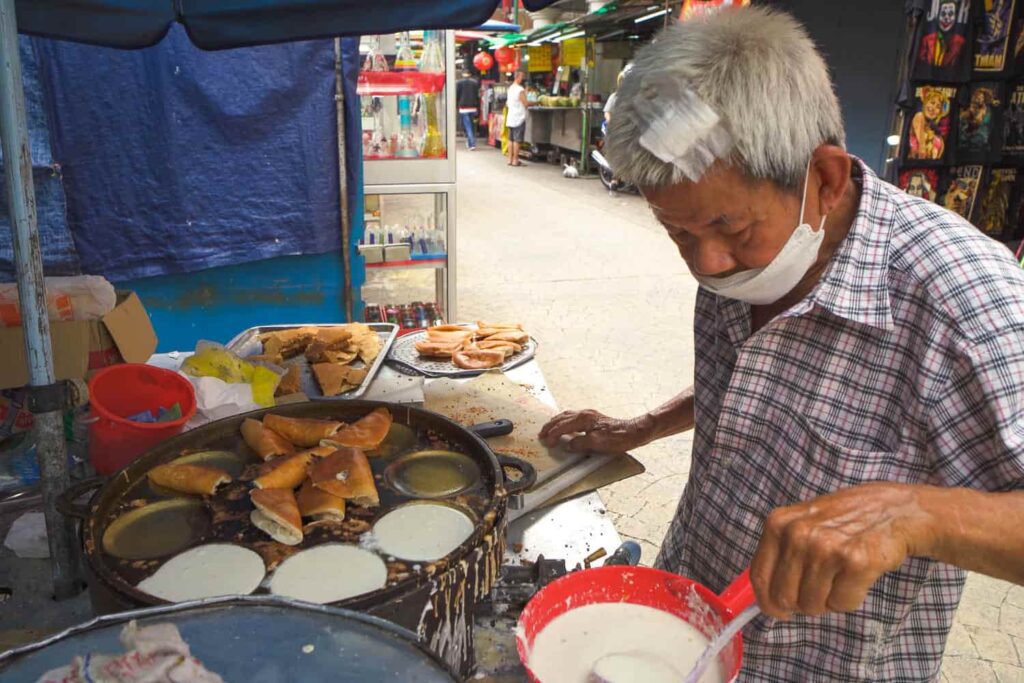 Name: Petaling Street Apek's Apam
Address: Kuala Lumpur City Centre, 50000 Kuala Lumpur, Malaysia
what3words: ///safest.envy.joggers
Price: RM1.50/each
Yong Tau Foo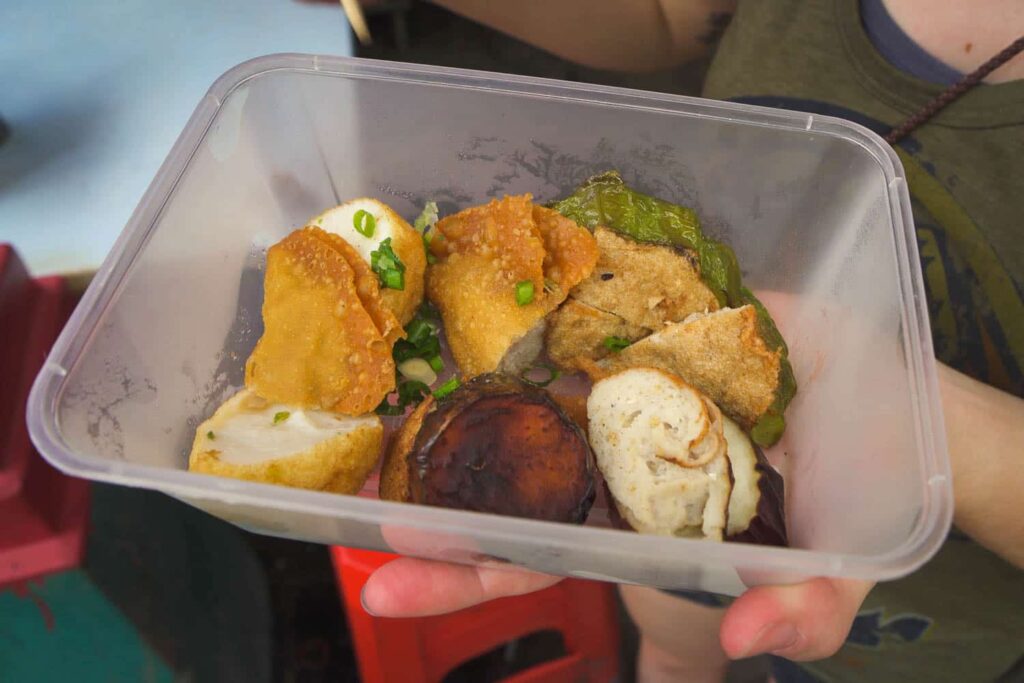 Yong tau foo is a popular Hakka dish of vegetables and tofu stuffed with springy fish paste. Found down an alley off of Petaling Street, Madras Lane Yong Tau Foo has a plethora of yong tau foo to choose from. Eaten either dry with a sauce, or in broth as a soup, you can't go wrong with either.
We went for the dry version and chose a few different yong tau foo, mistakenly picking up a bitter melon! It was nice to try something different, but definitely a little bitter for our tastes! We prefer the soft eggplant, crispy fried wonton, and fish paste balls. Conveniently, you're charged per piece of yong tau foo that you order, so you can have as much or as little as your stomach can handle.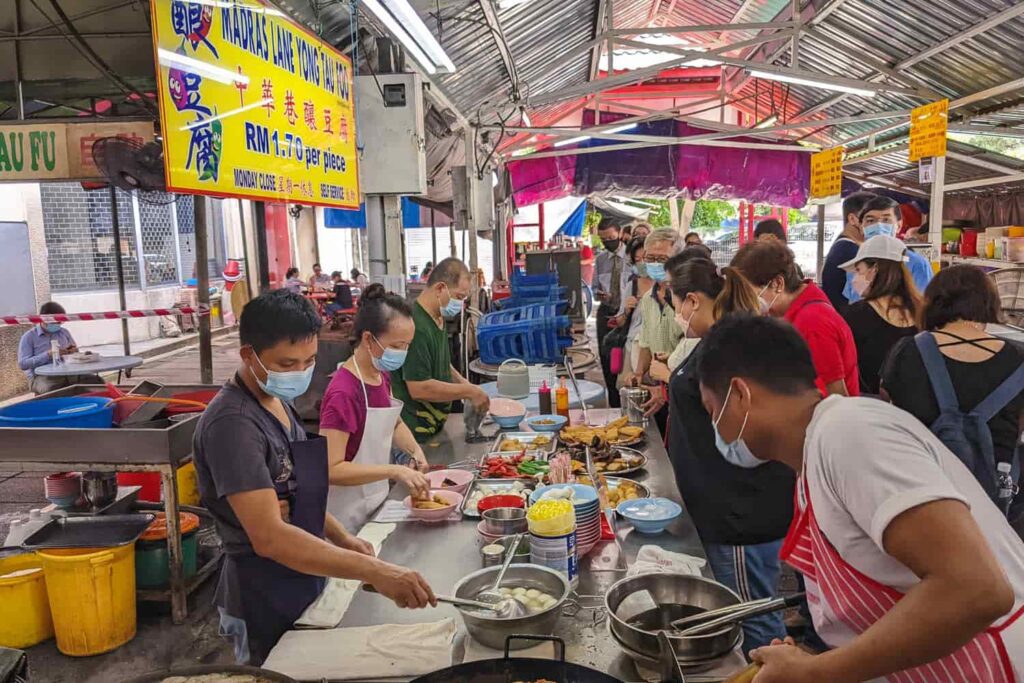 Name: Madras Lane Yong Tau Foo
Address: Kuala Lumpur City Centre, 50000 Kuala Lumpur, Malaysia
what3words: ///terms.skinny.elated
Price: RM1.70/piece
Air Mata Kucing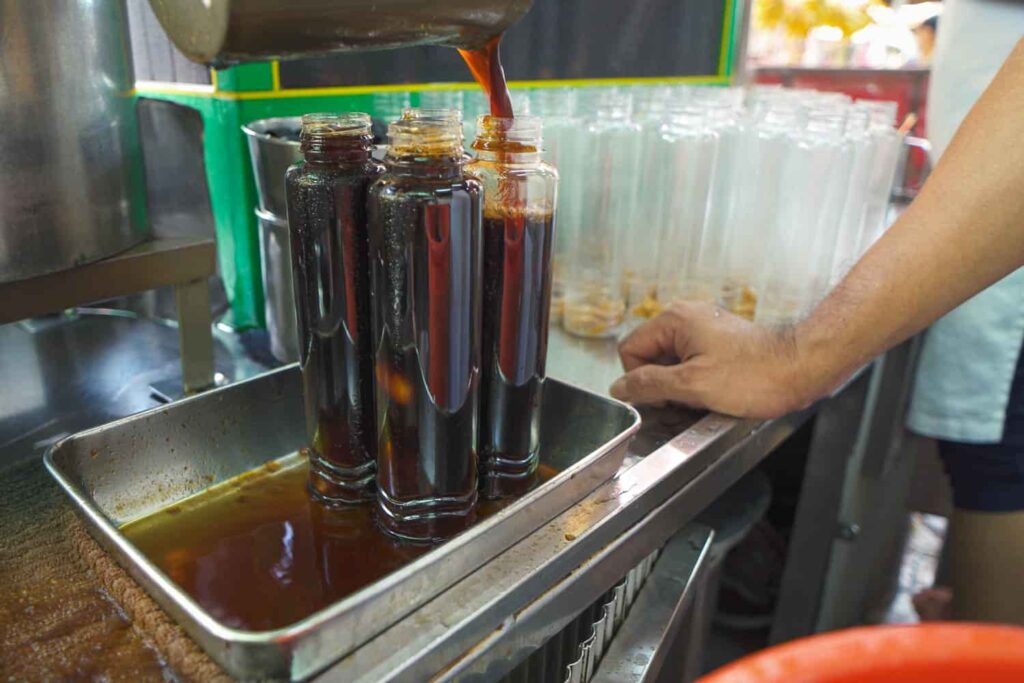 If you're craving a little something sweet to keep you going through your exploration of Petaling Street Chinatown, we recommend a quick pit stop at Air Mata Kucing for one of their refreshing mata kucing drinks.
Mata Kucing is also known as cat's eye, and is a close relative to the plump and juicy longan. Their special mata kucing drink is quite sweet, more so than we were expecting actually, since it's sweetened with monk fruit, which is far stronger than sucrose.
Starting up over 70 years ago, Air Mata Kucing used to serve their drink in metal bowls/cups, to drink right there and then. Over the years they've (unfortunately) switched to plastic, so you'll be able to take your drink with you as you wander the streets of Chinatown.
Name: Air Mata Kucing
Address: 15, Jalan Hang Lekir, City Centre, 50000 Kuala Lumpur, Malaysia
what3words: ///typhoon.latest.pirates
Price: RM4
Teh Tarik
Last but certainly not least, is something that you'll find all over Malaysia, but is an honourable mention when you're in Chinatown. Nestled away down Madras Lane, right across from Madras Lane Yong Tau Foo, is Kong Chai Coffee Stall. Here you can get a number of hot or cold Malaysian drinks.
Our go to and ultimate favourite Malaysian drink is teh tarik, literally translating to pulled tea.
Teh tarik is made with a strong brew of black tea combined with condensed milk. The two are added together in a cup, and are mixed by pouring, or "pulling", the drink back and forth from one cup to another.
Not only is this process fun to watch, but it mixes the condensed milk in while also cooling down the tea and frothing it all up to create a velvety tea with the perfect drinking temperature.
Depending on your preference, you can enjoy it hot or cold. For us, on those hot Malaysian days, we prefer ours icy cold and oh so refreshing.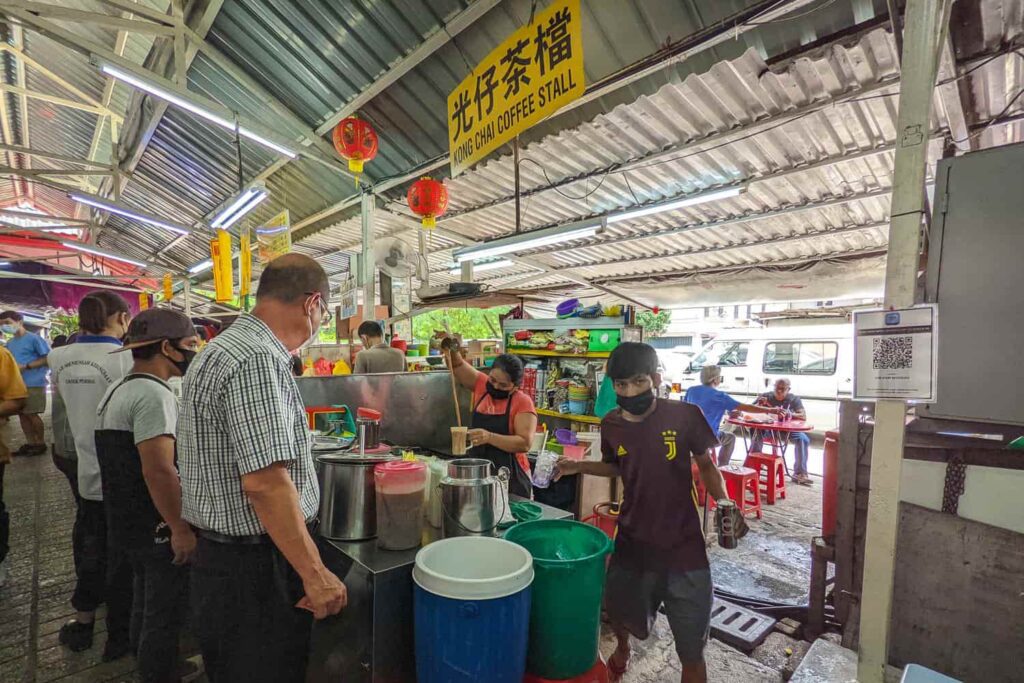 Name: Kong Chai Coffee Stall
Address: Kuala Lumpur City Centre, 50000 Kuala Lumpur, Malaysia
what3words: ///successor.twilight.tagging
Price: RM2.40
Petaling Street Chinatown
Some of the most popular Chinese food in Kuala Lumpur can be found in Petaling Street Chinatown. There's so much incredible street food in Malaysia to try, and this list of the top 11 street foods to eat in Petaling Street Chinatown in Kuala Lumpur will get you more than started on your way to trying some of the best Chinese Malaysian street foods in the city.
We hope this list will be helpful for you to create a personalized street food tour of Petaling Street Chinatown in Kuala Lumpur, Malaysia. Check out our video below trying all of these top street foods to eat on Petaling Street!
---
---