In a very short time during our visit to Trabzon, we discovered that Black Sea cuisine is full of mouth-watering dishes, rich in cheese and smothered in butter. For us, that's pretty much all we need to be happy.
So, what food is Trabzon famous for? The Black Sea Region is home to some incredible, unique foods. If you ask any local what the top two traditional foods of Trabzon are, you'll be met with kuymak and hamsi. The first is a buttery cheesy cornmeal 'fondue' (yes please!), and the latter their Black Sea anchovy. When in Trabzon, these dishes are must eats!
Trabzon Kuymak is the ultimate high-calorie breakfast of the Black Sea
Imagine hot, melty, buttery cheese that stretches as far as your arm can reach, this my friend, is Trabzon kuymak. Made with three simple ingredients, cheese, butter, and cornmeal. Kuymak is a traditional food of Trabzon. It was invented as a high-calorie breakfast by harvesters working in the hazelnut fields. As a result, it's usually eaten as a breakfast food. But, as far as we're concerned, something this indulgent and cheesy could be eaten any time of the day.
Kuymak is served with fresh Turkish ekmek (bread). This is to pile on the cheese, and dip in the pool of butter left behind at the end of the dish. Black Sea Cuisine is very rich and full of butter, and Trabzon kuymak does not disappoint. It's hard not to drool while typing…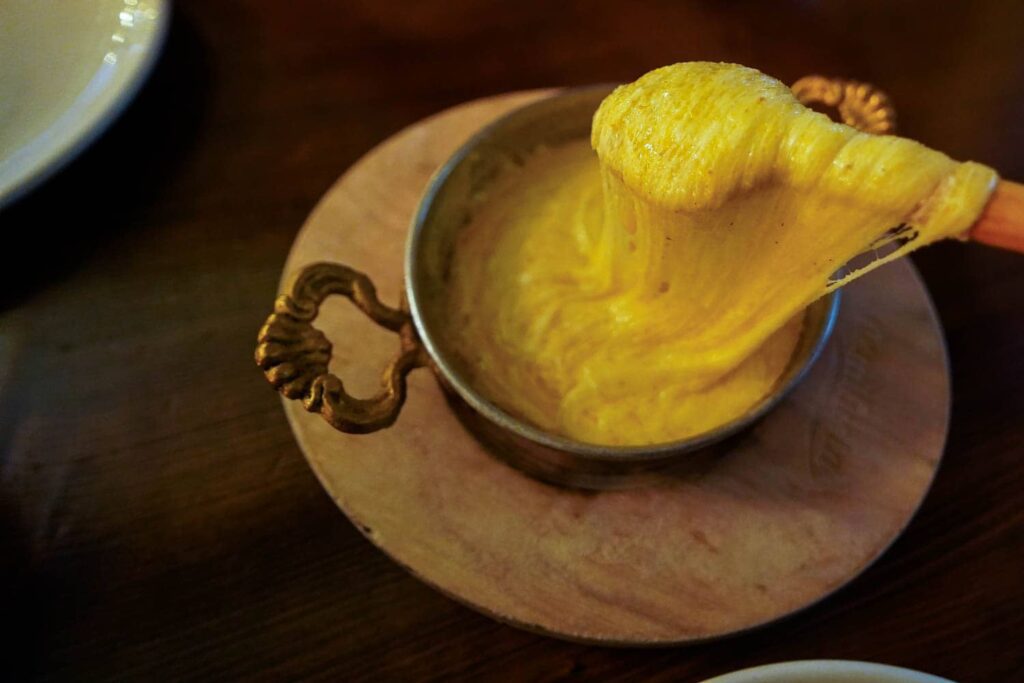 Where to eat the cheesiest, gooiest kuymak in Trabzon
There are different 'versions' of kuymak found across the Black Sea Region. The main diference being the ratio of cheese, butter and cornmeal used. One of the best places to try kuymak is at Cemilusta in the main town square of Trabzon city. Here, they do an amazing kuymak with the perfect amount of all three ingredients to get the most wonderful stringy cheese consistency. Let's put it this way, it was so good we debated a second!
Name: Cemilusta
Address: İskenderpaşa, Belediye Caddesi., Atatürk Alanı No:6, 61100 Trabzon
what3words: ///giggled.combines.awoken
Price: 60TL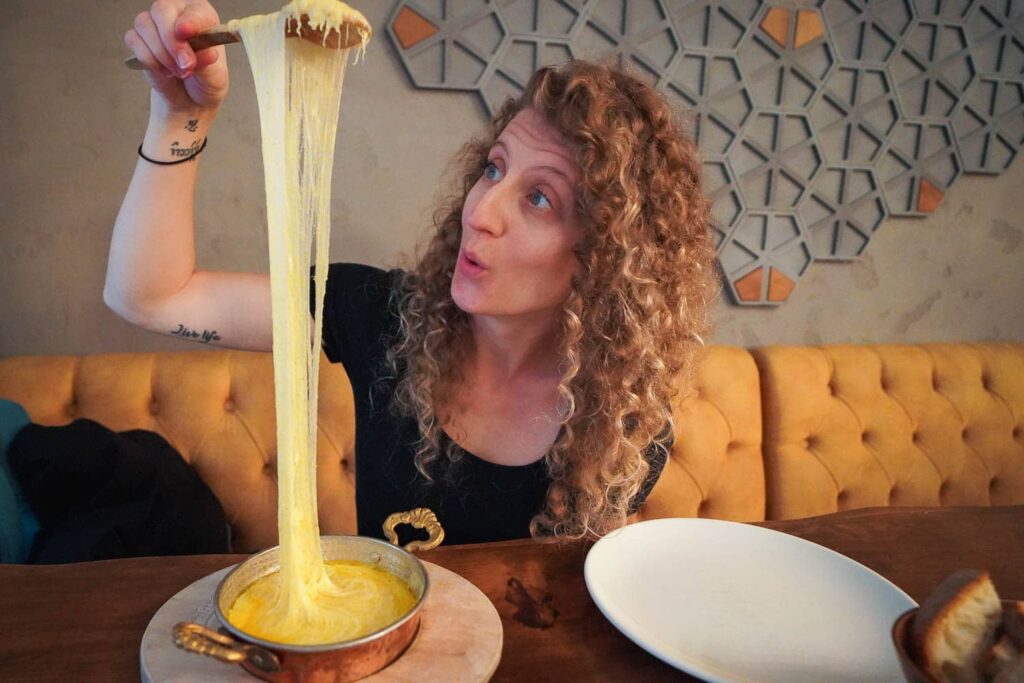 For a bit more of a local experience, there's a wonderful place tucked away inside a building just off the main street of town. With its own private courtyard, you can enjoy an amazing kuymak en plein air, or inside one of its cozy rooms below.
Name: Vosporos Café
Address: Gazipaşa, Yavuz Selim Blv. No:40, 61030 Trabzon
what3words: ///marriage.front.brands
Price: 40TL
Black Sea Cuisine straight from the Black Sea itself
Hamsi, which is Turkish for anchovy, is a famous traditional food of Trabzon. It's found abundantly in the Black Sea Region and is very culturally significant. In fact, there are poems, folk songs, and stories all about it since it's been a major staple of Black Sea cuisine for millennia. No wonder it's dubbed the 'prince of fish'! Hamsi, and fish in general, are so popular in the Black Sea Region that they're actually consumed more than meat.
You see this as you walk through the streets of town and in any of the little local markets. Stall after stall selling an unending amount of fresh fish caught in the Black Sea that morning. Each stall home to the friendliest fishmongers I think we've ever come across. Nothing but smiles and warm faces greet you as you wander through.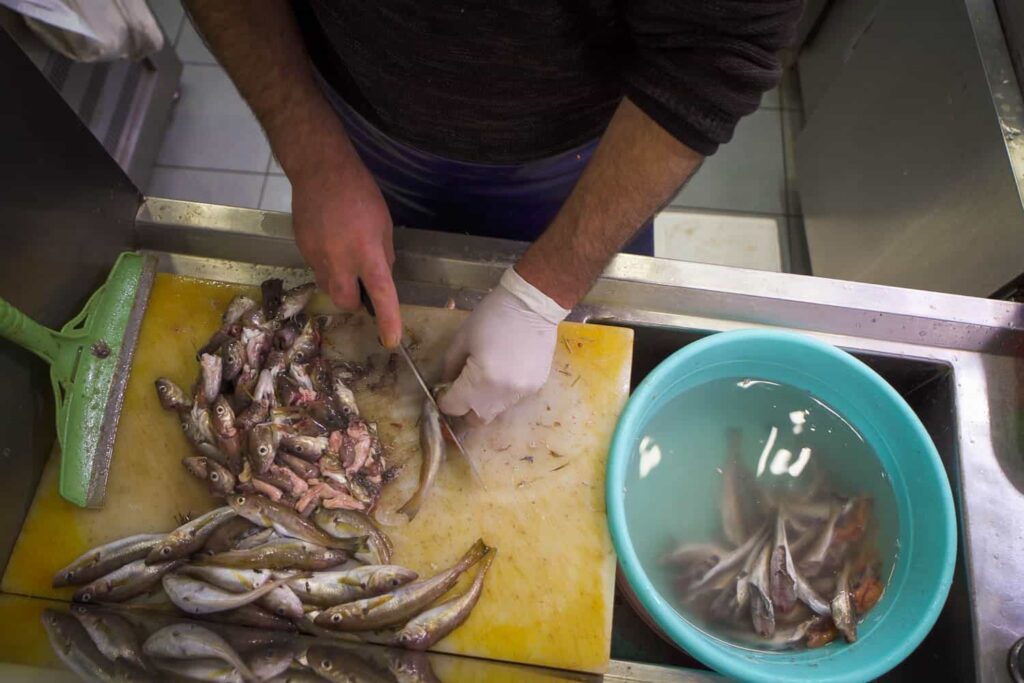 Naturally, any visit to the Black Sea Region isn't complete without trying the famous hamsi. The most popular way to do so is fried. The fresh hamsi are dipped in cornmeal and fried up in the most beautiful circular display. They're served up perfectly crispy and decadently rich, on a plate in their own oil. Since they're a small fish, the portion you receive is decent in size! Hamsi tava, or fried anchovy, are an extremely traditional food in Trabzon that you must try when in the Black Sea Region.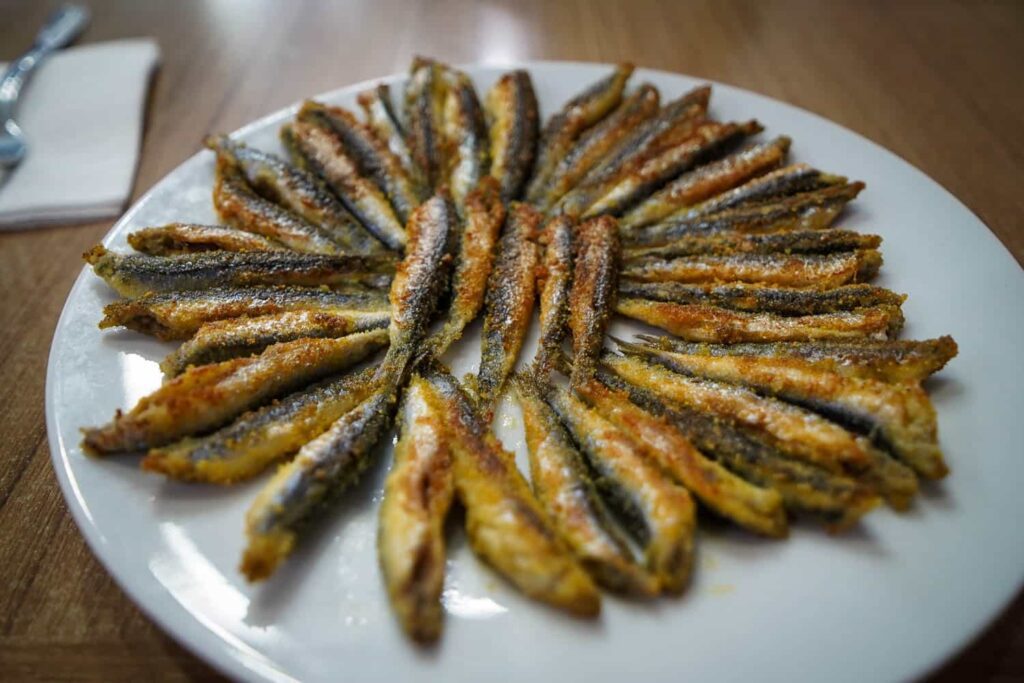 Where to get the freshest, crispiest, plumpest hamsi in Trabzon
The markets and stalls that are all over Trabzon sell freshly caught hamsi to take home to cook your own meals. The best way to have it though – in our opinion – is to go out to one of the many restaurants in the city. They will all have their catch of the day out on display and ready for your choosing.
Our first choice is Balıklama Balık Lokantası. Just pick what fish you'd like, hamsi and the rest, and have it cooked up, fresh to order. There's really nothing like it!
While you're there, we highly recommend trying their fish soup. Don't worry, they'll remind you to try it since it's so popular. Massive chunks of fish are served in a mildly sour, light yellow broth that's super hearty and warms you from the inside out. Make sure you squeeze some lemon juice into it to give it a nice acidic zing.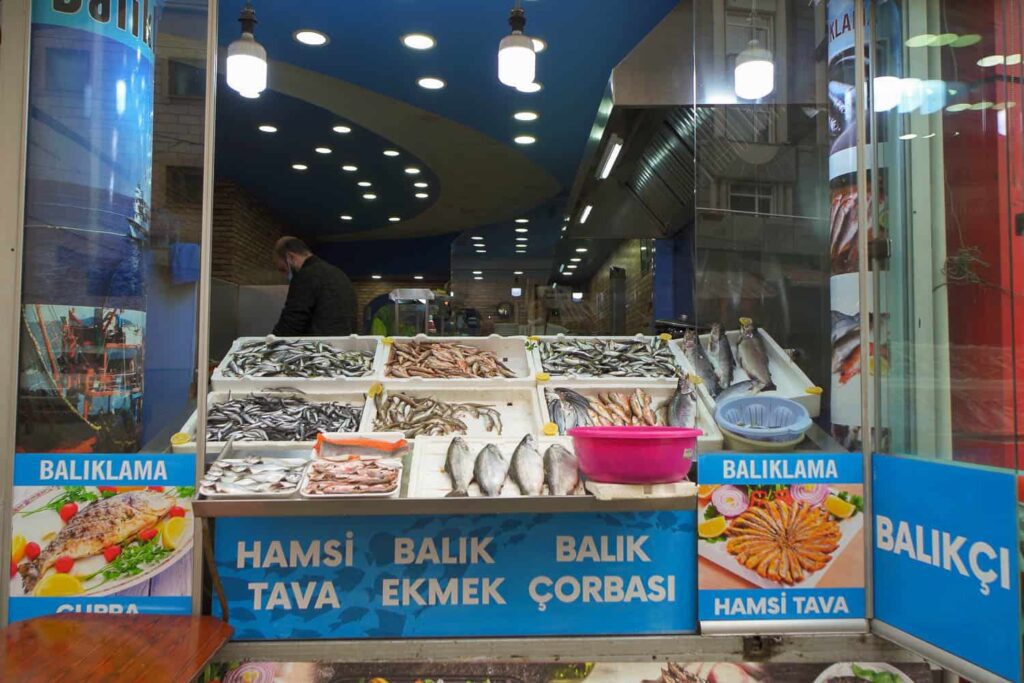 Name: Balıklama Balık Lokantası
Address: İskenderpaşa, Şht. İbrahim Karaoğlanoğlu Cd. 15/A, 61100 Trabzon
what3words: ///paddle.master.shells
Price: 75TL
Check out our video below, trying both kuymak and hamsi tava at some of the best restaurants in Trabzon.
---
---