Do you love a vibrant market atmosphere, teeming with vendors bellowing out their daily deals? Local street food stalls packed full of hungry customers? Then Quiapo Market is for you. Some of the best street foods to eat in Manila can be found here, in the local neighbourhood of Quiapo.
Manila is a city that's absolutely heaving with street food wherever you turn. Some of the most busy and bustling areas of the city, like Quiapo, can be hard to navigate.
This guide to the best street foods to eat in Quiapo will take you through the top seven most popular street foods in the neighbourhood, and where to find them. These are gonna have your mouth watering, so buckle up and let's tuck in!
Lumpia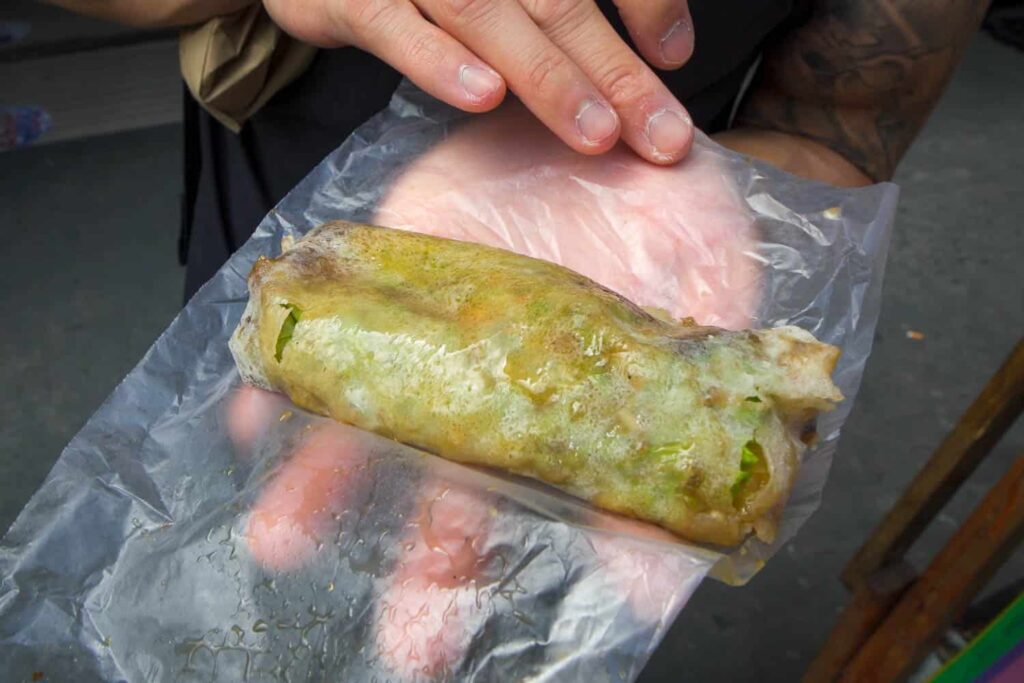 A nice light way to start your day off is with lumpia, a Filipino spring roll. Most commonly they're deep fried and known as lumpia shanghai, but oh no no, not this kind of lumpia. These lumpia are fresh spring rolls.
The number one go to spot for these bad boys is at Globe Lumpia House. It all starts with a thin paper-like egg wrapper that's slathered with a sweet brown sugar soy sauce and fiery fresh garlic. It's packed full of lettuce, ubod (palm heart), carrots, peanuts and sprinkled with black pepper.
The delicious result is a delicate roll full of a savoury filling with the most intensely strong garlic flavour. The contrast of the soft sweet soy sauce with the crunchy veggies will make you happy you got at least two.
At Globe Lumpia House you purchase your lumpia as a single roll. Each one is made fresh to order, bursting with ingredients and served with an extra packet of sweet brown sauce for you to smother your lumpia with.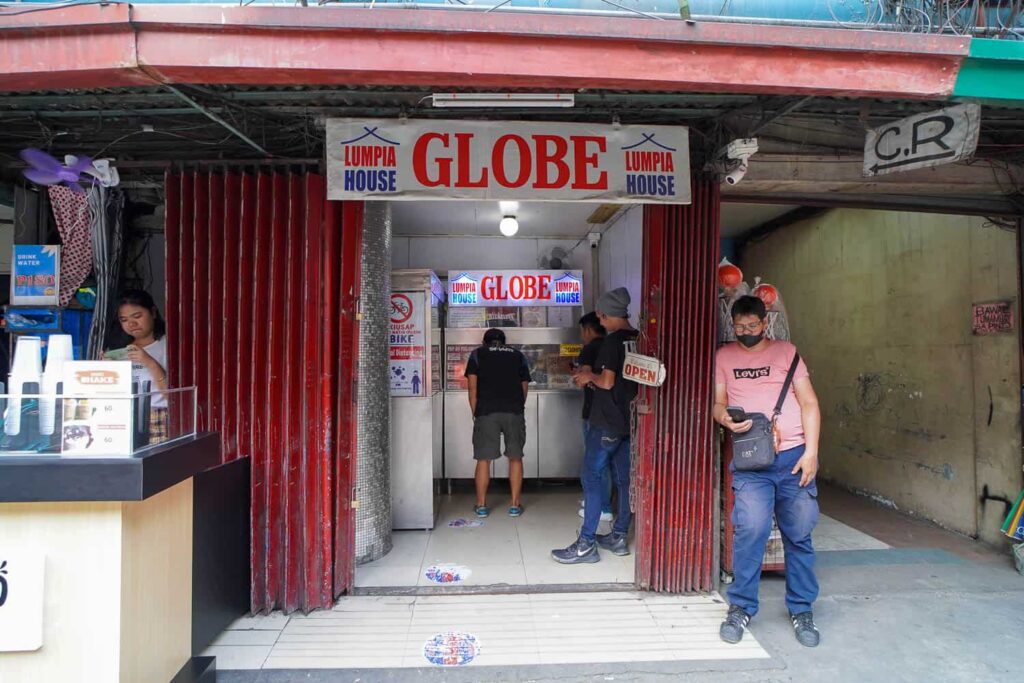 Name: Globe Lumpia House
Address: Zone 030, 740 Gonzalo Puyat St, Santa Cruz, Manila, 1001 Metro Manila
what3words: ///confirms.snap.wardrobe
Price: ₱35
Buko Sorbet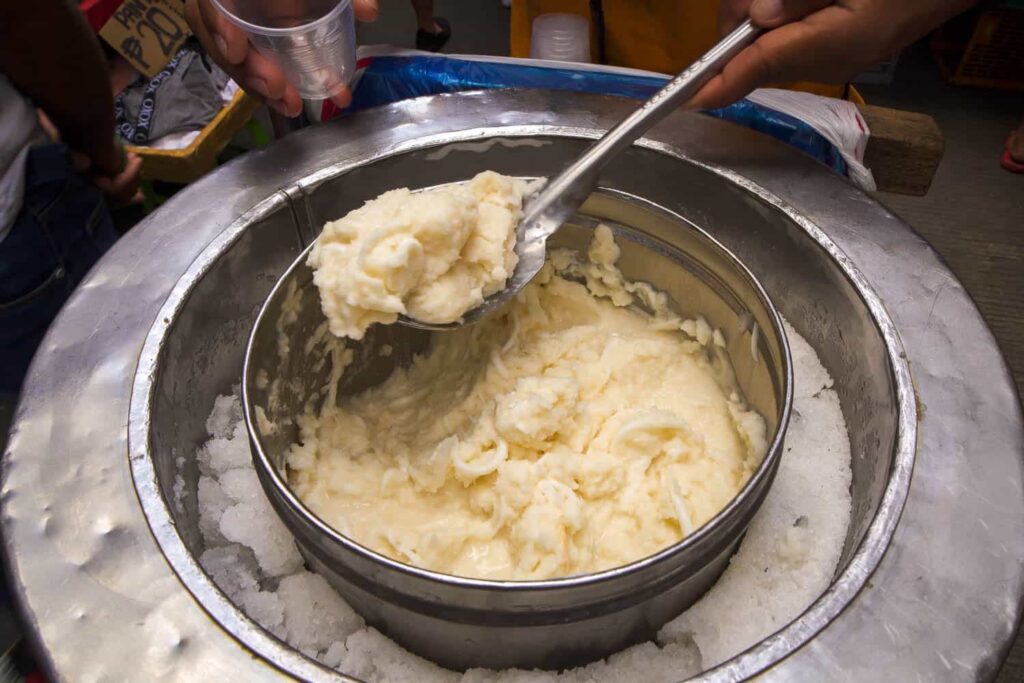 This cup full of insane deliciousness is buko sorbet. Creamy and full of huge chunks of fresh buko (coconut) meat, this is just what you need on a hot day.
You can't beat the creaminess of coconut milk and the strong flavour of fresh coconut meat. Luckily, this sorbet is brimming with both. You'll be practically chewing the ice cream for all the coconut meat that it's packed with.
Keep your eyes peeled when you're exploring the market for the buko sorbet man, because he's on the move! You'll find him pushing his ice cold sorbet through the market, making sure he gets to both the wandering shoppers and the busy vendors, each braving the heat.
We were lucky enough to run into him just as our mouths were craving something cold and oh so refreshing.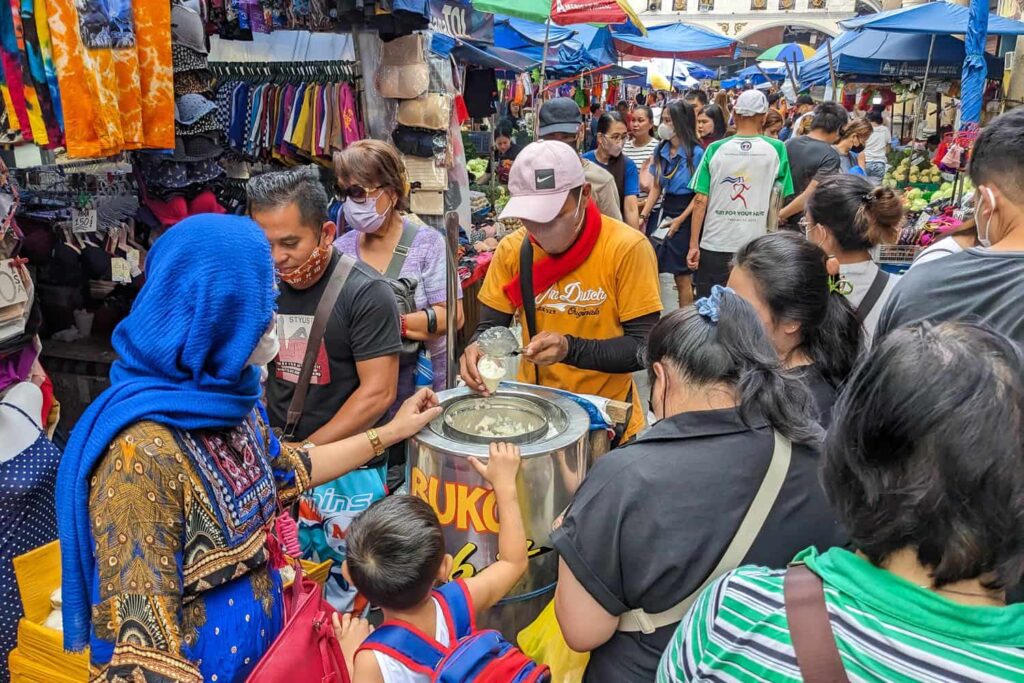 Name: Buko Serbet
what3words: ///traps.mutual.swipes
Price: ₱20
Kwek Kwek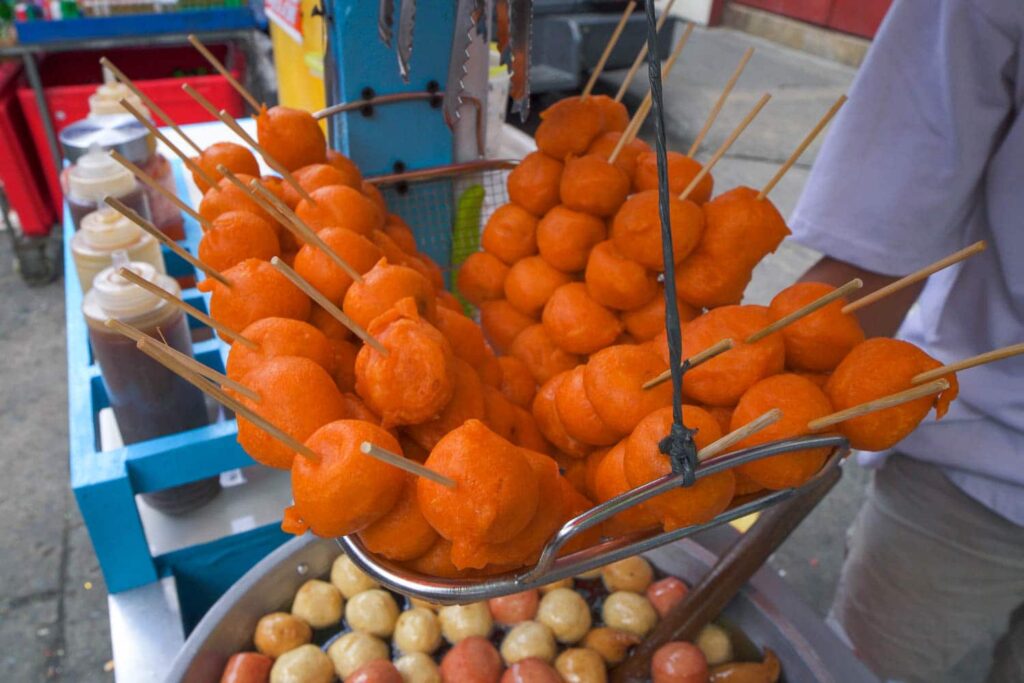 One of the most popular on-the-go snacks here in the Philippines is kwek kwek, a bright orange, battered and deep-fried quail egg. This is one of the best street foods to eat in Quiapo because it's both cheap and easy. You'll find vendors selling kwek kwek in a number of different places.
The crispy batter surrounds the creamy rich quail egg, creating the perfect combination of textures. Once you've chosen a stick that you like, if it isn't piping hot, you can ask the vendor to refry it for you to freshen it up. Definitely recommended.
You'll put your hot skewer in a cup and pull your kwek kwek off, using your skewer as your eating utensil. This is when you'll add in the sauces.
There's a number of different ones to choose from, usually including vinegar with onion, a spicy sauce, and a sweet sauce.
Name: Kwek Kwek Cart
what3words: ///nearly.grumble.spoils
Price: ₱20
Sotanghon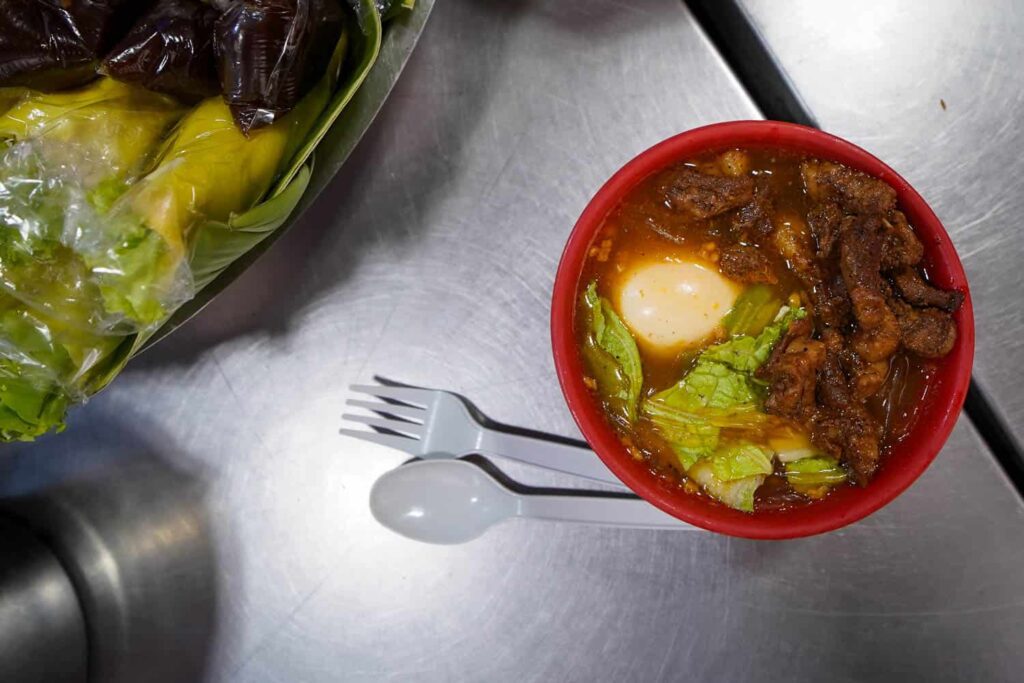 Next up on our list of the best street foods to eat in Quiapo Market, Manila, is the popular Filipino food of sotanghon. This flavourful bowl of glass noodle soup is a must try Filipino street food in Quiapo.
The broth of the soup is light and red, packed with peppery, rich flavour from the fish sauce and annatto oil. The chewy and springy glass noodles soak up this garlicky broth, with an extra kick of freshness added in with the crunchy lettuce.
Have it as is, or add in a hard-boiled egg or pork belly for some extra fatty richness. We recommend going for both, the layers of pork belly fat and meat really kick it to the next level.
The best place to find sotanghon in Quiapo Market is at Rosa's Pancitan – Famous Sotanghon. Tucked away along a busy side street, Rosa's Pancitan is hard to miss. The massive pans of soup give the place away. Not to mention the queue of people waiting their turn to grab a fresh bowl of hot soup.
It's a bit of a musical chairs situation here. Wait for a stool to open up around the action in the centre, pop yourself down and wait for your bowl of soup to be served in front of you.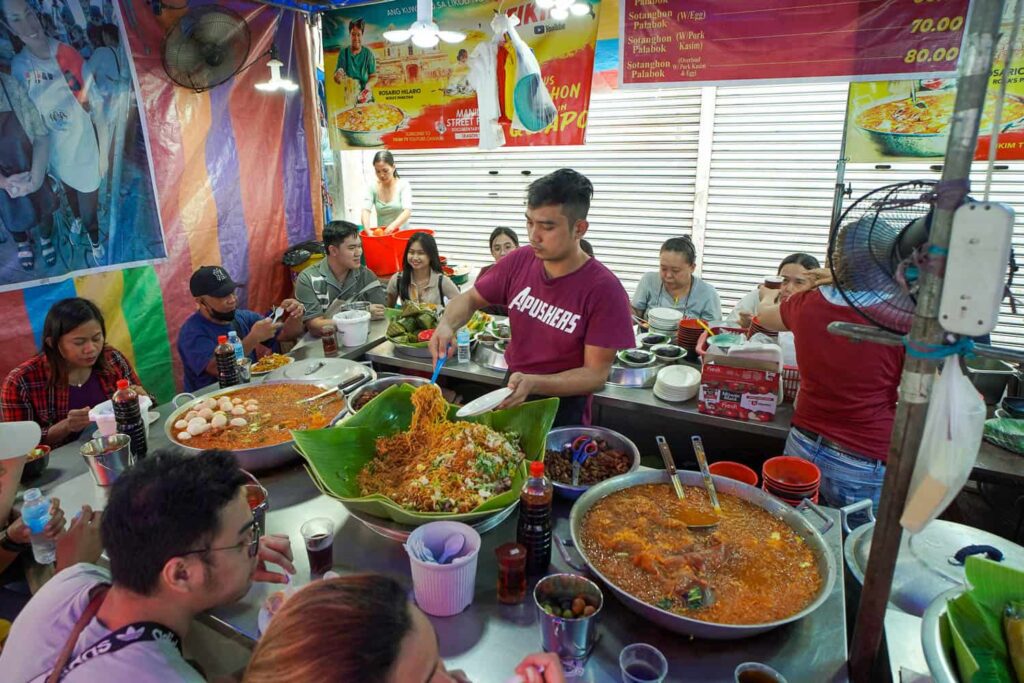 Name: Rosa's Pancitan – Famous Sotanghon
Address: 738 B, R. Hidalgo Street, Quiapo, 1001 Metro Manila
what3words: ///released.drive.woof
Price: ₱80
Lugaw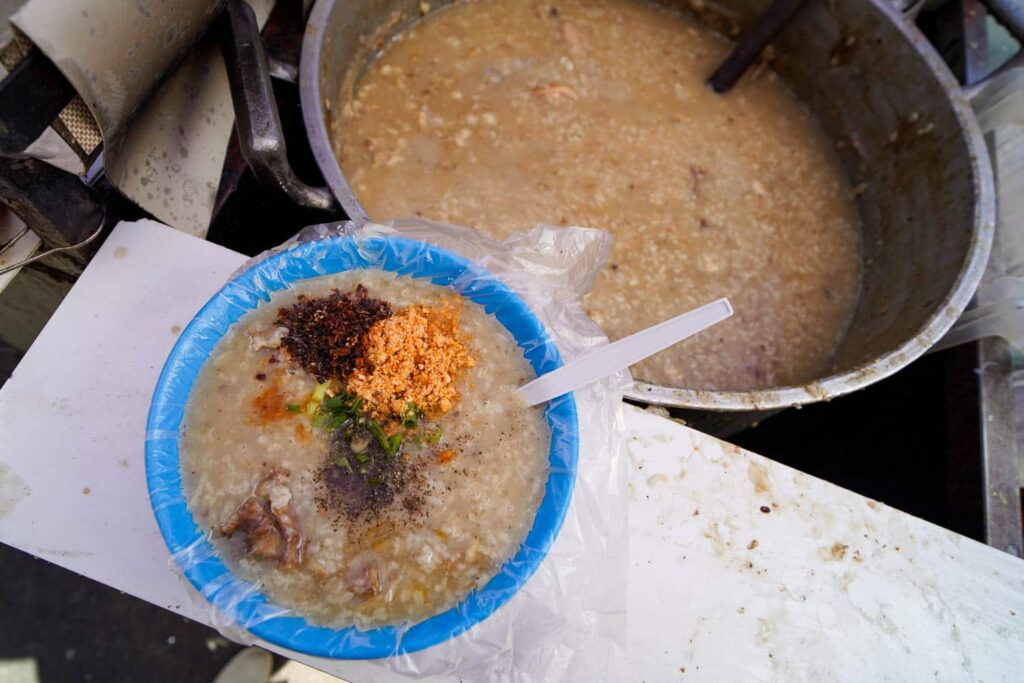 Something for the less faint of heart is lugaw, a Filipino rice porridge made with cow offal.
Depending on your level of adventurousness, you can get yourself a bowl full of porridge with both large and small intestine, and cow heart. If you're not feeling quite at that level, you can choose to have a bowl of just the porridge, no offal required. Either way you choose, the result is a savoury, hearty porridge full of beefy goodness.
The congee-like rice soup is stewed with a number of spices such as chives, ginger, garlic and onion, infusing loads of flavour into this one bowl.
Once you've chosen your adventure of offal or not, more spices are added in. Green onion, chicharon (deep fried pork skin), fried garlic, chilli oil, black pepper, fish sauce and fresh calamansi all go on top.
Thick, hearty, savoury, soft and crunchy, this dish is full of interesting flavours and textures.
Eddie Wow Lugaw does this Filipino street food best. Right at the end of the main street leading from Quiapo Church is where you'll find them. You can't miss them cooking up their massive vat of lugaw on their street food cart.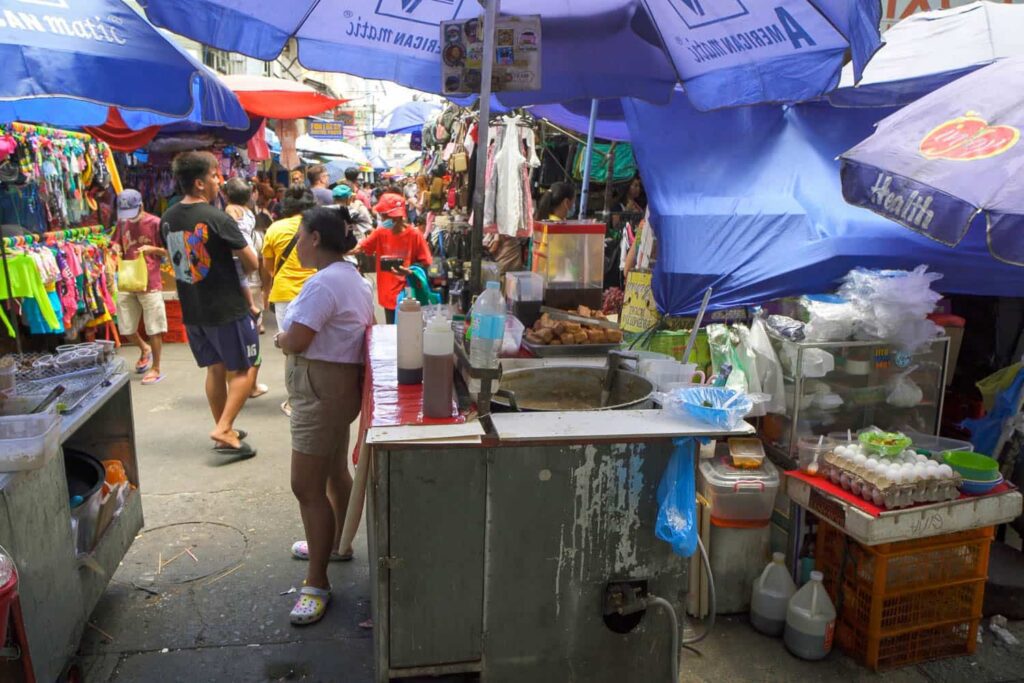 Name: Eddie Wow Lugaw
Address: HXXJ+8VV, Paterno Gomez St, Quiapo, Manila, 1001 Metro Manila
what3words: ///minerals.forest.lighten
Price: ₱80 (with offal)
Pancit Palabok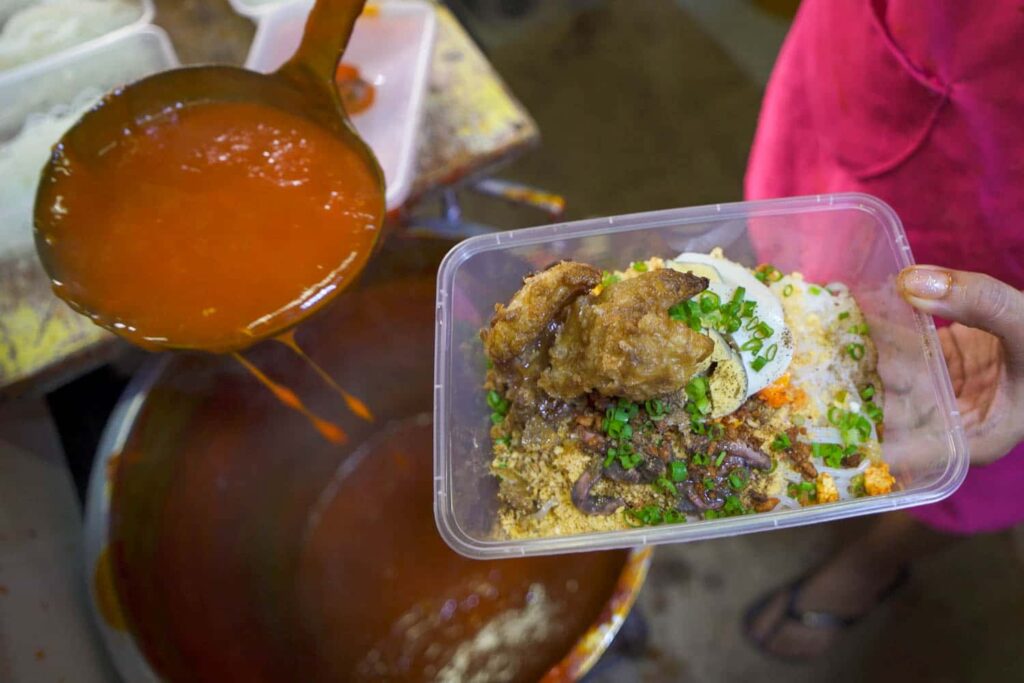 Rich and sticky, pancit palabok is a flavourful rice noodle dish that's a must try street food in Quiapo Market.
Thick rice noodles are sprinkled with crushed chicharon, spicy tofu, black squid ink adobo squid, fried garlic, egg, black pepper, green onion and huge pieces of freshly cooked chicharon. Everything is smothered in a super thick, rich, orange shrimp paste gravy.
Mix it up while you can! The thickness of the gravy only gets thicker, leading to a dish that's practically a dry noodle. The richness of the sauce, strong garlicky flavour, chewiness of the squid, creaminess of the egg and crunchiness of the chicharon, oh my! This is a dish bursting with flavour and texture that you cannot miss.
On the far edge of Quiapo next to Quinta Fishport, you'll find the best pancit palabok in Quiapo. Jolli Dada's Eatery serves it up fresh and fast. When we visited, they were packed to the gills. Wait a few minutes though for a fellow customer to finish their noodles and you can park yourself on one of the stools. For the quality and price, they can't be beat.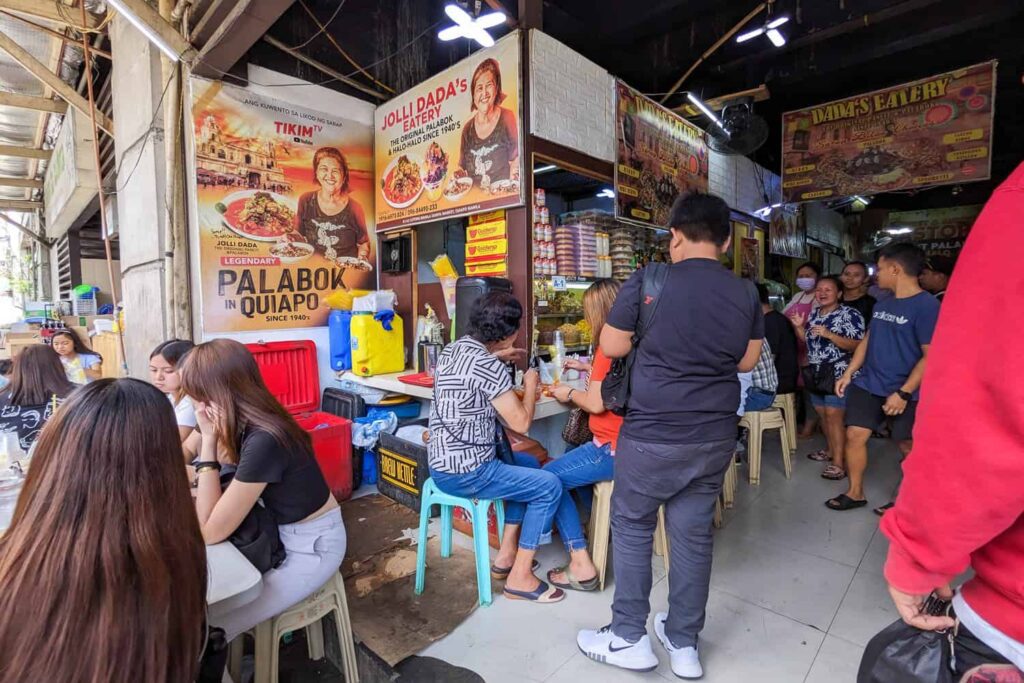 Name: Jolli Dada's Eatery
Address: C. Palanca Street, corner, 1001 Quezon Blvd, Quiapo, Manila, Metro Manila
what3words: ///pulp.views.backpack
Price: ₱80
Halo-Halo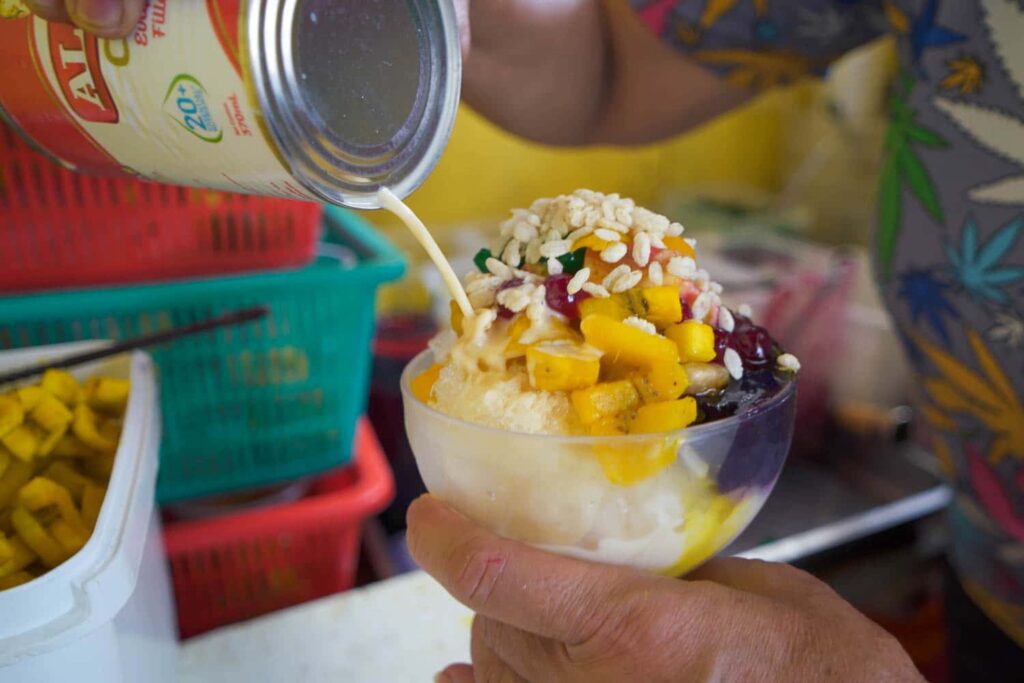 You can't go exploring for the best street foods to eat in Quiapo Market without getting yourself a halo-halo. This dessert is extremely popular throughout all of the Philippines and is the perfect respite on a hot day.
Evaporated milk, ube jam, sweet brown and white beans, banana, leche flan, red tapioca, green jellies, and rice krispies are all set on top of a heaping ball of shaved ice.
Literally translating to 'mix-mix', all the ingredients of a halo-halo will be unique to each place you have one. Nevertheless, it'll always have shaved ice and evaporated milk as the base, so it's guaranteed to be cold and creamy!
Halo-halo is a must try street food to eat in Quiapo Market, originating around the Quinta Market area about 100 years ago. At Jolli Dada's Eatery, they serve one in a massive bowl, so you can grab a cool dessert after your pancit palabok.
Name: Jolli Dada's Eatery
Address: C. Palanca Street, corner, 1001 Quezon Blvd, Quiapo, Manila, Metro Manila
what3words: ///pulp.views.backpack
Price: ₱80
With so many incredible and popular Filipino street foods to find in the Quiapo Market, it's hard to know where to begin your street food adventure!
As with any country, don't be afraid to taste new things you've never seen before, or ask locals for recommendations. Filipinos are some of the friendliest people you'll meet, and the locals in Quiapo are a wealth of information.
We hope this list of the seven best street foods to eat in Quiapo Market, Manila will get you going on your exploration of this vibrant neighbourhood.
Make sure to check out our video below tasting some of these popular Filipino foods on our Quiapo Market food tour!
---
---