Located on a quiet road off the bustling Ongpin Street in Binondo, you'll find Dong Bei Dumpling. This humble shop has been selling authentic Chinese dumplings for over 20 years, and are known to serve the best dumplings in Binondo, Manila.
If you're looking to add some incredibly yummy street food to your list of best foods to eat in Manila, then make sure these are at the top! Their kuchay (chive) dumplings are so delicious, they'll have you fighting over the last one.
The historic district of Binondo
The Binondo neighbourhood of Manila is famed for being the oldest Chinatown in the world. Founded in 1594, this district has undergone many changes throughout the years. From small Chinese settlement to the centre of commerce and trade of Manila, one thing's endured; the incredible street food that Binondo is known for.
The dumplings that originated in Dong Bei
About 20 years ago, a family moved from Dong Bei in northeastern China to Manila. In hopes of having a taste of home, they opened up a small shop selling what they knew how to make best, pork and chive dumplings.
Their plan was to have a small business sharing this local, traditional food with their community.
To their pleasant surprise, the chive and pork dumplings were a hit! Before long, their homemade and authentic dumplings became one of the most famous dumplings in Binondo.
Now, Dong Bei Dumpling is on every Manila street food tour and Binondo food trip list out there.
Full transparency of freshness
In China, it's common for food to be made in the front of the shop, so that you can see the ingredients that are going into the food. Keeping with tradition, this is something Dong Bei Dumpling has implemented from the start. They make their dumplings by hand in a traditional way, fresh to order and with local ingredients.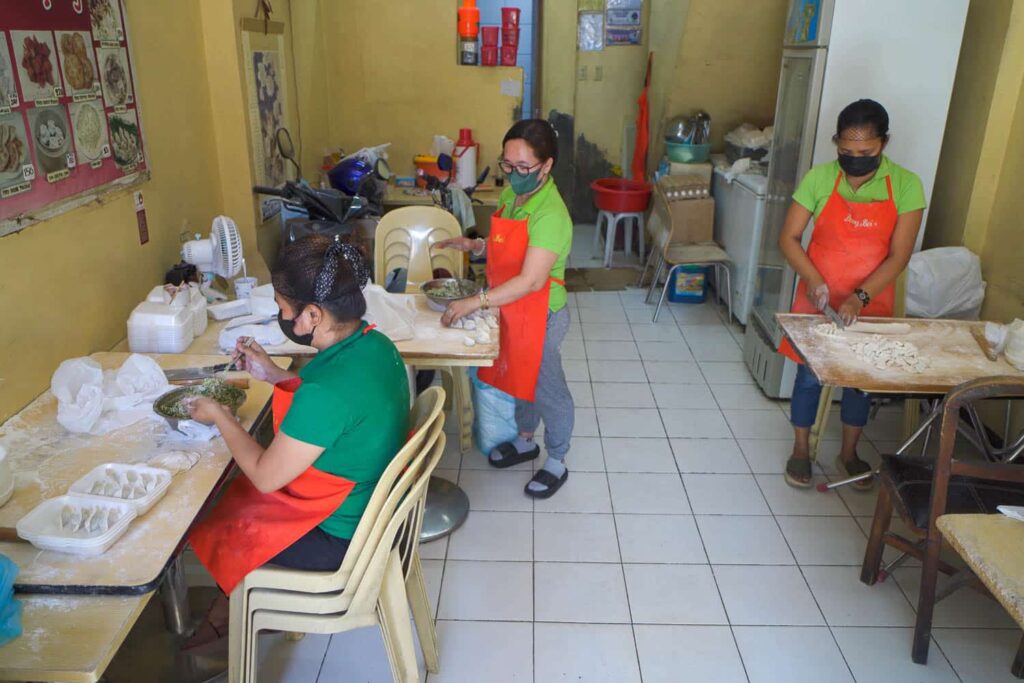 How the best dumplings in Binondo are made
It all starts with a mixture of pork, onion and plenty of chives (kuchay). This is then generously packed inside a piece of circular, thin dough and sealed along one edge. The now chubby dumplings are immediately dropped into boiling water and left until they float to the top. With dumplings this fresh, they only take a few minutes to cook.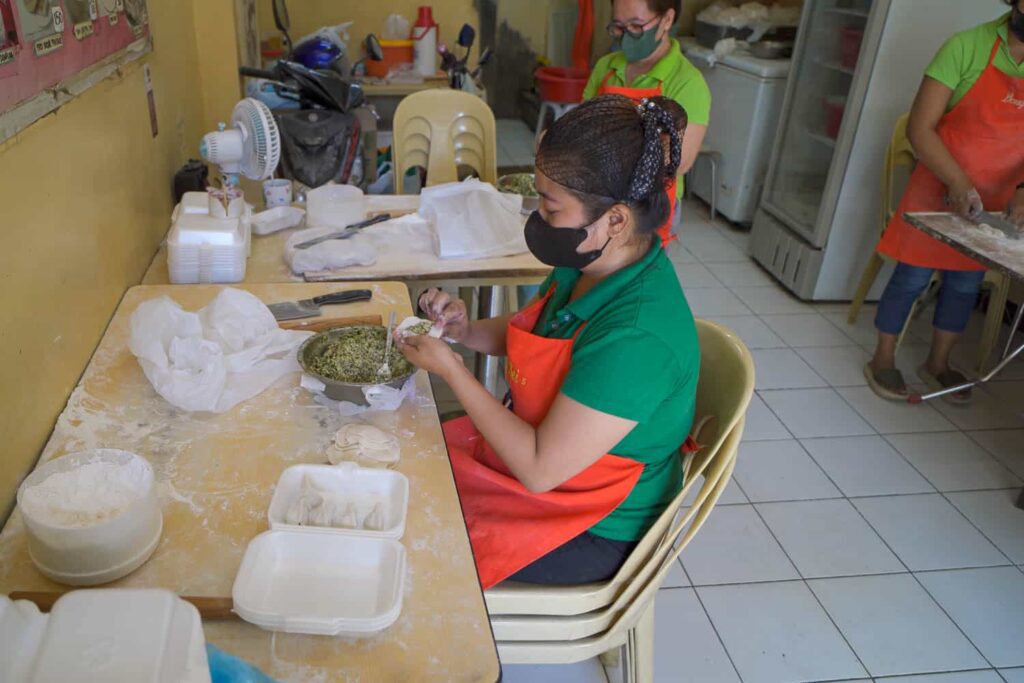 The secret, however, is adding in the pork mixture raw. This allows the meat to cook as it boils, releasing flavourful juices that are trapped inside the skin. The result is a dumpling so tasty and juicy, it practically melts in your mouth! If you've ever had a soup dumpling, you know what we're talking about.
It's time to eat, here comes the sauce
The dumplings are served with a delicious homemade sauce of garlic, vinegar and soy sauce. For those of you with taste buds that need an added kick, there's also homemade chilli sauce on the side to bang them up a notch. Speaking from experience, you won't need much of this to spice up your dumplings!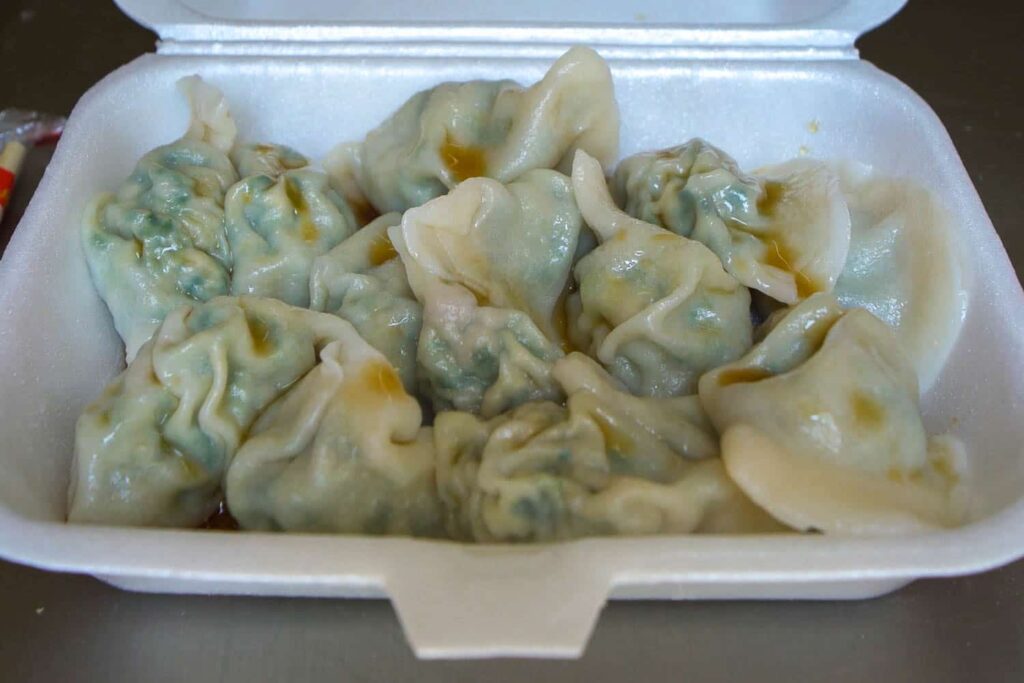 At the time of writing, there's no area inside the shop to sit and eat. So, the best way to enjoy your dumplings is right there on the street.
What makes Dong Bei dumplings so special?
What has set Dong Bei Dumpling apart from competition over the years, is that the dumplings are made fresh to order with quality ingredients. Because of this, the dumpling is more delicate, the skin lighter and the meat juicier. Not to mention they've stuck to the same simple, delicious, authentic recipe that's brought their customers back over and over again.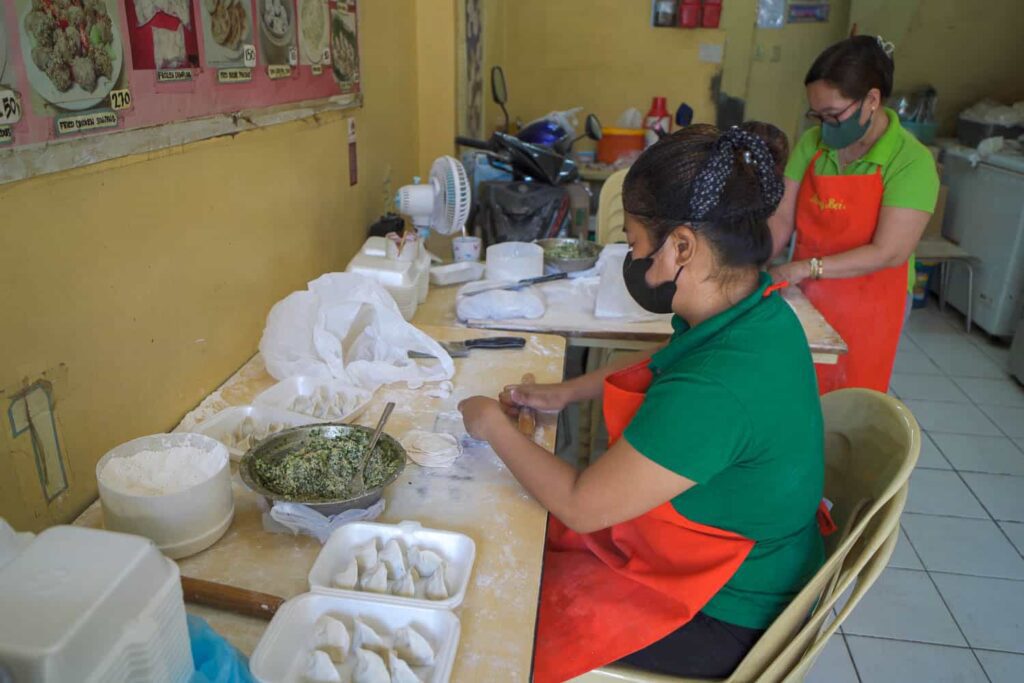 How to get there
Dong Bei Dumpling is located in the Binondo, Chinatown area of Manila, west of the Estero de la Reina. If you're arriving from the east of Binondo, once you find Ongpin Street you'll be at the heart of the neighbourhood.
Following Ongpin Street west across the Estero de la Reina bridge, you'll come across Yuchengco Street, right after the 'Shoppers' Mart' grocery store. Turn right on Yuchengco Street and follow the road almost to the end. Here, on the right, you'll find Dong Bei Dumpling.
There's no big fancy sign on the top of the shop, however, just a sign in the window as you walk by. This little establishment has kept itself humble despite its fame over the years, so if you don't pay attention, you might walk right past it! Luckily, there will most likely be other hungry pedestrians looking for their dumpling fix, so follow the line of ravenous customers.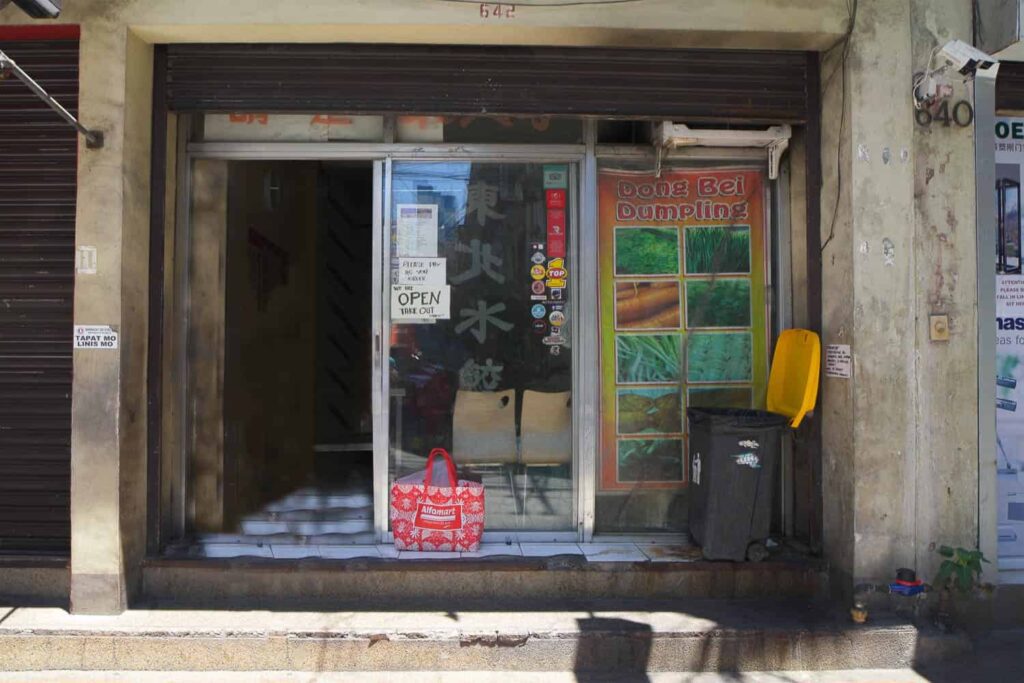 The best dumplings in Binondo
Eating at Dong Bei Dumpling is a must if you're in the Binondo neighbourhood of Manila. No food trip in the city is complete without them. From the freshness of each dumpling to the quality ingredients used to make them, this is a place you can't miss.
Name: Dong Bei Dumpling
Address: 642 Yuchengco St, Binondo, Manila, Metro Manila
what3words: ///gossip.sugars.outdoor
Price: ₱200/order (14 dumplings)
---
---